Email Subject Line Best Practices
Email marketing is a valuable tool that every business should include in its marketing strategy especially if resources and time are limited. That's because it offers the potential to reach thousands, if not millions of people in a relatively short time. As of 2018, the number of email users globally stood at 3.8 billion and is expected to rise to 4.4 billion by 2023, according to Statista.
A good marketing email starts from the subject line. In fact, about 35% of email recipients open mail solely based on the accompanying subject line. A lousy subject line may not only result in a lost sales opportunity but also increase the risk of being listed as spam and negatively affect sender reputation. So here are some useful tips to follow while writing subject lines for more successful email marketing campaigns.
Keep it Short and Sweet
Before writing an email, think about the message you want to deliver — subscription confirmation, order notification, update, new product release, event invitation, etc. Don't be overly creative and ambiguous with the subject line. Instead, state clearly what the email is about so that the reader knows what to expect when they open it. Stick to 30-50 characters or fewer using only the most powerful words. This way, you may be sure that the subject renders well on different devices and email clients. For example, a subject line announcing a sale could go like: "Early access to 25% off sale."
Check out that concise subject line from Bonobos — it's hard to imagine a shorter and more informative one.
Personalize it
Email personalization allows increasing your campaign performance by inserting personal data about the clients into the subject line. Marketers address subscribers by name, use their gender, age, occupation, location to craft highly-targeted emails. You only need to ask for that kind of information. Add the necessary fields to your sign-up form or offer users to share data during the registration.
Virgin Experience Days uses personalization to reactivate sleepy subscribers and win them back.

Check out the ways SendPulse offers to create a personalized subject line.
Use a Real "From" Name
Using a familiar and human name makes your email less intimidating for recipients. If you are sending an email to a lead who already knows someone from your brand by name, use their name as the sender address to give the reader the impression that they are dealing with one person and not the whole business, for example, 'Susan@companyX.com'. SendPulse allows users to add one or more from addresses for sending emails.
That is how Medium uses a real "From" name in the subject line.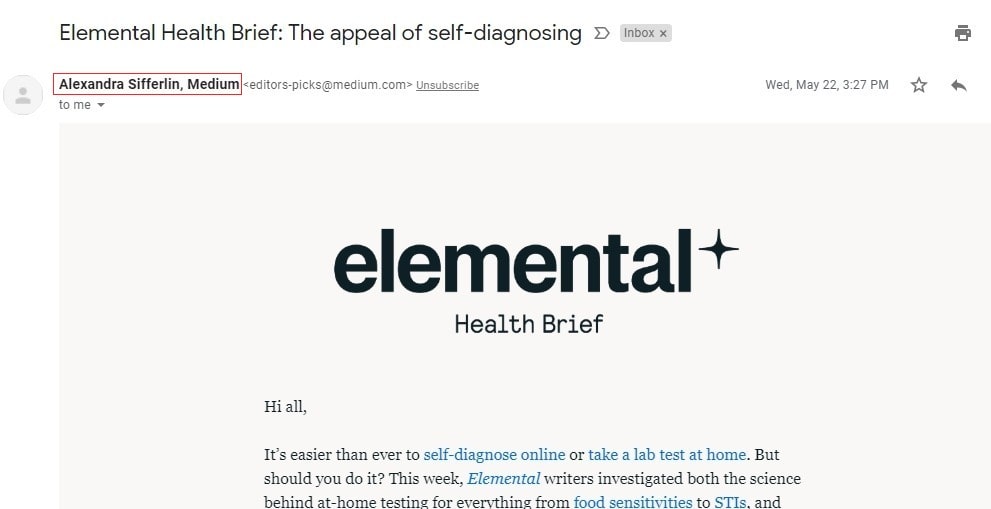 Ditch Generic "No-Reply" Email Addresses
With the vast amounts of emails that people receive every day, it's quite understandable when recipients avoid opening emails from unfamiliar quarters. What if it is spam? People will also be more reluctant to open emails with 'noreply@suchandsuchcompany.com' because they don't want to talk to a robot. In fact, emails from addresses of real people perform better. Let the 'From' address be something like 'phillis@yourcompany.com.' Use a reputable email service to make your campaign land in the inbox.
Fairygodboss uses a real person's email address to encourage subscribers to communicate with the brand.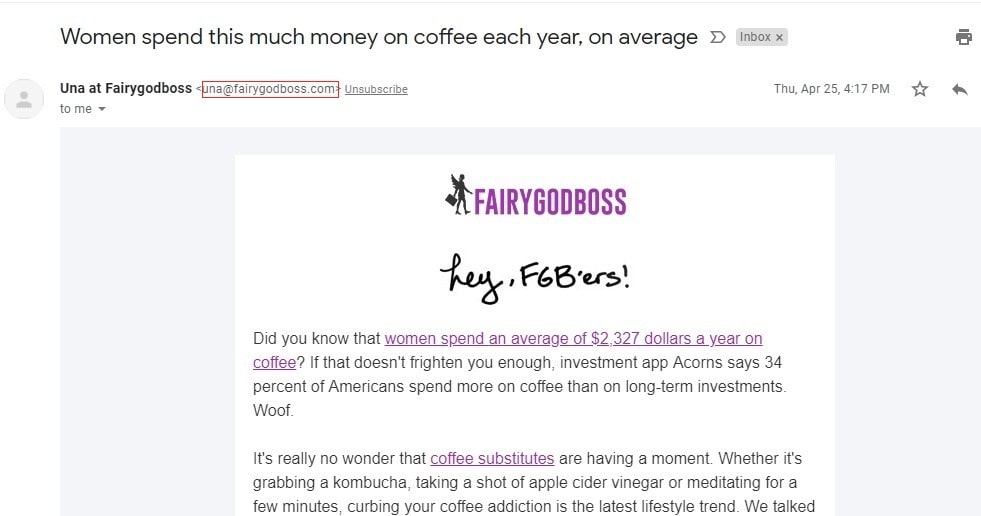 Stimulate Curiosity by Providing Value
Subscribers want to know why the email concerns them instantly. If the subject line doesn't promise value, then the email will be of no use to the reader, and they probably won't open it. A subject line like 'Buy your favorite makeup: 50+ brand restocked' would compel recipients to open the email and find out more. Avoid spammy words and assess different subject line variants with SendPulse A/B testing to see which ones perform best.
Forever 21 intrigues readers with a promising subject line.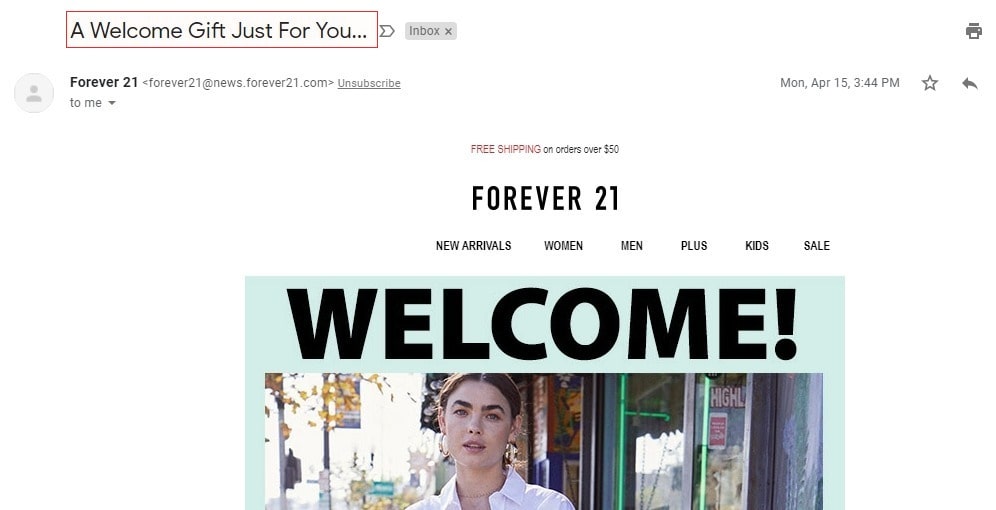 Show a Sense of Urgency
One does not need to include 'urgent' in the subject line to show recipients that the email is time-sensitive. However, using a particular language can still show a sense of urgency and compel them to take action. For example, 'Last day to enjoy 30% off on orders above $20' will prompt prospective customers to buy and enjoy the discount before it expires.
Check out how Forever 21 does that. The company reinforces a powerful subject line with a countdown timer.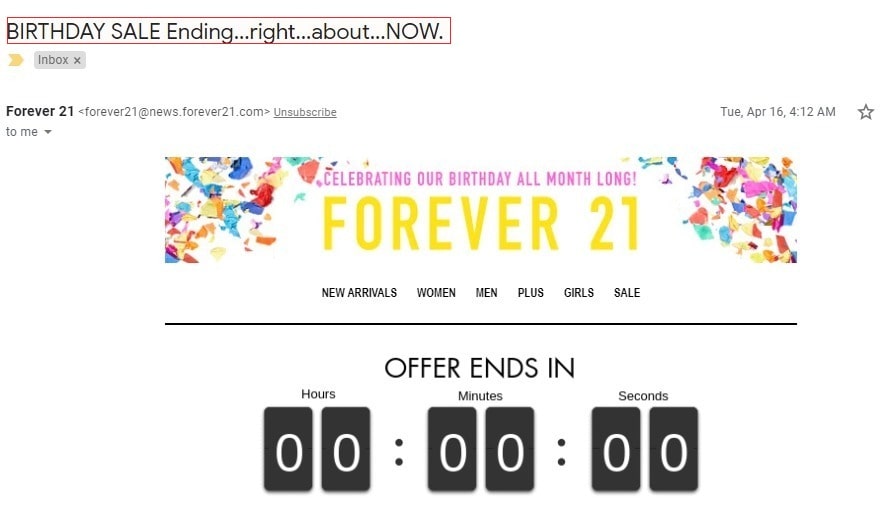 Keep up with the Latest Trends, Events, and Holidays
Great marketing emails should coincide with current events, seasons, trends, and such things. That way, they can convert more customers. If you plan to send an email concurrently with a particular situation, make sure the timing is right. If the email arrives late, it loses relevance for the reader. For example, the subject line '100+ items added to our spring collection' should be sent during spring. If you have customers all over the world, mind that the same holidays may vary from country to country.
H&M makes use of the Father's Day to increase sales.

Use Numbers to Portray Credibility
An email that has numbers, data, or figures will most likely get noticed. That's because numbers make the messages clearer and add credibility to the email. It could be anything from a discount the brand offers, the number of attendees already registered for an event, days left until a sale is over, figures from a study, and so on. For example, '24hrs only: Enjoy 50% off selected items' is a good subject line for an email that's announcing a quick sale.
An email subject line from Fairygodboss is relevant to almost every reader at once.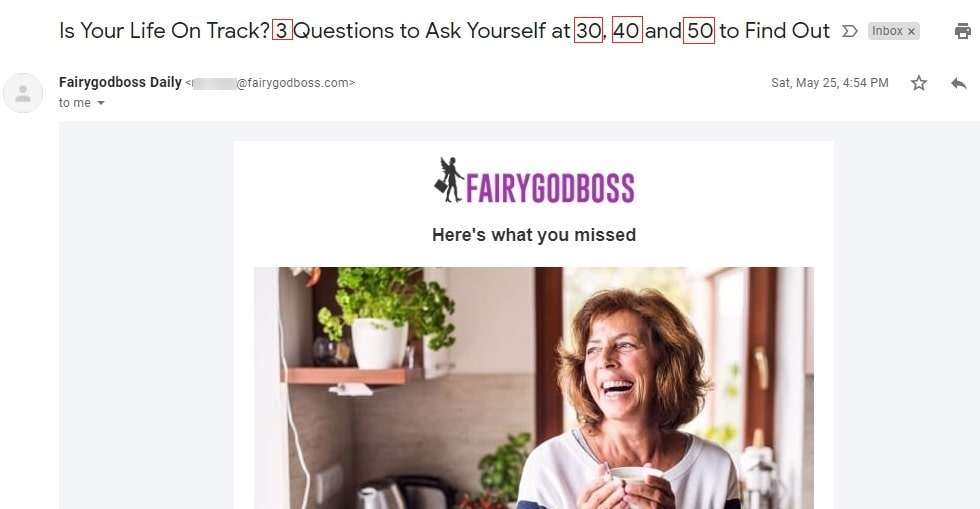 Last Updated: 03.12.2020