A go-to-market (GTM) strategy is a detailed plan that encompasses a target audience, a marketing plan, and a sales strategy and allows brands to launch their new solutions successfully to the market. It serves companies as a roadmap, helps them evaluate the chances of product success, and forecasts future performance with the help of available data and market research.
In this article, we'll review the reasons to have a go-to-market strategy, its 4 components, and examples. We'll also find out how to build this strategy.
Why do you need a go-to-market strategy?
A well-executed plan is a must when you want to launch a new product, start a new product line, create a new branch of your company or establish a startup from scratch. Some companies break down within the first year of operation because of lack of research, wrong market, inability to develop a product customers need, or ineffective marketing strategies. However, initiating a strategy allows you to avoid such scenarios with your newly created product. To do it, you need to prepare a marketing plan, conduct market research, and select the most effective sales strategy before the actual launch to meet consumers' expectations and satisfy their needs.
With a GTM strategy, you will identify all possible opportunities for further company growth, develop appropriate messaging and product positioning to make your product stand out from the competition. A go-to-market plan enables your marketing team to approach your customers, boost conversions, and establish a strong position within the market. Besides, it allows you to gain a competitive advantage, ensure customer satisfaction, good sales volume, and high profits.
Now that you know the reasons to consider a go-to-market plan before a product launch, it's time to unveil the components of this strategy.
4 Go-to-Market Strategy Components
Product-market fit, target audience, competition and demand, and distribution are the main elements of a GMS strategy. Let's have a closer look at each of them.
In a product-market fit section, you should mention the issues your product can help remove.
In a target audience section, you need to identify people who might experience problems your product can help solve. You should list the problems your solution can reduce or eliminate. Think of the price customers will be willing to pay for your offer.
In a competition and demand section, you should review the list of potential competitors, companies that already market similar products. Conduct research to assess the demand for this product and the number of brands that offer it. You can also analyze their strategies and pricing.
In the distribution section, you should find out which mediums are most comfortable for you to sell products and for customers to buy them. Analyze all available marketing channels to identify those you will leverage in the future. For instance, you can develop a website, search for a third-party distributor, create accounts on social media, incorporate chatbots, etc. With SendPulse's landing page builder, you can create an outstanding landing page or online store within minutes. Then, share this link with customers through email or chatbot messages. You can easily connect all channels in SendPulse.
The elements of the strategy are clear, so let's proceed to the next section to figure out how to build a go-to-market strategy.
How to build a go-to-market strategy?
Building a go-to-market strategy isn't difficult, but it requires you to be detail-oriented. You need to consider the most important points that will impact the success of your business. We've listed seven essential steps for you to follow and develop a detailed plan for your new product.
Outline your buyer persona. Gather your team to figure out the ideal customer you target. You need to identify occupation, goals, pain points, interests, needs, preferences, age, etc. These details will help you present the right product that meets customer expectations. To choose the right sales strategy, you need to understand customers' motivations and problems. They are the ones who will use your product, so you need to be accurate when defining your ideal customer and developing a buyer persona.
Tailor your messaging. To create a relevant marketing message that resonates with your target audience, you need to make lists for each of your personas. In each list, you should mention customers' main problems they face daily and write down your solutions. You should also list the product's value. The message you create should include both customers' pain points and product value.
Select the most effective sales strategy. Every product needs to have the right sales strategy. The choice depends on the complexity, scalability, and price of your solution. You can choose the strategy after you explore your target audience, positioning, and channels. Besides, your sales strategy should also contain information about your competitor.
Carry out inbound and outbound techniques to establish brand awareness. You can use both inbound and outbound strategies. With inbound marketing, potential clients find out about your company from different channels like social media networks, quality content, or ads that bring them to your website organically. Unlike inbound marketing, outbound marketing implies a salesperson reaching leads by phone, sending warm emails, or searching for prospects at events.
Allocate enough time to create great content. Informative content can become a magnet for inbound prospects. These people have some knowledge of your industry and know about the problems your product can help solve. So, these potential customers are more likely to buy. Content marketing means a lot for website traffic. If your site has quality educational materials, it can attract interested people. Your team needs to use the right keywords in articles and comply with SEO principles to rank higher on Google. If you do everything necessary, your website will generate organic traffic and bring new customers. Besides, ensure to conduct content and keyword research before writing any blog posts. This step is a must if you want to create relevant articles that will rank high in search results. Remember, to make your content look more attractive and engaging, you need visuals. You can add quality images, infographics, and videos to let users perceive information easier.
Look for ways to boost conversions. Once your content is ready, you should pick up key metrics you'll use to evaluate the performance of your product. Your sales team needs to track conversions and sales volume. Conduct training for your sales team so that they understand how to work with prospects and reduce the sales cycle. Then, you need to assess the work of your sales reps. If they underperform, identify the problems, and eliminate them.
Evaluate your sales cycle and shorten it. At this step, you need to find out how long it takes to win a deal. Your team should list the objections sales reps face when they interact with leads and find ways to avoid them. You can consider lead nurturing.
It's time to proceed to the next section to discover some examples..
Go-to-Market Strategy Examples
You can find dozens of brands that strive to conquer the market, but only those with a competitive advantage and well-developed strategy succeed. Before entering, companies develop their sales strategy, explore customers' needs and desires, and conduct market research. They all do it differently yet manage to hook their audiences' attention. So, let's review some amazing examples.
Baggu
Baggu produces simple things people use in everyday life. The company sells reusable bags with prints that can satisfy any taste. Although its products are quite simple, a brand succeeded in creating an excellent GMS strategy and becoming a favorite brand of environmentally conscious customers. In addition to being a sustainable brand, Baggu is also a leader in terms of the functionality and style of its shopping bags.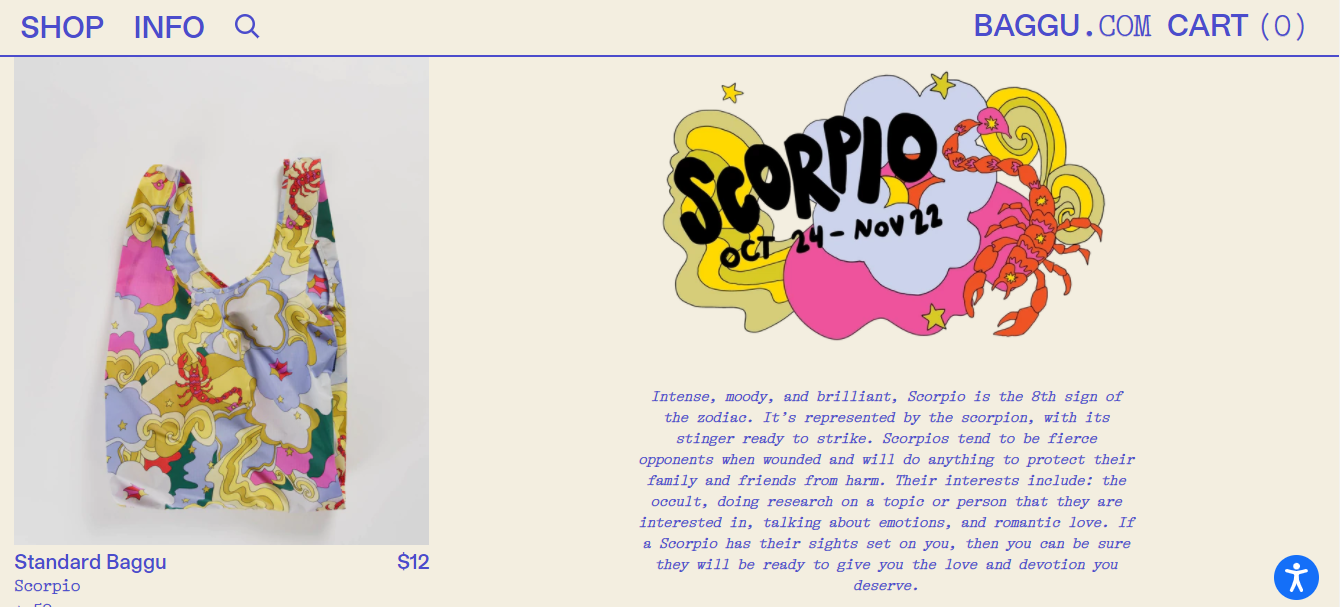 Owala
Owala offers customers water bottles. Although it might not look different from other companies in the same niche, it does. In its motto and go-to-market strategy, you can see that these water bottles are the easiest in their use. Owala makes it possible for you to not even open the bottle to have a sip of water. For example, during your jogging, you no longer need to stop to drink water. The brand's target audience is active people. So, by solving problems of specific audience segments, the company succeeded in surviving and even dominating its competitors.
Congrats, now you know the importance of a GMS strategy and how to do it right. Hope our examples above inspired you to create a plan for your business.
References:
This article provides steps to building a go-to-market strategy.
In this article, you'll find 4 most common go-to-market strategies.
Last Updated: 22.03.2023