Project management is a process that involves leading your team members through different tasks and optimizing the resources to achieve all project goals within a given timeframe and budget. It should result in a complete project that meets the client's objectives.
In this video, you'll find the fundamentals you need to know to manage a project.
Why is project management important?
To prevent a slowdown in a company's growth in the event of a project's failure, the majority of businesses strive to manage all processes properly. Through communication with stakeholders, a team can fully understand the priorities and objectives of a particular project. This way, project management enables a company to set realistic objectives, timeframe, and budget.
This tactic allows you to align any project with the company's strategy to help a firm succeed. It helps teams create a plan which includes the possible risks and the company's goals. That's why a team can be well-coordinated and act according to the existing plan that leads to achieving the main goals.
A project manager also controls the quality of the project: whether all parameters are met within the given time and budget. Also, project management is important if a company wants to reduce project costs. This process helps optimize the allocation of resources, improve efficiency, and reduce risks.
The importance of project management can't be underestimated since it allows companies to achieve specific business objectives, so let's move to the benefits to explore this topic more deeply.
Benefits of Project Management
Project management is considered an effective tool that helps startups and well-established companies to comply with the requirements and deliver projects consistently. Quick solution of problems that arise during the development of the project is the main advantage of this process. However, there are still more benefits, they are as follows:
the result is delivered on time and within a given budget;
improved internal communication;
increased transparency;
clearer records of the project's progress;
forecast of the risks;
high project performance;
identified strengths and weaknesses of the company;
reduced costs;
control over the quality;
clear focus and goals;
the defined direction of the process.
Now that you know the benefits, it's time to jump into the techniques.
Project Management Techniques
Project management covers various industries and requires profound knowledge and skills. However, it's not only expertise business owners should pay attention to. To make the process easy and smooth, project managers should be ready to apply several techniques.
Work Breakdown Structure (WBS). When you look at a new project for the first time, it can seem very difficult to manage. WBS helps you divide work into small pieces. It's a visual deconstruction of a project aimed at achieving the goals. This useful diagram enables project managers to define the activities necessary to bring the project to success. WBS is the first you need to do to create a project schedule.
Gantt Chart. This bar chart can be used for small and big projects. It enables you to view the tasks scheduled over time. With its help, you can view the dates when the project should begin and end in a single chart, see the tasks, who is working on a certain task, and how long it takes to finish each of them. Besides, it shows the work which needs to be finished on a certain day.
PERT. It stands for program evaluation and review technique. Companies use this approach when they want their projects to be delivered on time. If you strive to have your project following your plans, it's critical to schedule. By using statistical methods, this technique helps manage probabilities. After that, it creates a map of activities and how they depend on each other. This way you can figure out the earliest and latest time for each activity.
Critical Path Method (CPM). With CPM, you need to construct a project model that involves all tasks, how much time it takes to finish each of those tasks, things that link them, and the endpoints. It involves running multiple tasks to reduce the project time. However, it can be done in case the tasks are independent. CPM enables you to prioritize tasks and reduce delays.
Kanban. The framework allows team members to monitor the state of every task at any time. The main focus here is the Kanban board that enables users to visualize work and optimize it. The board involves tasks with three different statuses: To Do, In Progress, and Done. Below the statuses, you can see the tasks. This technique empowers you to monitor the progress of work through its workflow, see the state of each task, identify blockers, and what is already completed.
Now it's time to jump into the methods.
Project Management Methodologies
When we say methodology, we mean a system used to handle a project. So let's review the most popular models.
Waterfall. It's a traditional approach in which tasks are completed linearly. It means that before beginning the new task the team should finish the previous one. Companies that use this methodology, map out everything at the beginning. Once the stage is completed, you can't go back to change something. However, if you have a clear goal, people involved know what they want, and the project you create is consistent, this method can benefit you.
Agile. Dissatisfaction with the traditional approach created a new methodology. It allows companies to revise the project during the process rather than wait till the end to review it. Teams prefer Agile methodology since it's quick, collaborative, and open to change in data. You can encounter such phases as testing, reassessment, and adaptation through the process of creating the project.
Scrum. This is a perfect model for teams of up to 10 people. Companies using this framework split their work into short cycles called sprints which last for 2-4 weeks. A sprint is a certain period during which team members have to complete certain tasks. With each sprint, teams develop new features for the product. The scrum master leads small teams during the sprint. This framework is used to maintain complex products and speed their development and make the communication between team members better.
Lean. This approach is about efficiency and is aimed at providing the maximum value and making the minimum waste. According to this approach, to develop efficient workflows, a project manager should eliminate waste. With Lean, you will do more with less. If you are open to constant improvements to add value for customers, this method is the right choice for you.
Let's proceed to the main stages of the process we discuss.
5 Project Management Steps to Success
Managing a project that will bring you the goals you were striving for is not an easy task. That's why you need to follow the steps and perform tasks that correspond to the stages.
Initiation. At this stage, it's necessary to develop a business case and determine the value your project can bring. Besides, it's the right time to create a project charter, a document that defines what this project will deliver. You also need to conduct a meeting with all parties involved in the process to lay out the goals, ways of communication, and schedule.
Planning. Once the project has been approved, bring together your team to create a project plan that includes costs, risks, and resources. At this stage, you need to pay attention to the tasks since they will determine technical requirements. Also, create an accurate project schedule, develop a communication plan, and set up deliverables. During this stage, the project's scope is identified and managers create a work breakdown structure to visualize each section of a project.
Execution. This is the time when your team does the work necessary for the project to produce the deliverables. Another responsibility project managers take during project execution is maintaining collaboration between stakeholders.
Monitoring. Once the project enters this stage, the project manager has to control team members so that no one deviates from the original plan. By establishing Critical Success Factors (CSF) and Key Performance Indicators (KPI) managers can do it easily. Besides, the efforts and costs are also under monitoring.
Project closure. Once the project is completed, the majority of teams hold reflection meetings to find out what led to their success or failure. By doing this, companies can define what needs to be improved. Finally, it's also necessary to review the project and make a report.
Now that you know the steps, let's review the effective management tools.
5 Top Project Management Tools
actiTIME
monday.com
Trello
Wrike
ClickUp
Each project requires the right solution. We've prepared the five best tools that will simplify your work.
actiTIME
actiTIME is a service used by startups, organizations, small firms, and enterprises. It helps you create projects, set up managers with teams and projects they will be in charge of, assign tasks to the members of your team and track time. With the data collected in this software, you can easily analyze the performance of your team.
If you aim at obtaining the information about your staff performance, understanding the distribution of the workload across the projects, finishing the project on time and budget, actiTIME would be the best choice for you. Its main features are time-tracking (helps manage time), scope management (helps manage workloads based on your objectives), reports (helps evaluate the performance of the team, expenses, and income), and accounting (helps estimate expenditure and profits).
You can see the dashboard with tasks. With its help, you can get to know the status of the task, the time spent to do it and also the deadlines.
Free plan: 30-day trial.
Paid plan: From $6 per month for one user.
monday.com
monday.com is a platform that helps bring teams together and manage their projects. It enables you to track the progress updates and budget approvals. This tool allows you to allocate resources efficiently, let your team think creatively, and avoid doing your work twice.
It empowers you to implement approaches that suit you the best to customize workflows and plan your project in minutes. You'll see the progress and results of a particular project on the dashboard at a glance.
With the dashboard, you can find out the different tasks to be completed, assignees, statuses, and deadlines.
Free plan: 14-day trial.
Paid plan: $8 per month for one user.
Follow this comprehensive guide to project management on the monday.com blog to manage a project from start to finish.
Trello
This is an online tool flexible and simple to use. In the service, you will pay attention to the boards, lists, and cards. Lists define the different stages of the project whereas cards represent the work you need to do during the project. The most prominent part of this tool is integration opportunities. You can connect your board with the apps your team relies on like Dropbox, Gmail, Outlook, Jira, and many more.
The tool can be used by individuals and teams. With Trello, members of a team can work on a project without influencing the updates.
Below you can see that tasks in Trello have several statuses: To Do, Pending, and Done. You can also set the priority, the person responsible for a specific task, and due dates.
Free plan: Available forever.
Paid plan: From $10 per month for one user billed annually.
Wrike
This software helps you manage your projects seamlessly. With Wrike, project managers can visualize deadlines and monitor progress with special reporting tools. The drag and drop interface allows you to adjust in real-time to create the right workloads and improve ROI.
Customized statuses enable all participants of the process to stay updated about the progress. Besides, you have the opportunity to access Wrike's pre-built templates. Not to disrupt your productivity when switching in and out the necessary tools, this software enables you to integrate all you need including MS Teams and G Suite.
Below you can see a shared custom dashboard with the tasks, their statuses, and due dates. The dashboard in Wrike also enables you to track the progress of every team member.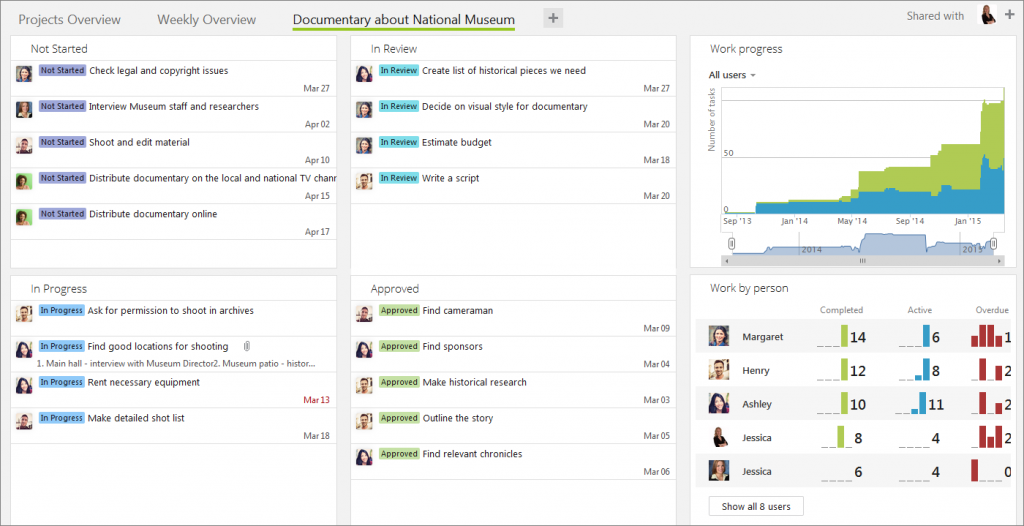 Free plan: 14-day trial for up to 5 users.
Paid plan: From $9.80 per month for one user.
ClickUp
ClickUp platform allows you to assign tasks to anyone in your team and after this person gets a notification. If you need your task to be done immediately, you can set the priority by placing a special flag. Also, this service enables you to track the progress of everyone in your team. At a glance, you'll know about the tasks they are working on, which of them are already completed, and who still has a lot to do.
ClickUp's features amaze users because of the way they simplify the work. To see the visual outline of your project and plan out your ideas, tasks, and projects, you can use Mind Maps. Moreover, the tool enables you to create a to-do list and set priorities. It also provides you with task templates and goal tracking features.
Below you can see the urgency of the task (the color of the priority flag defines the urgency), people responsible, and budget.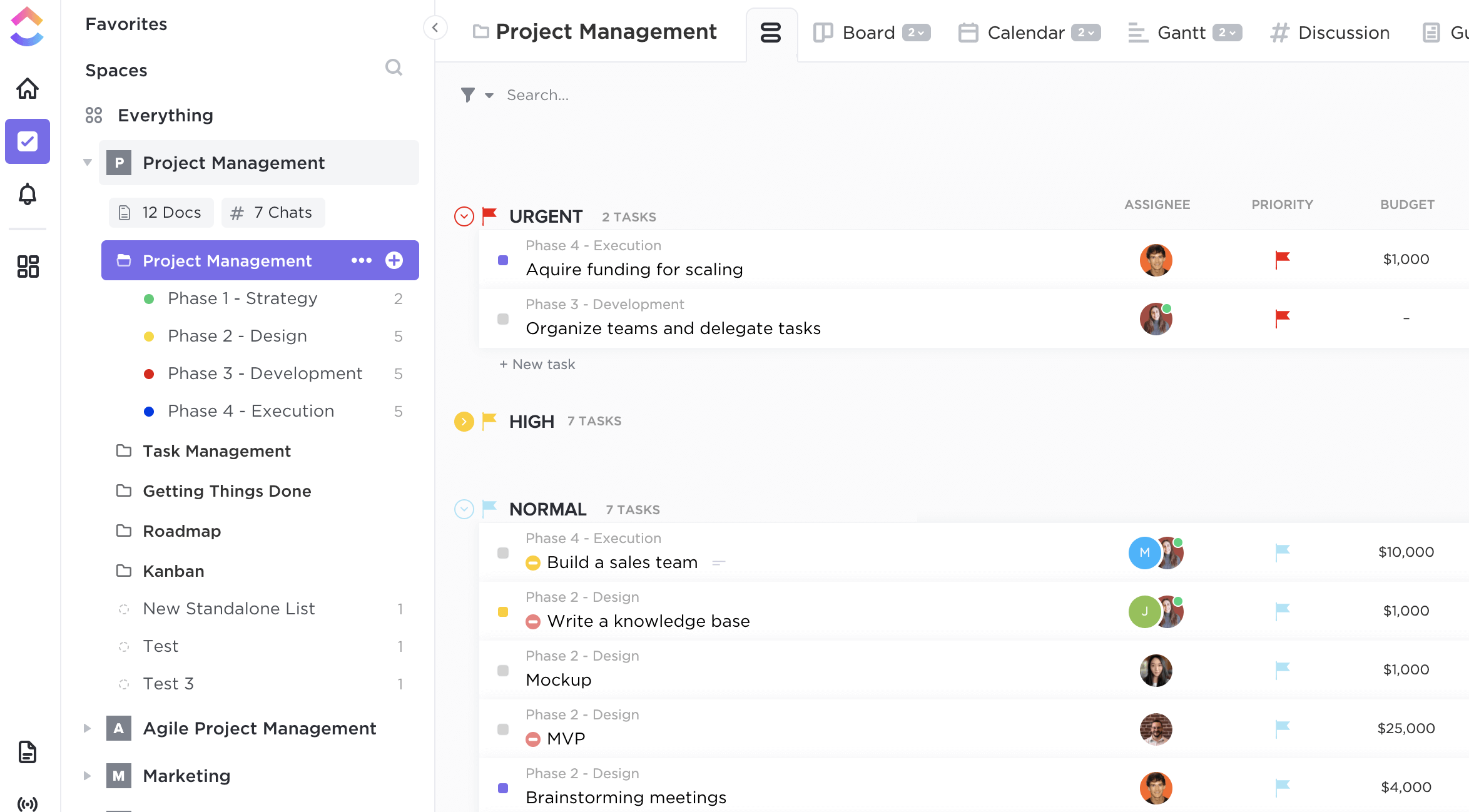 Free plan: Available forever.
Paid plan: 5$ per month for one user.
Congrats, now you know the methodologies, tools, and techniques to deliver projects on time and according to the budget and goals. The knowledge you have obtained will help you assign tasks, manage time, budget, risks, and more.
Resources:
The article "Top 6 Reasons Why Project Management Is Important" defines the term and provides readers with the reasons why project management is important.
The article "Why is project management important?" covers the benefits of project management and the importance of effective project managers.
The article "Best Project Management Software for 2021" covers the ten best tools for project management.
Last Updated: 27.04.2021