An SMS autoresponder is a series of SMS sent automatically based on specific rules at defined intervals. Marketers use this technique as an effective way to communicate timely messages to their audience automatically.
Why is an SMS autoresponder important?
SMS messages have high open rates because people check their phones 80 times a day. Companies use this advantage and send SMS for promotions, abandoned cart messages, order confirmations, shipping updates, etc.
A quality SMS autoresponder is a way to automate your SMS marketing and improve the efficiency of your overall digital marketing strategy. SMS works perfectly to support your audience in every stage of the lead funnel.
Let's find out how to create a simple SMS autoresponder in less than an hour.
How to set up an SMS autoresponder
Set up an event
Create a flow of messages
Track statistics
Follow this step-by-step guide to create your first SMS autoresponder. Let's take use an order status SMS as an example.
Step 1: Set up an event
Events are user actions that trigger SMS sending. In this case, the event is a purchase. To create such an event, go to the "Automations" tab in your SendPulse account, select the "Purchase" event, and add the generated code to your site.
Step 2: Create a flow of messages
Set up the start of the flow with a previously created event, choose the list of recipients, and connect the "SMS" element with the "Flow start." Then customize this element by entering your "Sender ID," and the text of the message. You can add a product id or product name as a variable in the text.
This example is a basic autoresponder that consists of one SMS. You can add more "SMS" elements or use other elements, including "Condition," "Filter," "Action," and "Goal." You can also set specific time intervals for sending follow-up messages. Let's clarify the functions of these additional elements:
The "Condition" element tracks various events, for example, "SMS delivered." It allows you to send a follow-up SMS only to those users who received your message.
The "Filter" element allows you to filter your recipients based on variables to send different follow-up SMS with different text and increase the level of engagement.
The "Action" element enables you to change variables assigned to your recipients. For example, you can change the variable from "lead" to "customer" to send more relevant offers in the future.
The "Goal" element allows you to choose the action that will count as conversion and stop SMS sending.
Step 3: Track statistics
Once the SMS autoresponder is activated, you can access a detailed delivery and bounce report in your account. You can also see the recipient's phone number, the cost per message, and the date when a specific message was sent to specific contacts on your list.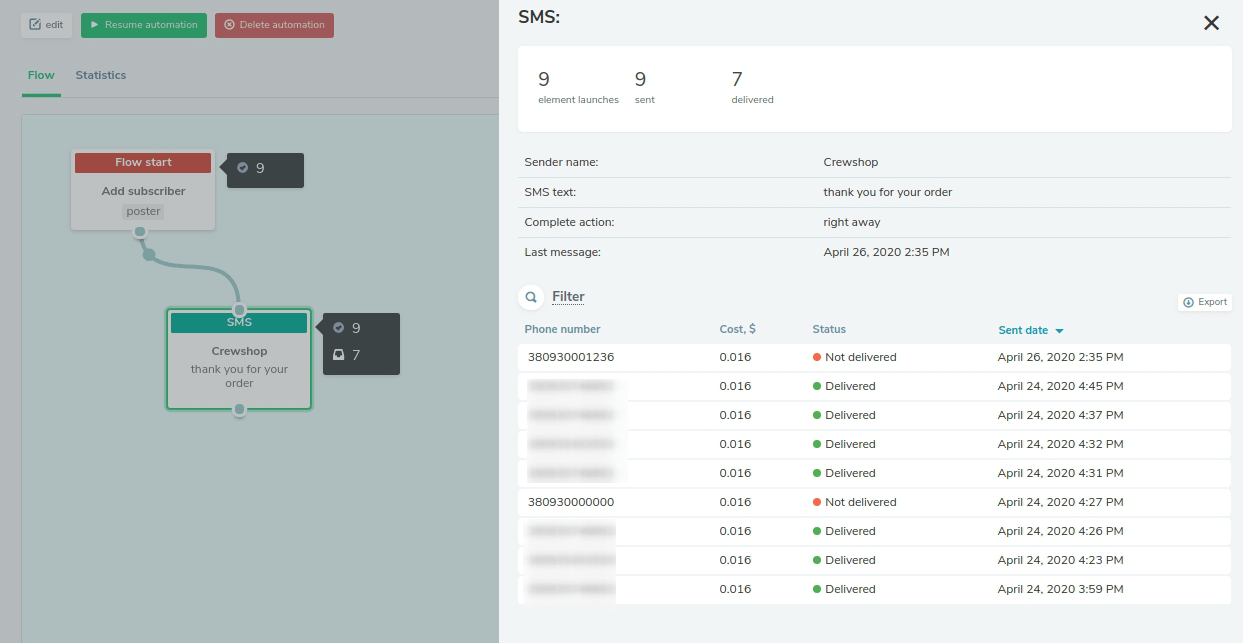 Here's a more detailed guide on how to create an order status SMS autoresponder.
How much does it cost to create an SMS autoresponder?
SendPulse's tool for creating autoresponders is called Automation 360. It allows you to create autoresponders free of charge. The pricing for SMS sending depends on your location and the country of your recipients. For example, it costs $0.022 per SMS inside the US. You can find more details about other locations on our pricing page.
4 Best Practices for Creating an Effective SMS Autoresponder
Put all the information in one SMS
Add links to your SMS
Register your Sender ID
Send test SMS
We've collected some actionable tips to ensure your SMS autoresponders are effective. Here they are:
Put all the information in one SMS. The limit for one SMS is 166 symbols. If you exceed this, one message will consist of two SMS, doubling your expenses.
Add links to your SMS. You can add links to drive recipients directly to your site. Note that links in SMS are shown as text, like www.sureshoe.com/women/product_id092881. It's too long, so use a link shortener like Bitly to make a link like this: bit.ly/jrajfk. You can track click-throughs in your SMS using Google Analytics.
Register your Sender ID. The laws of some countries, including UAE, Saudi Arabia, Egypt, Ukraine, and Russia, require companies to register their Sender ID.
Send test SMS. You can "purchase" your product to see how your SMS autoresponder works by sending test SMS. With SendPulse, you can send up to 10 free test SMS.
Congratulations, you've learned how to create killer SMS autoresponders to support your audience at every stage of their buyer journey. Try creating one with SendPulse today!
Last Updated: 22.03.2023