A transactional email is an automated message sent to a subscriber based on their actions on a particular application or website. Order updates, booking, subscription confirmation, and notifications are examples of transactional emails.
In this video produced by Mailjet, the lecturer highlights the difference between transactional and marketing emails.
These emails inform customers about the start or completion of a specific process. It is, therefore, important to automate these messages to ensure that the right emails are sent to the right recipients at the appropriate time. Apart from that, personalizing messages is also vital. Why? It ensures that the marketer always sends relevant information to the recipient.
From a customer's perspective, transactional emails go a long way in reassuring them of a brand's reliability. Moreover, they help companies offer better customer service. For example, an order confirmation email confirms that a business has received a customer's order. In turn, it keeps the buyer from being uncertain regarding the status of their transaction.
Email marketing services allow reaping the maximum benefits from these emails. They offer a trustful SMTP service, which ensures a high email deliverability rate. Besides, they provide additional means of authentication for better performance.
Why are Transactional Emails Important?
Develop customer trust
Boost customer engagement
Stimulate additional sales
Foster brand recognition
Transactional emails are essential to businesses because of their many benefits. Let's highlight some of the areas these emails can bring value to:
Develop customer trust. Customers undoubtedly feel safer when they interact with a business that offers useful information during every phase of cooperation. With transactional emails, companies can eliminate customer concerns.
Boost customer engagement. Transactional emails employ a coordinated approach that makes customers feel appreciated, thus inviting interaction. This cooperation, in turn, leads to better social media engagement or even higher customer participation in surveys.
Stimulate additional sales. With transactional emails, marketers can send product ads that are related to what their customers have purchased. These subtle advertisements can go a long way in cultivating a desire to buy additional or complementary products from a business.
Foster brand recognition. Transactional emails are a great way to present the brand's elements (logos, typography, colors, etc.) to the attention of the client. In turn, this ensures that shoppers remember a particular business in the future.
What is the difference between a marketing email and transactional email?
To most people, the line between marketing emails and transactional emails is often blurry. A marketing email is any commercial content or message that is sent to a subscriber list. This type of email usually prompts the recipient to convert, and it is generally sent at strategic periods. All marketing emails must follow the local laws and should only be sent to people who have opted in.
A transactional email, on the other hand, is triggered by a recipient's unique behavior. When a customer performs a specific action, they receive the corresponding email. An order confirmation email sent to a customer who has made a purchase is an example of a transactional email. Unlike a marketing email that can be sent in bulk, a transactional email is intended for particular and narrow mailing list segments.
Transactional Email Types
Order confirmation
Shipment status email
Password resetting email
Pricing plan upgrade email
Transactional emails can bring marketers better results in terms of ROI and customer engagement. It is also possible to create transactional emails with SendPulse. However, one must first understand the different types of transactional emails to leverage their power:
Order confirmation
When a customer makes a purchase, it is an excellent practice to follow up with an order confirmation showing the shipping details and order tracking process, if possible. If a payment has been made, also include a receipt. These emails reassure the customer that the purchase was successful and gives the business a chance to cross-sell or upsell the products.
Shipment status email
This email is sent to keep a client in the know regarding the order made. Companies tell customers about the date of the product arrival. Moreover, they give a chance to track the shipment right from the email.
Password resetting email
These emails are sent to website visitors who ask for password changes and usually contain clear instructions on how users can change their login password. They may include a link for the reset, and another to report unauthorized password change requests.
Pricing plan upgrade email
This email motivates users to upgrade their pricing plans. Marketers usually tempt with unique features that will boost productivity. Another common practice is giving a time-limited discount. Especially when an annual policy is considered.
All you need is to choose a reliable service that will send your transactional emails in a flash.
How to send a transactional email with SendPulse?
Register with SendPulse
Create an event
Create an automation flow
With SendPulse, you can send up to 12,000 transactional emails each month for free. To improve the performance of your emails, you can set up SPF and DKIM records to authenticate your emails. This way, your campaigns won't land in the subscribers' spam folder.
Sending transactional emails with SendPulse takes four steps.
Step 1. Register with SendPulse
Fill in this registration form if you don't have an account with the service.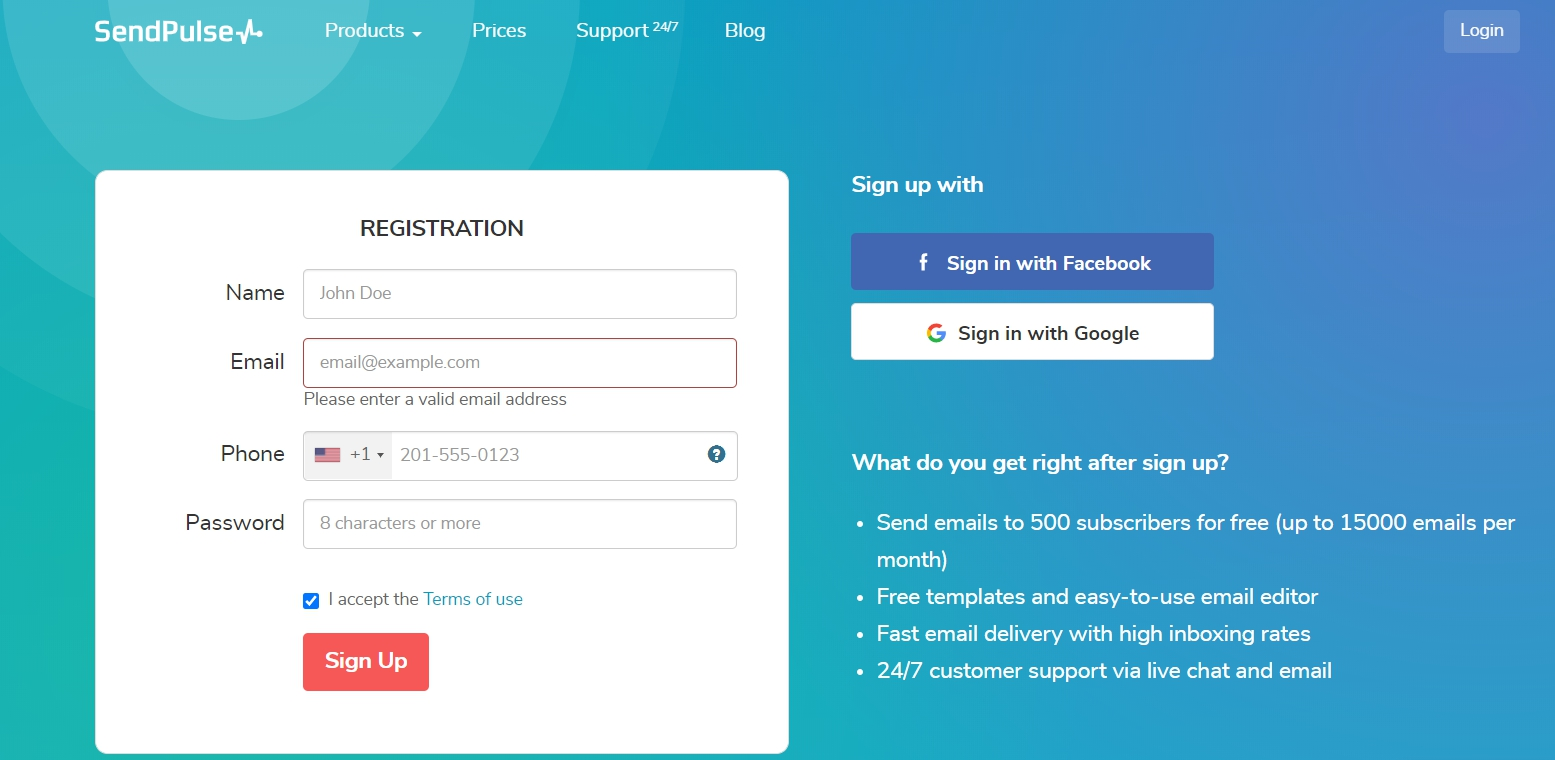 Step 2. Create an event
Firstly, you should create an event that will trigger your transactional email to be sent. Let's say, you want to send a confirmation email. So, you need to go to the "Automation" tab, choose "Events Manager." and click "Add new event." SendPulse offers 4 pre-defined events: registration, abandoned cart, purchase, and custom events.
To send an order confirmation email, choose the "Purchase" event. Fill in the variables with the information you want to transfer about your client. After that, we'll generate code including the URL that will receive data. Ask your developer to send data to this event.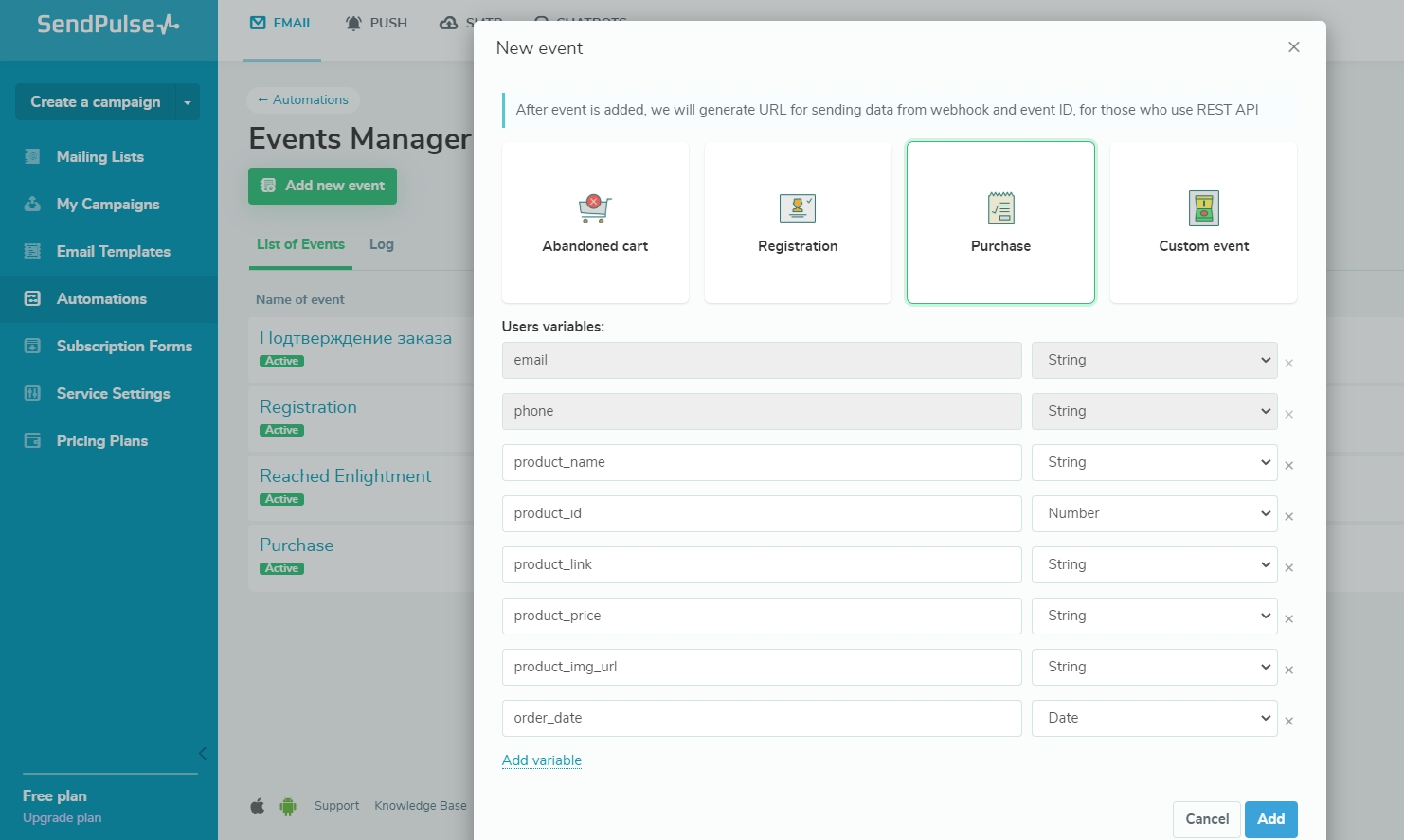 Follow this step-by-step guide to creating events with SendPulse.
Step 3. Create an automation flow
Now, you can get started with creating your flow. Go back to the "Automations" tab and click "Create new automation." Choose the event you have just created, as the start of your flow.
Then, add an order confirmation email. Keep in mind that you need to create an email template to select it. You can use SendPulse pre-made templates for this purpose.
This way, every time a user clicks "Buy," they will receive an order confirmation email.
You can also add a condition to send users a thank you email after they confirm their order. If they don't confirm it, you can remind them about it in two days. To launch this kind of flow, you need to create two events:
The first event will send data regarding the customer and their order. It can be an abandoned cart email event.
The second event will send the data regarding the purchase. It will be the corresponding event.
Look below to see how this flow looks.
After launching your flow, you can monitor conversions. In our Knowledge Base, you'll find the instructions on how to set up a conversion count.
Transactional Email Examples
A transactional email from Apple. It confirms a subscriber's change of their Apple ID password.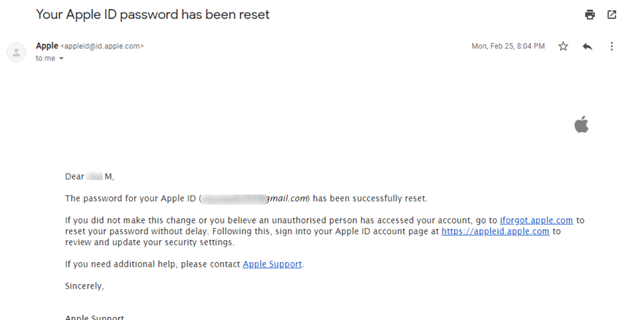 An upgrade pricing plan email from Grammarly. The brand gives a generous discount to leave no chance for reflection.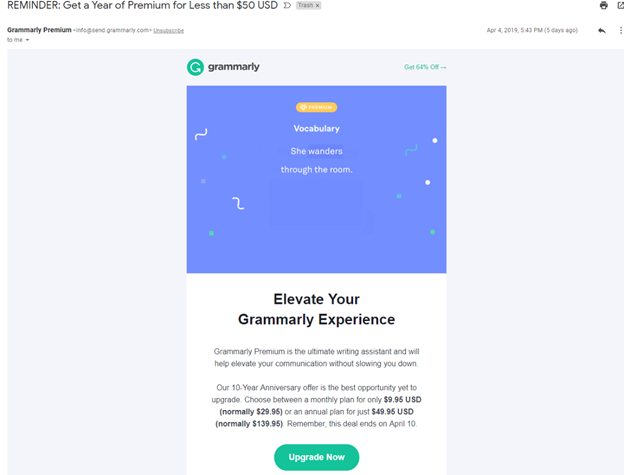 An order confirmation email. This email provides users with all the necessary details regarding the order to make a client trust.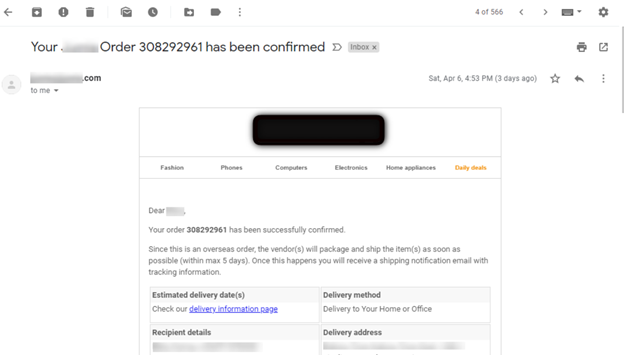 An example of a shipment status email. The sender gives a chance to track the shipment status in real-time.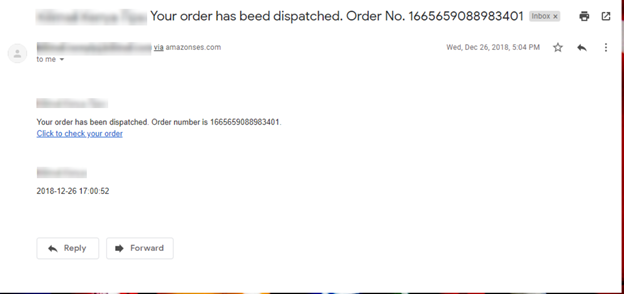 Transactional Email Best Practices
Transactional emails should be focused on giving customers information and assistance whenever needed. Here some best practices for this type of email:
don't confuse transactional emails with marketing emails. Mixing the two can land a brand into trouble with the law as well as the recipients;
be specific. State the reason for writing this or that email clearly — avoid being too wordy;
authenticate emails with SPF and DKIM records. This way, there are more chances for your emails to land into the inbox.
consider sending from a dedicated IP address to be fully responsible for your sender reputation;
use a "reply-to" email address to increase engagement. "No-reply" email address looks robotic and leaves no chance for interaction with your brand;
monitor email statistics to update the strategy on the go.


To learn how to create and send transactional emails, follow this step-by-step guide.
References
The article "What Is a Transactional Email? [FAQs]" on HubSpot blog defines a transactional email and explains why one should send them.
The article "Everything You Need To Know About Transactional Email But Didn't Know To Ask" on Smashing Magazine unveils the challenges of transactional emails, compares them with promotional ones, and considers email authentication for better deliverability.
FAQ
Last Updated: 12.09.2023