Online customers, just like in-person shoppers, love finding great deals. Whether it's software, eBooks, clothing, or sports gear, customers expect value for their money. Receiving a bonus makes them feel they're getting more than they paid for. This, in turn, leads to higher sales, more referrals, and increased customer loyalty.
Whether you're promoting your own products or working as an affiliate marketer, using bonus funnels as part of your promotion mix can improve your conversion rates by up to 200%. Today, we will teach you how to create a bonus funnel that yields positive results for your business. Let's dive in!

Why you should use a bonus funnel
There's one simple reason you should utilize bonuses: they work. Below are some of the reasons they're so effective.
Bonuses appeal to FOMO
Imagine you purchased a website hosting subscription plan. You're happy with it and think you paid a fair price. But then you hear someone else got the same plan but also received a free domain for five years. Suddenly you feel like you missed out on something and start looking for a similar deal.
Fear of missing out (FOMO) is one of a particularly powerful psychological tactic in marketing when it comes to getting potential customers to click the "Buy Now" button. By offering something extra, you make your prospects feel that they're getting more for their money. If the bonus is time-limited, it's even better.
Bonuses add value to purchases
Let's return to the website hosting example for a moment.
To run a website, you will ordinarily need to pay for domain name registration and a hosting package. If you purchase hosting and receive domain name registration as a free bonus, you've gained something of real value that will help your business and save you money. This value means you're more likely to stay with the same provider after your initial contract expires.
In other words, if a bonus adds value to a purchase, it makes the base product far more desirable.
Bonuses make you the favorite
If two websites or online stores promote the same or near-identical products, the one that offers better bonuses will enjoy a higher conversion rate. If you become known for offering great bonuses, you'll become your customers' preferred store.
If you're an affiliate marketer, there's another advantage. Some programs offer higher commission rates to affiliates that make more sales. Bonuses increase your conversions, helping you qualify for these preferential commission rates.
How to create the perfect bonus for your offer
Offering bonuses doesn't automatically result in higher sales. You need to be creative and strategic when you develop your bonus offer. Since you want to convince your customer to buy a product or service, the bonus should give them a nudge in the right direction.
Know your customers
The key is to put customer needs at the heart of your offer. Return to your ideal customer persona and ask yourself these questions as you create your bonus:
What are my ideal customer's problems and how could I help solve them?
What will make them use the base product more often or get more benefits from it?
Your bonus should capture your customer's needs, desires, and pain points. In other words, you should ensure you're offering real value.
Decide what to offer as a bonus
Bonus options are nearly endless. As well as considering customer pain points, you must also consider the time, effort, and expense that goes into providing your bonus. These must be proportional to the benefits offering the bonus will bring to your business.
Here are some bonuses that are cost-effective to offer:
eBooks. An eBook about a topic related to your product can fill a knowledge gap and help the customer get the most out of your product. You can make one using an online eBook creator.
Free templates or plugins. If you sell software or other digital services, offering ready-made templates or plugins can make the product more valuable by adding extra functionality.
Online training. A virtual course, training video, or webinar can help your customers use your product more efficiently and get more out of it.
Consultation. If you run a service-based business, why not offer a free 30-minute consultation with you or a member of your team as a bonus? This starts your relationship on the right foot and can easily generate return customers.
Here's an example from Myprotein, which offers a free guide when you sign up for their emails: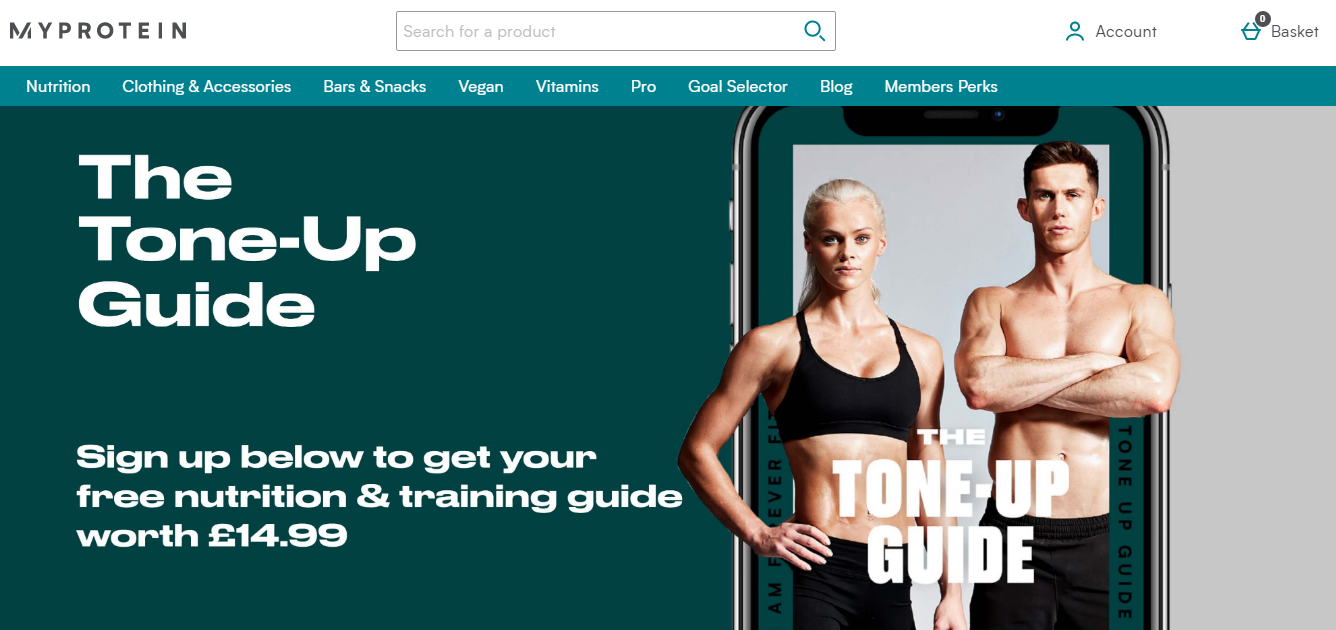 Here's the rule of thumb we follow when we create a bonus: offer something that has a perceived value around ten times the selling price of your product. For example, if your base product retails at $19.99, you could offer a free course alongside it that is usually worth $199. A high-value bonus helps show customers what an amazing deal they're getting, increasing your conversions.
Consider bonus stacking
If you really want to take your conversions to the next level, you don't stop at one bonus product. You can "stack" multiple products to create an even more amazing bonus package. For example, if you were considering offering an online course alongside your main product, why not create a series of relevant "masterclasses" and offer them all in a bundle?
Stacking bonuses makes the customer feel like they're getting an even better deal.
This offer from makeup brand, Clinique, offers seven bonus products, plus free shipping and gift wrap, with a $28 purchase. Spending $55 earns an additional bonus on top.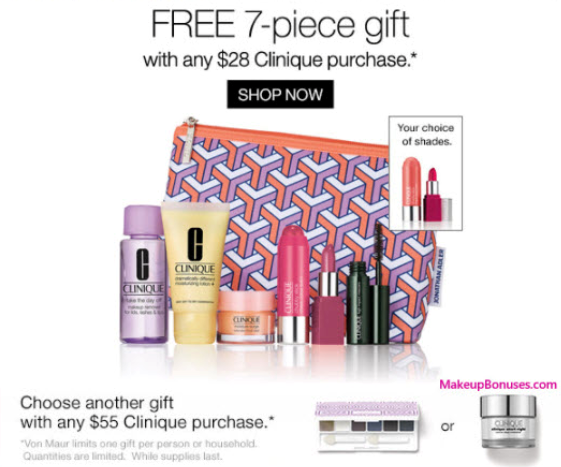 If you offer a bonus package worth $500, you shouldn't have any problems getting prospective customers to part with $50 for the base product.
How to create a bonus landing page
If you want your bonus to bring in those conversions, you'll need to do some promotional work. One of the most critical steps is to build a landing page to promote your bonus and encourage website visitors to take you up on your offer.
Here's a landing page we built to promote a bonus from LongTail Pro:
Your landing page should contain the following elements:
An overview of the offer;
A list of the bonus products including the value and a short description of each;
A summary of the offer, including the total value if you're stacking bonuses;
A relevant image or video. Marketers who use video on their landing pages enjoy 34% higher conversion rates on average;
A call-to-action button.
If you wish, you can also include a space for website visitors to sign up for your email newsletter from the landing page. If you take this route, remember to check the email addresses through an email verification tool to keep your bounce rate low and deliverability score high.

Once you've created the perfect landing page, you can drive traffic to it through pay-per-click (PPC) advertising, social media, and email marketing.
How to move visitors through your bonus funnel
How you include bonuses in your marketing funnel will depend on your objectives and the channels you utilize to attract customers. A typical marketing funnel can be broken down into four main stages: awareness, consideration, conversion, and retention.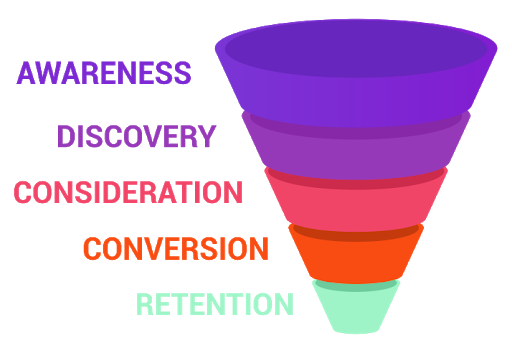 A prospective customer enters your funnel at the point they become aware of and develop an interest in your offering. This might be through seeing a paid ad, finding you organically through a Google search, or encountering your brand on social media. At this point, a prospective customer might click through to your landing page or subscribe to your mailing list.
The consideration stage involves positioning your product as a potential solution for the problems your prospects have. At this stage, we like to hold their interest and build the relationship by offering helpful free content such as white papers, case studies, webinars, or product demo videos.
The conversion stage is the point at which the customer decides to buy. How long it takes to get to this point varies wildly from one customer to another. This is the point at which you should offer your bonus to sweeten the deal. If they're considering other products and solutions, the right bonus can be just the thing to get them to choose you over a competitor. Remember: if two companies are selling the same or very similar products, the one with better bonuses will enjoy higher conversion rates.
In the last stage of the funnel, your concern is keeping existing customers loyal and turning them into ambassadors for your brand. You can add further bonuses at this stage to keep giving your customers that amazing value that drew them to you in the first place. Bonuses at this stage could include a free upgrade for every referral they bring in, access to exclusive virtual events, or special discounts on new product releases. The possibilities are endless, so get creative.
The bottom line: regardless of how a prospect enters your funnel or the stage they're in, a bonus will boost your sales, nurture relationships, and keep your customers loyal.
Wrapping things up
Online retailers and marketers use bonus offers because they work. They are a tried, tested, and proven method of increasing sales and improving conversion rates. The right bonus can add value to a purchase, appeal to a sense of FOMO, and make you the preferred vendor over your competitors.
Creating a great bonus involves understanding your target market so that you can address their needs and pain points. Remember that you should aim to solve a problem, increase the value of the base product, and give the customer something they really want. A great bonus, a killer landing page, and a well-written call to action is the magic formula for high conversion rates.
Everyone loves to get a great deal or added value. By giving the right offer to your customers, you can grow your sales and take your business to the next level. Good luck!