Let's face it, creating a quality email with a strong copy and an appealing design is a lengthy process. In fact, it takes an average of two weeks to build an email. To make that process faster without losing quality, one may use ready-made, professional email marketing templates offered by email service providers (ESPs).
In this article, we'll walk you through five most commonly used email marketing templates and demonstrate how you can customize them to your own email campaigns.

How do email marketing templates work?
An email template is an HTML file you can use and reuse as a framework for your campaigns. Pre-made templates define the structure of an email campaign as they consist of preformatted elements — images, call-to-action buttons, header, and so on — which you can easily replace with your own content.
Pre-made HTML email marketing templates have the following benefits:
Responsiveness. Email templates from ESPs are usually made by developers and designers, so they are well-tested and show up correctly on any device, automatically scaling to different screen sizes and resolutions.
Flexibility. You can adapt one template for several email campaigns with a few adjustments. For instance, when you choose a template that fits into your brand identity, you can multiply it, change headers or add any other details, but the basis will stay as it is.
Efficiency. Rather than building an email layout from scratch, you can use pre-designed templates as a customizable foundation for a new email campaign — just drag and drop the elements to fill it with your ideas and content.
Now, let's explore five free email templates from SendPulse along with vivid email examples of different brands which reflect their application.
Welcome email template
Welcome emails bring 4X more opens and 5X more clicks than regular marketing emails. These are a perfect option to start building strong relationships with your customers and involve them in your brand as the latter have just signed up and are more open to a conversation than ever.
Here's a possible step-by-step scenario for your welcome email series:
Start with a sincere message where you would thank a person for choosing your brand. Tell more about your company, share its values and history to build up trust and loyalty.
Showcase your products, talk about best-sellers, or promote upcoming deals.
Complete the series by asking subscribers for more information. This way you will be able to segment your audience and provide the most relevant content in future.
Below you can see a pre-designed email marketing template with a sufficient amount of white space to make email scanning easier, large main image and two additional columns, each with its own heading and CTA.
By customizing the images and replacing the copy with your own text, you can build a welcome email similar to the one True Citrus use to greet their new subscribers:
Promotional email template
According to the statistics, 61% of people prefer receiving promotional messages via email. So, don't miss out on a chance to bring the sales up as your customers are already expecting some interesting deals from you in their inbox.
When building a promotional email, stick to the AIDA formula, which includes four steps:
Capture your users' Attention with a beautiful image, bright heading, or any other piece of content that is relevant to your audience.
Fuel their Interest in your offer by explaining what's great about your product and why it's worth purchasing.
Make users Desire your product by demonstrating its value.
Motivate Action with a compelling call-to-action.
Below you can see a free email marketing template that can be easily transformed into a promotional email with an additional product grid to cross-sell: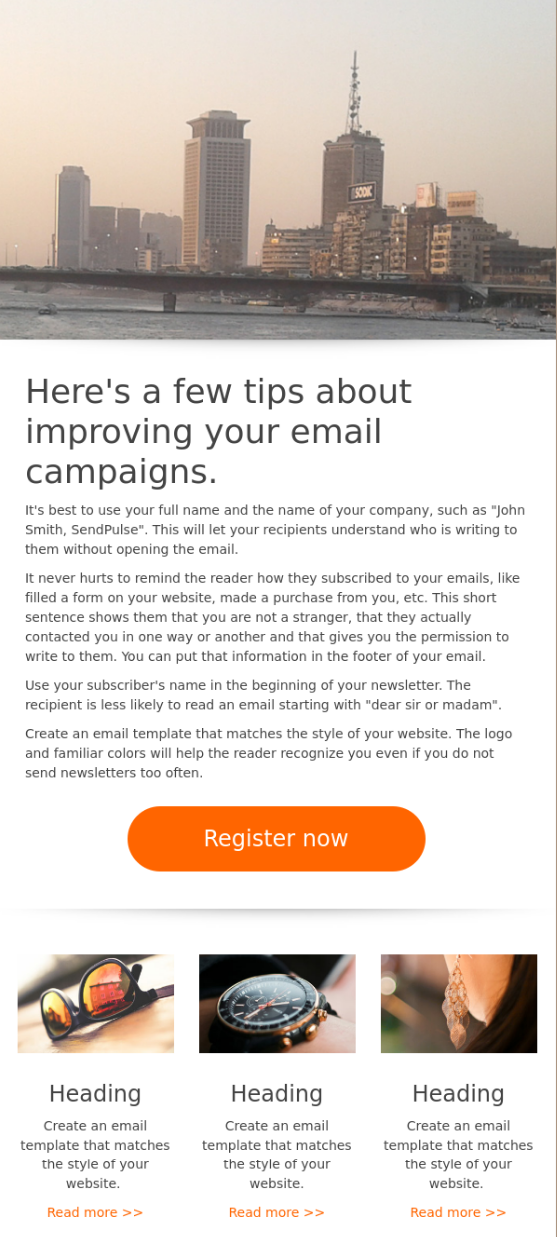 Check out an example from The Sill. The brand attracts attention with a quality image, creates interest and desire with engaging copy, and stimulates the desired action with a prominent CTA. Moreover, it contains a list of best-sellers to boost sales: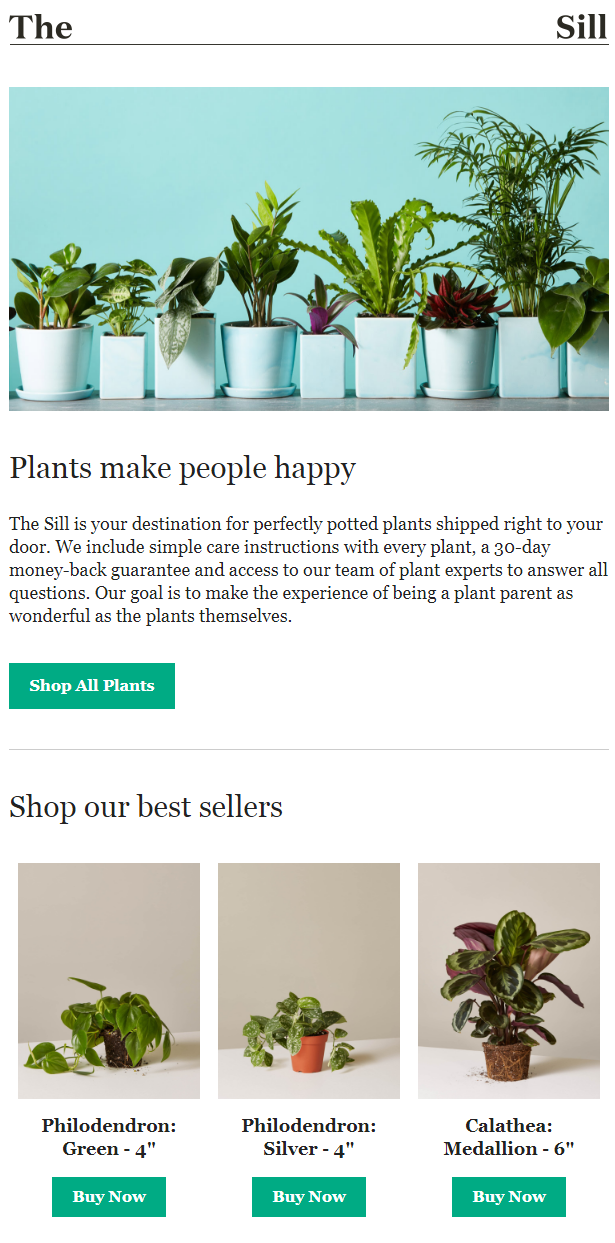 Event email template
Email marketing is considered to be a single most effective channel to promote an event by 40% of marketers. To get the most of your event email marketing strategy, pay attention to the following tips:
Send out an announcement email in advance so that people could find place for your event in their calendar.
Remind subscribers about an upcoming event in your second email and showcase your speakers. Include the event schedule and promote a dedicated event hashtag. Also, think of providing an early birds discount — 64% of event planners find it the most successful promotional method.
Prepare a follow-up email to thank the participants and recap the event — share presentations, videos and photos so that people can spread this information and build awareness around your brand.
A point to remember: an email invitation shouldn't be overwhelming. Search for simple digital email marketing templates, include clear information about the event and add images that support your main message. Take a look at the template example below: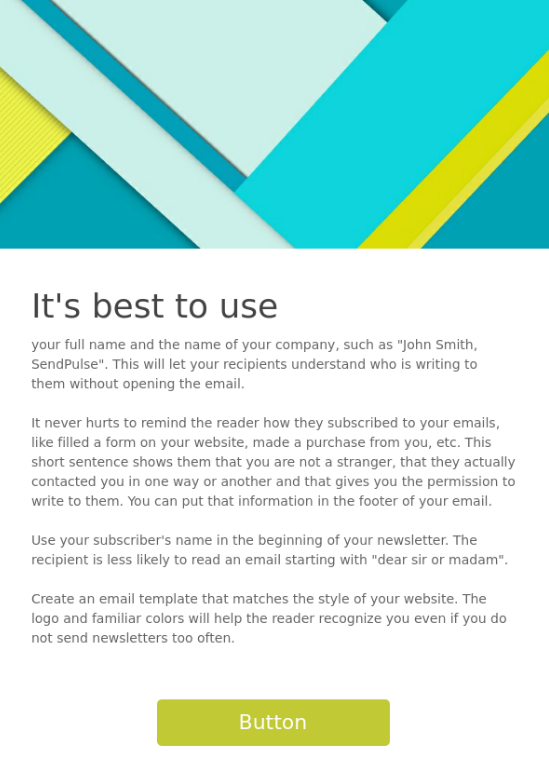 Skillshare use a similar template design to invite people to register for an upcoming webinar. The main image draws the attention to the lineup of their speakers, the text is minimal though it contains all the essential details — date and time of the webinar, its topics. The finishing touch is a single CTA button accented with the corporate color of the company.
Digest email template
Digest is a summary email sent weekly, biweekly, monthly, or at any other regular periodicity a company finds appropriate. Such email helps brands stay engaged with the audience and motivate people to take further actions — click, purchase, register, and so on.
Apart from being filled with valuable information, digest template design should remain simple, yet attention-grabbing. So decide on the form your digest should take — for instance, just images with headings and CTAs or accompanied with short descriptions, single-column template or multi-column one — and then choose a corresponding email template. And remember to balance your digest with 90% educational and 10% promotional content.
Take a look at the single-column template below:
Template background is filled with one color. Each topic is highlighted with an image, followed by a heading, short description and CTA button. Although the template design looks simple, there's enough space for each topic and it's comfortable to read on mobile.
Check out an example of a digest email from Travel and Leisure built upon similar template — each article has its own space; it is reinforced with an image and intro followed by a "Read more" button.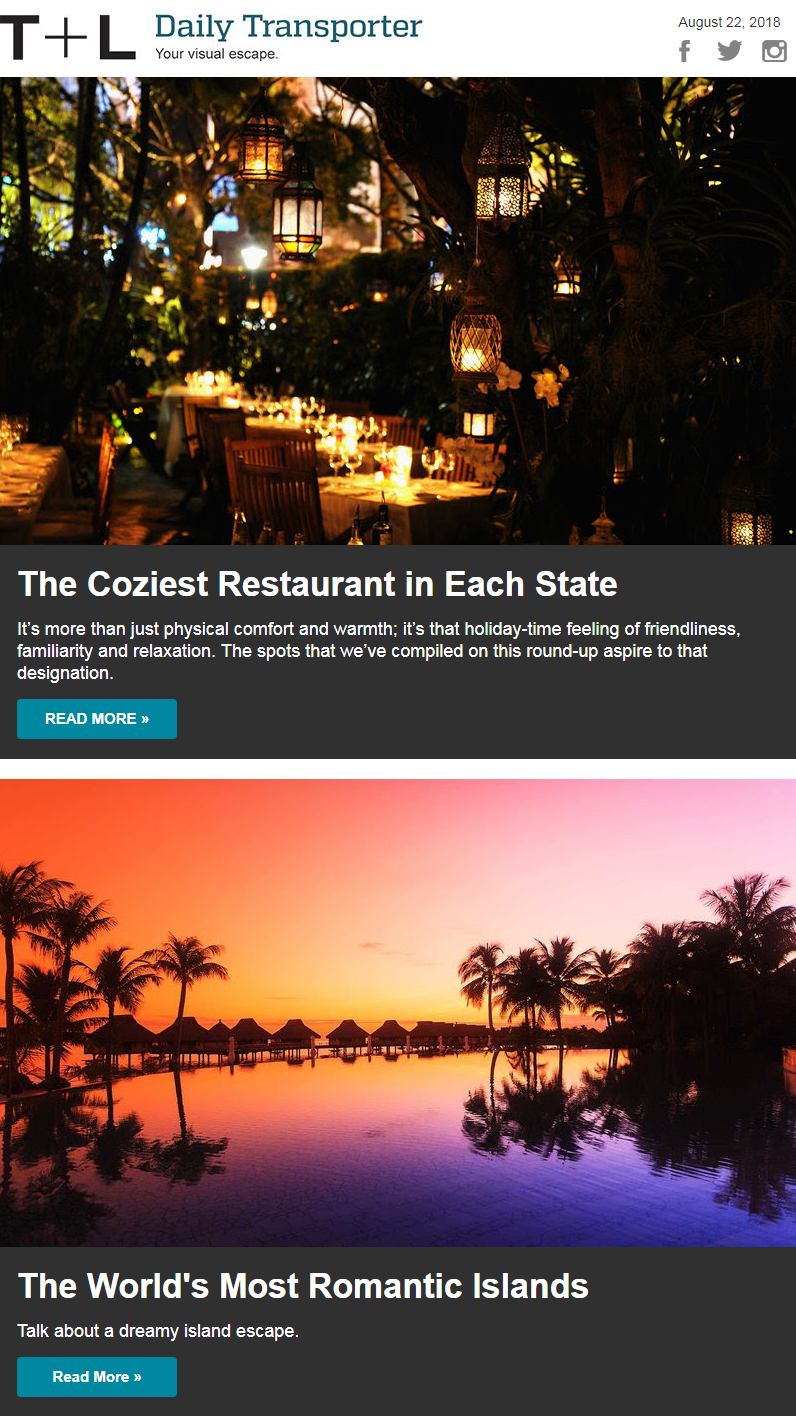 Celebration email template
Specific milestones in the personal life of subscribers or their relationship with the brand, national holidays and other celebrations — these are all the occasions a company can use to improve customer loyalty and keep subscribers engaged. Moreover, this can be a handy way to wake up users that have gone inactive.
Use email design to emphasize that the occasion is special — with a bolder color scheme, for example. If you are going to add a special offer or a gift, make it easy to read — put it front and center in your email template. Delve into the images, as they make it easier to convey mood and emotions.
Here's a free HTML email template you can easily customize to your brand style:
Add your logo, complement the template with a vivid photography, write a few warm wishes, and Voila! A Christmas email like the one from Ralph Lauren is ready: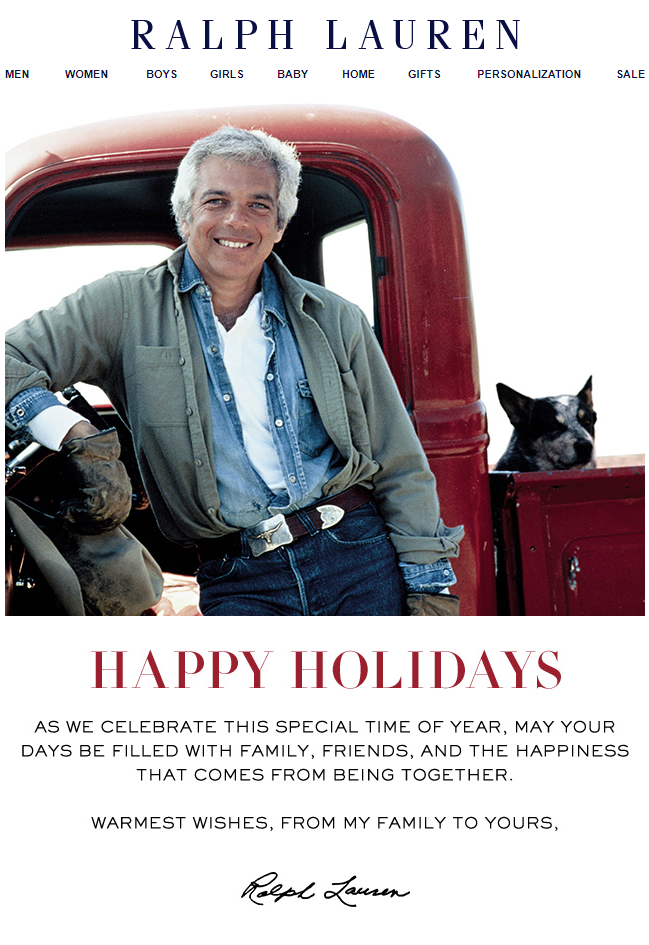 So, what's next?
You can always create your own HTML email templates in case you don't want to use the premade ones. To successfully use templates, remember the following steps:
Define the types of email campaigns you want to launch.
Choose a template for each campaign based on your goals and the content you have on hands.
Add your text and images to the template and make any adjustments you like.
Done! Remember to check the metrics and improve your emails accordingly to enjoy better results. We wish you good luck and great conversions!