YouTube has come a long way since its first-ever video in 2005. From zero views, it became the world's largest video streaming platform. Because of the platform's simple interface and enormous audience pool, more content creators use the platform to share their videos with a global audience.
YouTube is a popular marketing channel for businesses and influencers alike. According to a report by Buffer, 62% of businesses use YouTube to post video content that promotes their brand. It's second only to Facebook as the most popular medium for businesses to promote themselves.

Why should you use YouTube for lead generation?
Videos are a powerful marketing tool to promote your business and get quality leads that can potentially become loyal customers. 84% of marketers say video has helped them generate leads.
Users are also highly dependent on video content for finding new products. YouTube has a recommendation feature that allows users to easily find your brand when searching for a particular product. A study by Think with Google found that 90% of people say they discover new brands or products on YouTube.
Users may also like and comment on videos if they find them valuable. These views, likes, comments, and subscriptions carry amazing lead generation potential — all of which marketers can use to boost the reach of their business.
In other words, complement video with YouTube's 2.3 billion active monthly users, and you have a potent lead-generation tool. All you need is an effective YouTube lead generation strategy.
Besides, YouTube videos also have the ability to rank on Google. So, when people search on Google, they could see your video in the search engine results. That makes it easier for users to discover your videos and your brand in general.

YouTube lead generation strategies you should use
It's not enough to put your videos out there. Over 500 hours worth of video is uploaded to YouTube every minute, making it harder to grab users' attention. You must employ strategic YouTube lead generation to maximize YouTube's promotional capabilities, rise above the competition, and grow your business.
Optimize your YouTube content
To ensure effective YouTube lead generation, you must optimize your video content to collect as many quality leads as possible. The first step to optimizing your YouTube channel is using relevant keywords in all your written content. These keywords are the words or phrases users type in when looking for particular products or services.
Relevant keywords can increase the possibility of your video being recommended by YouTube. They can help search engines index your videos and, therefore, make it easier for users to discover you. According to YouTube, 70% of the most-watched videos are determined by its recommendation algorithm.
That said, take time to search for keywords. Just head over to YouTube and search for a specific keyword like email marketing, for example. Then, look at the top few results. These are the keywords you'll want to rank for on YouTube because they're the ones people are searching for.
You can also use SEO tools to help you — Ahrefs Keyword Explorer, for instance, is a great tool for marketers and SEO professionals. Just don't forget to set your search engine to YouTube when using the tool. You can also use Google Trends to determine the popularity of a keyword on YouTube.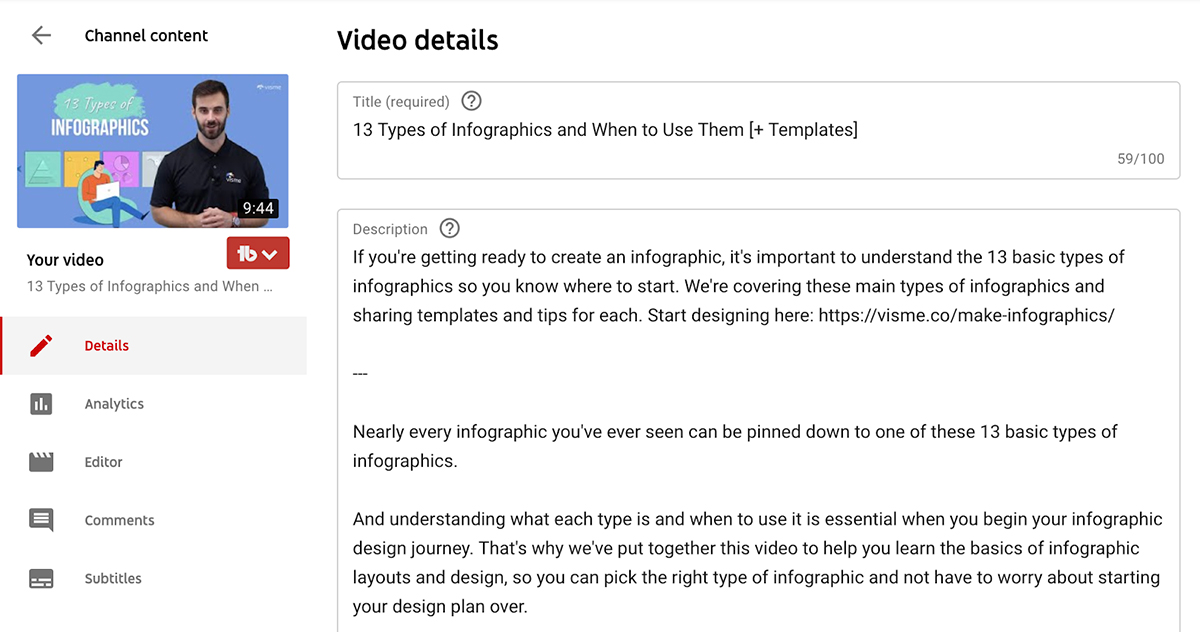 In the example above, software company, Visme, is trying to target the keywords "types of infographics." These keywords should be used in your video's rich description and, more importantly, in the title.
A study found that 90% of YouTube's top-ranked videos include a part of a target keyword in the video's title. Keep the title to a minimum of five words to help search engines understand your video's context and boost your ranking on YouTube and Google.
Likewise, the keywords you use should be placed in your video description as well. Ideally, they should be placed within the first 25 words of the description and mentioned 2-4 times throughout. Be careful not to stuff or crowd your description with keywords as you run the risk of being ranked lower or, worse, be subjected to penalties.
Add a CTA to your videos
A call to action (CTA) gives you a place to redirect viewers after they watch your video. You can end every video on a strong note and increase your conversion rates. You can use CTAs in your videos to encourage people to watch your next video, visit your website, or subscribe to your channel.
You can place your CTA strategically at any point in the video. In this example, HubSpot uses an end-of-video CTA that directs viewers to their lead magnet, their YouTube channel, and another video.
As part of your YouTube lead generation strategy, you can display a link to your product page or eCommerce store to promote them or increase sales. That is evident by the fact that 70% of YouTube viewers have purchased from a brand after seeing them on YouTube.
At the end of your video, you may also place a registration page for viewers who want to be added to your mailing list as a YouTube lead generation strategy. Aside from the actual video, you can place your CTA in your video description or the comments section, as some users read them before watching the actual video. Just make sure that your CTA is visible so the viewer can click it straight away.
Create engaging content
Engaging video content can turn viewers into customers. They are a great way to entertain, educate, and sell your products and services to viewers. While creating an entertaining video is important, viewers will engage with a video more if it gives them value.
A report by Wyzowl found that 94% of marketers agree that videos have helped increase user understanding of their product or service. Moreover, the most popular types of videos used by marketers are:
explainer videos (72%)
presentation videos (49%)
testimonial videos (48%)
sales videos and video ads (42% each)
Outdoor clothing brand, Patagonia, redefined video marketing with its stunning documentaries that highlight the people and experience surrounding the brand. Along with beautiful natural landscapes, they create highly stylized video content featuring various outdoor activities for which they sell quality clothing. They produce videos that tell their brand's story in the most cinematic way.
An example of engaging video content from Patagonia
Because of these videos, Patagonia has branded themselves as the "premier brand documentarian."
Like Patagonia, you can create genuine video content that represents and promotes your brand, while ensuring successful YouTube lead generation.
Your videos have to be of high resolution as well. High-resolution videos not only captivate viewers but also correlate with higher rankings on search engines. In fact, 68.2% of videos on the first page of Google are high definition.
Good video content not only encourages viewers to subscribe to your channel, it also strengthens your brand's credibility as an expert resource in your industry. Be consistent in posting informative, high-quality videos to fill your mailing list with loyal, quality customers.
Promote through influencers
YouTube operates in niche segments that give users a chance to form their fan base through subscriptions. Many users have generated a huge following and have become influencers of their industry. Collaborating with these influencers is a great way to ensure effective YouTube lead generation as it allows audiences to hear a well-known voice recommending your products.
Influencer marketing allows brands to integrate their products and services into an influencer's content. It requires quite an investment, but it's great for generating leads and customers. It can produce quantifiable results, with 89% of marketers saying their return on investment (ROI) from influencer marketing is comparable to or better than other marketing channels.
Leading UK men's skincare brand, Bulldog, used YouTube influencer marketing to gain more customers in the US. In addition, they also used paid promotions to supplement their campaign. Bulldog saw a 127% lift in purchase intent and a 2X increase in click-through rate on their site when using both paid and branded content compared to its benchmark.
Add website links in your video descriptions
Your video's description box is a valuable resource where you can place relevant keywords and website links that will forward viewers to the next step of the sales funnel. The YouTube lead generation process isn't complete until you have redirected viewers to your website.
Drive traffic into your website by consistently placing product links or landing page links in your videos' description boxes.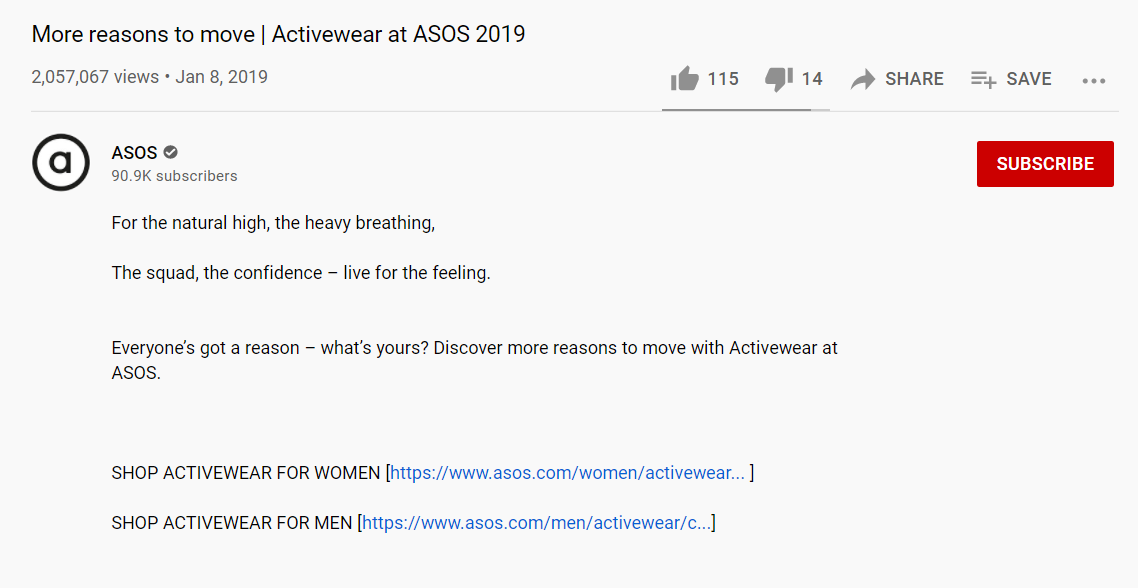 In this example, clothing brand, Asos, places separate product links for men's and women's activewear. Adding links in your description box like this can also help your video rank higher on YouTube. The higher your video ranks, the more views it gets.
Aside from website links, you can add your brand's social media links to your video's description box. Adding these links is a good way to increase engagement and build your brand using social media.
Respond to comments punctually
Customers love a brand that is responsive to queries and comments. Failing to reply to these queries can have a negative impact on your brand. Getting comments on your videos is good for business and general search rankings, so don't waste them. Stay engaged with your customers in comments.
According to Sprout Social, 79% of consumers expect brands to respond within a day of reaching out over social media, but average brand response rates across all industries are lower than 25%.
That said, not all of your comments will be positive. Some customers may air their complaints in your video's comment section. That makes it all the more important to be responsive, as answering a complaint on social media can increase customer advocacy by 25%.
Comments are a good way to plug website and social media links as well. You may even encourage commenters to view a readily-posted video from your channel to answer a query they have. Just make sure to always keep a friendly demeanor when responding to these comments.
Bottom line
YouTube has quickly emerged as a powerful platform for promoting businesses and collecting quality leads. With its discovery and recommendation feature, it's easier for brands to get recognized even if users aren't actively searching for them. Marketers and business owners can easily maximize YouTube's easy-to-use interface to build their brand.
To ensure successful YouTube lead generation, place relevant keywords and links in your video title and description box. While producing informative yet engaging content, always incorporate a strong CTA in your videos. You can do this with content and YouTube cards. Of course, don't waste customer engagement. Make the most of your audience interactions by being punctual when replying to comments.
Collaborate with industry influencers who can recommend your brand, too. That can help spread positive word of mouth about your brand and, eventually, foster loyal customers.
Be consistent in these YouTube lead generation strategies, and you can grow your business effectively. Good luck!