Content marketing strategy is a set of actions to organize your content production and publishing so that it increases your market share, improves your brand image, and increases sales.
In this video, a SendPulse marketer, Anna, explains how to create a powerful content marketing strategy.
Why is content marketing strategy important?
It helps you build trustful relations with your audience
It helps you improve your site ranking on search engines
It helps you generate leads
It helps you show your expertise
According to SmartInsights, 69% of B2B companies produce their content based on documented strategies. HubSpot claims that 70% of companies around the world invest in their content marketing. This means that planning your content efforts will be worth your while as it works for businesses of any size and industry.
Let's see why developing a strategy for your content marketing may help your business prosper:
It helps you build trustful relations with your audience. Content that effectively addresses your target audience's questions and helps relieve their pain points is a great foundation for building long-lasting relationships. People like to consume high-quality content, so, if you produce it, they are more likely to purchase products from you.
It helps you improve your site ranking on search engines. Search engines use sophisticated algorithms to determine which content is best. To rank high, you need to produce well-written content, relevant to users' search queries. Content marketing strategy is the thing that will help organize your content production so that you only share interesting and helpful information at the right place, at the right time, to the right audience.
It helps you generate leads. The higher your content ranks on Google, the more traffic you receive. Place subscription forms and lead magnets on your best-performing pages, and you'll convert your site visitors into marketing leads and eventually sell them your products or services.
It helps you show your expertise. You need to produce high-quality content to share your knowledge in a specific business field. By sharing helpful and impactful content, you support your audience and prove that they can rely on your company.
Let's analyze what makes up a content marketing strategy.
6 Steps to Create a Content Marketing Strategy
Define your goals
Develop your buyer persona
Brainstorm content ideas
Define the best channels for sharing content
Choose a CMS
Create a content calendar
Here are six universal steps that any business takes to organize their content marketing from a clean sheet into a structured strategy. Here's what you should do:
Define your goals. There are four most common goals that content marketing strategy may help you achieve: increase brand awareness, nurture loyalty to your brand, educate the audience, and increase customer engagement. Ideally, you need to combine all these goals in your strategy since they fit different buyer journey stages.
Develop your buyer persona. Find out what barriers may stand in your buyers' way and how your product or service may help them overcome these issues. Also, analyze the age, gender, location, and other demographics of your customers. Once you develop your buyer persona, it will give you insights into what types of content to produce and how to present them to your audience.
Brainstorm content ideas. For ten minutes, write down as many content ideas as you can. Then read your ideas out loud and sort them into three groups: poor, okay, and great ideas. Finally, you can narrow down the list of the best ideas you came up with and choose the most relative ones.
Define the best channels for sharing content. Find out which channels your target audience prefers for communication. It's best to publish your content on the channels with the highest engagement level. If your audience is mostly young people, it's best to communicate your ideas on Instagram. If your target audience is businessmen who rely on data, facts, infographics, etc., it's best to post comprehensive articles and rationalize why and how your products can solve their problems.
Choose a CMS. A content management system is a platform for creating, publishing, analyzing content on your website. The most popular CMS platforms are WordPress, Joomla, and Shopify.
Create a content calendar. It's better to have your content organized in a schedule then simply have a chaotic to-do list. This allows you and your team to keep an eye on deadlines, visualize your progress, and plan with ease. You can also start your calendar by optimizing your existing content if there's any.
Let's find out which types of content you can build your strategy upon.
What content can you use in your content marketing strategy?
Posts on social media
Blog articles
Emails
Videos
You can create and combine different content types based on your goals, budget, and target audience's preferences. Let's review some most common content types that you can utilize in your strategy.
Posts on social media
Everyone hangs out in socials these days, so posting your content there is a good idea. On each social media, you can reach different goals, so your content production depends on the platform you choose.
For example, Yoga and diet coaches often create educational and helpful content on Instagram, supported by well-looking photos. Check a post from midnshapeyoga. The model shows a specific yoga pose, while the text describes its advantages and gives tips on how to perform it.
Unlike Instagram, Facebook posts usually contain more text, and you may add videos longer than one minute. Here's an example of a Facebook post from the yoga training industry.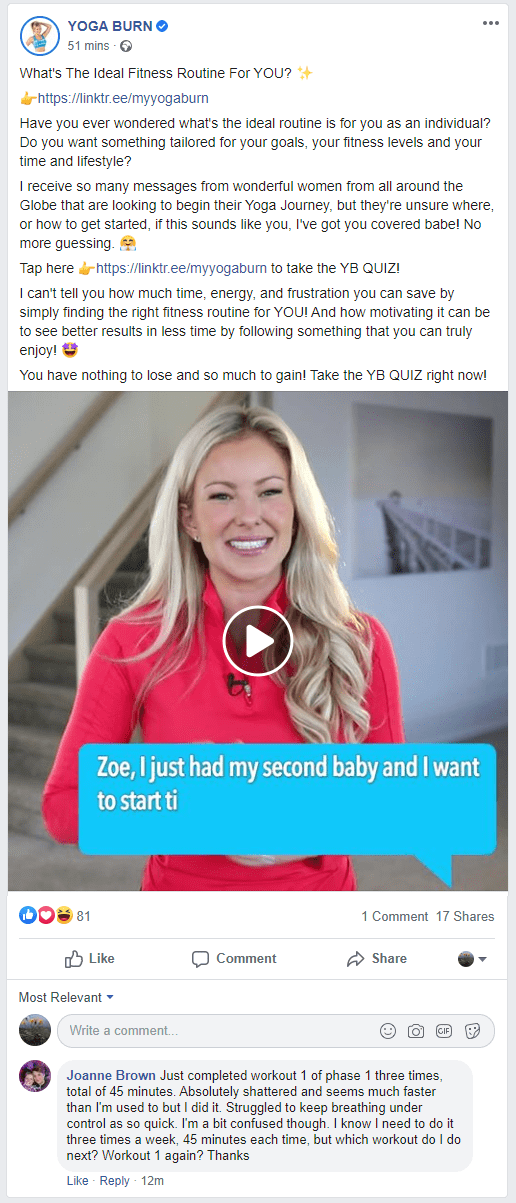 Blog articles
Blogging is a way to communicate ideas more comprehensively to your audience. It takes more time and effort to produce detailed guides, instructions, service comparisons, etc.
To create relevant blog articles, you need to find out which keywords people use when searching for specific answers, and give them those answers in your content. Put all your knowledge and experience into your articles, because engaging and helpful content has better chances for ranking high on Google. It will be easy for users to find your site, and they will be more likely to buy from you.
Aside from educating and entertaining your audience, blog articles allow you to convert readers into leads. This format allows you to promote your business more naturally compared to internet advertising.
Organize your blog into several categories and join relevant articles using tags so users can easily navigate through your content. SkillShare blog shows new articles in the carousel and offers few categories of articles to jump into. Under each category, you can find articles and CTA that encourage users to join the brand's community.
Emails
This digital marketing channel has one of the largest ROI. It allows you to nurture leads, promote products, host events and giveaways, notify your audience of any updates by sending professional-looking emails to your opted-in subscribers. You can also show your authority by sending curated newsletters. This email type helps you keep your audience updated about the latest news and trends in your industry, so it's not directly promoting your business.
Check a brilliant email from SkillShare that shares great ways to spend time with an advantage during the coronavirus quarantine.

With SendPulse, you can generate leads, create and send all kinds of emails, including automated welcome, abandoned cart, reactivation, confirmation emails, and more. Our Free plan allows you to send 15,000 emails to 500 subscribers per month at no charge, so check it out.
Videos
Videos are more easy-to-digest that allows you to convey more information compared with all kinds of text content. According to Wyzowl, 87% of marketers claim that video content drives more traffic to their sites, while 89% say they are satisfied with their ROI from video content marketing.
You can post video content on YouTube and other video hosting platforms. Create videos, like vlogs, webinars, tips videos, and how-tos, to educate and entertain your audience.
Here's SendPulse YouTube channel where videos are divided into playlists. Each playlist gives more information on each feature of our service, "Marketing 101" and "Email marketing in 5 minutes" playlist are designed to help entry-level marketers.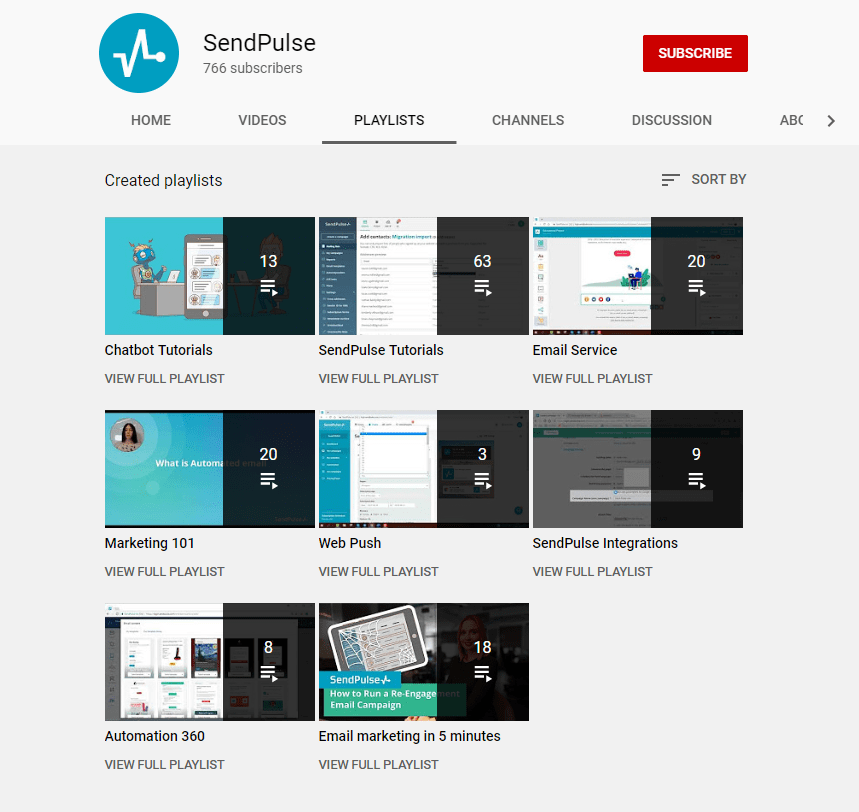 You can share your videos and blog articles via emails, posts on social media, Facebook and Telegram chatbot campaigns with SendPulse. It's up to you to decide which types of content to utilize in your strategy, and it mainly depends on your budget and goals. Don't try to succeed using all possible channels at once because it's better to gradually build your strategy and implement one channel after another.
Let's now find out how to monitor your content efficiency.
How to Analyze your Content Marketing Strategy Success
Monitor your organic traffic
Analyze your email statistics
Track shares and virality on socials
Use Google Analytics
When you set your content marketing strategy up and running, you need to pay close attention to your performance. Check out some ways to do it.
Monitor your organic traffic
Organic traffic is the number of users who visit your pages after searching for information on Google. This is the most crucial criteria to evaluate your content performance. You can track it with Ahrefs, SemRush, and other digital marketing analytics tools.
Ahrefs shows how much organic traffic sites get from each country every month. It also shows the number of keywords that rank on search engines, the number of referring domains, backlinks, etc. You can also monitor specific KPIs for particular pages and get great insights.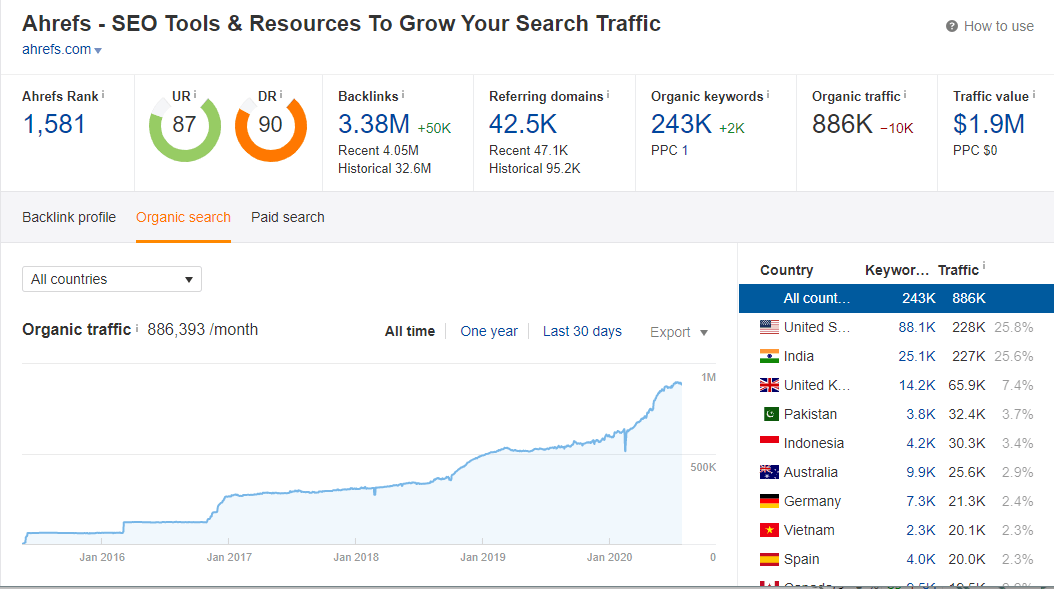 Analyze your email statistics
You can track your email engagement by monitoring open rate, CTR, and unsubscribe rate. This data is crucial to understand what kind of content works best with your audience. If you send your email campaigns with SendPulse, the statistics tab will look like this in your account: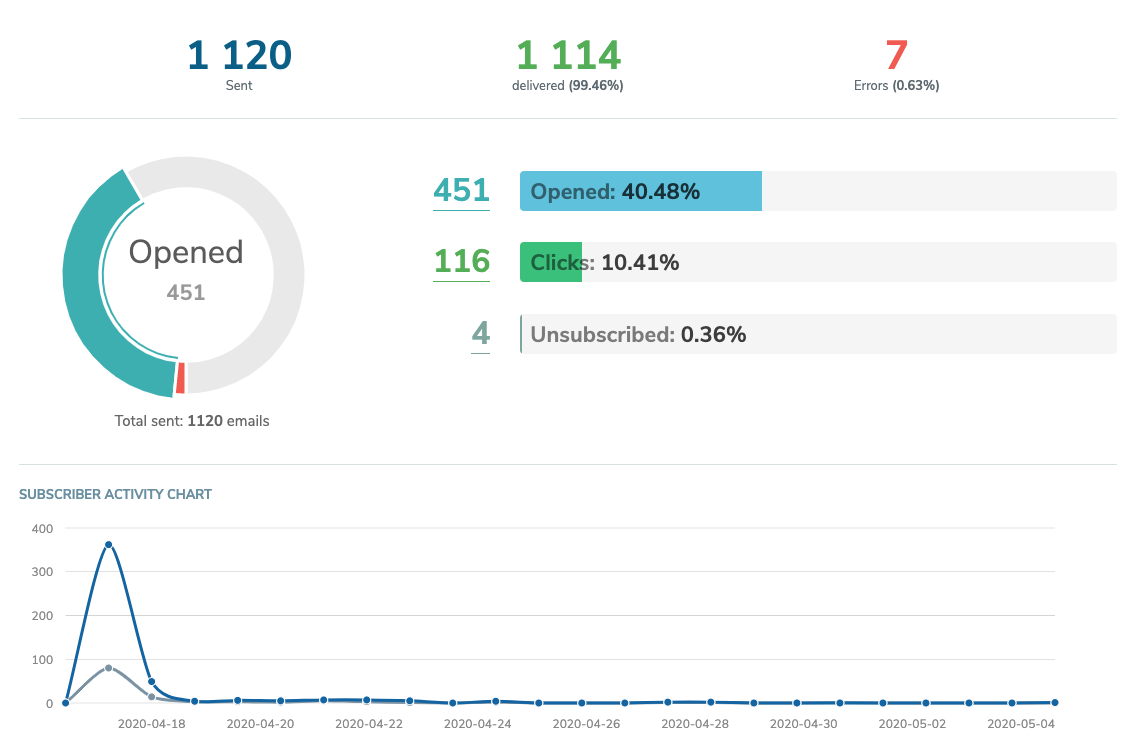 Track shares and virality on socials
If you have a business account on Facebook, YouTube, and Instagram, you can track your productivity similarly to Google Analytics for website traffic, but in socials. It includes detailed data about demographics that allow you to adjust your content to be more exciting for your target audience.
Check the statistics in Facebook Insights. You can monitor the number of people who saw, liked, and shared your posts.
Use Google Analytics
Google Analytics allows you to monitor user behavior on your pages, including time spent on the page, the number visited of pages per session, bounce rate, etc. You can also track your lead generation success by checking the number of subscriptions to your emails and blog articles, conversions from blog and videos, the number of registrations from opt-in pages, etc.
In the screenshot below, you can see a report on session duration. It says how many users spend a specific amount of time on your pages.

The more data you analyze, the more specific and effective your content strategy will be. Let's finish this guide by checking some actionable tips.
5 Best Practices to Create an Effective Content Marketing Strategy
Post consistently
Use tools for SEO
Use exclusive content to generate leads
Leverage UGC
Segment your audience
We've collected five actionable tips to help you build an efficient content marketing strategy without much sweat. Here they are:
Post consistently. Build your strategy in a way so that you can always provide your audience with helpful information to keep them up to date. You don't have to do it every day, but there should be some stability. Aside from that, you need to be creative and innovative. Consistently come up with new content formats so that your brand looks fresh in the eye of your target audience.
Use tools for SEO. We mentioned SEO-oriented tools, like Ahrefs and SemRush. They will help you analyze your traffic as well as get specific content ideas. You can find some relevant keywords searched by many people, analyze the competition for these keywords, and, based on that data, list content ideas with the most potential for your business.
Use exclusive content to generate leads. You can also use ebooks, infographics, case studies, etc., as an incentive to join your community. For instance, you can offer an ebook in exchange for a subscription to your emails. If the ebook is a killer, you both provide a lot of value and open the doors for relationships widely.
Leverage UGC. It's content produced by your audience, like feedback, reviews, photos, videos, related to your brand. You can include user-generated content to your content marketing strategy as social proof: your content looks more trustworthy if your words are proved with your customers' experience.
Segment your audience. Use your audience's demographics and placement in the lead funnel to develop more relevant and convincing content. Cold leads, for example, need more nurturing and educating before they are ready to buy products. Warmed-up leads are more likely to engage with promotional information in your content, but you also need to provide more sophisticated and exclusive information for such users.
The last and evergreen tip is to monitor content marketing trends regularly. We hope you've got acquainted with the concept of a content marketing strategy, and this guide will help you create your own.
Last Updated: 22.03.2023