Cyber Monday is a shopping event that usually lasts for 24 hours and is created to encourage customers to shop online. It falls on the first Monday after Thanksgiving. Customers can purchase the necessary products with great discounts, explore special promotions, and receive bonuses and gifts online.
In this article, we'll discuss the history of Cyber Monday, make the difference between Cyber Monday and Black Friday clear. Next, we'll review 7 great ideas and examples of successful campaigns.
The History of Cyber Monday
The term first appeared in 2005 and was used by Shop.org, a division of the National Retail Federation. It highlighted that for several years in a row online purchases reached their peaks on the first Monday after the famous US holiday — Thanksgiving. The organization had two main theories which explain this phenomenon.
According to the first theory, customers searched for products on weekends in retail stores and malls so that they could buy them online later. Since people didn't have access to smartphones, tablets, and high-speed internet in those days, they had to wait for the beginning of the working week to use their office computer to make an order online.
Another theory suggested that the phenomenon occurred during the unpleasant experiences people had during the weekends after Thanksgiving when everybody wanted to grab huge discounts and the best deals. Cyber Monday was an alternative to the general chaos happening on Friday and the upcoming weekends. It gave Americans the opportunity to avoid long queues to get the goods at a discount and purchase useful items via the internet while sipping a cup of coffee.
Now that you know the history of this busy shopping day, let's move to the next section to make the difference between Cyber Monday and Black Friday clear.
Cyber Monday vs Black Friday
Cyber Monday usually lasts 24 hours and falls on the first Monday after Thanksgiving. It offers huge discounts, great deals, and special codes to encourage people to buy online.
Black Friday is one of the busiest shopping days in the US and is conducted on the day after Thanksgiving. During this day retailers provide customers with huge discounts, best deals, bonuses, gifts, and special codes to encourage people to purchase both in stores and online.
In a nutshell, the main difference between Cyber Monday and Black Friday is in their dates and the fact that during Black Friday customers can find appropriate items both online and in stores whereas Cyber Monday welcomes online shopping only.
Let's grab some great ideas for your Cyber Monday campaign.
7 Cyber Monday Marketing Ideas
Run a campaign on social media
Make use of email marketing
Improve your website
Invest in paid advertising
Send SMS campaigns
Ensure you have enough stock to meet the demand
Team up with another company
Companies come up with many unique ideas to pleasantly surprise customers and at the same time provide them with the best online shopping experience. We've prepared the best of them to satisfy customers and lure them to come back soon.
Run a campaign on social media
Since the majority of people prefer to scroll feed on social media to find out about sales, best deals, discounts, gifts, and bonuses, there's a point in running campaigns across the most popular platforms for communication. You can also leverage influencer marketing and ask opinion leaders for help.
Let's take Karen Millen, for example. The brand of women's apparel promoted its sale in an Instagram post. The amount of a discount and code were mentioned as well to let followers use it and buy goods at low prices.
Make use of email marketing
4.03 billion users worldwide make email marketing the most popular and reliable channel. Brands have been using email campaigns to inform subscribers about great sales for years. So, don't miss your chance to leverage the most effective marketing channel to reach your customers and increase sales on this year's Cyber Monday.
For example, Steve Madden used an email newsletter to distribute information about its Cyber Monday and provide customers with details such as the amount of discount and a special code.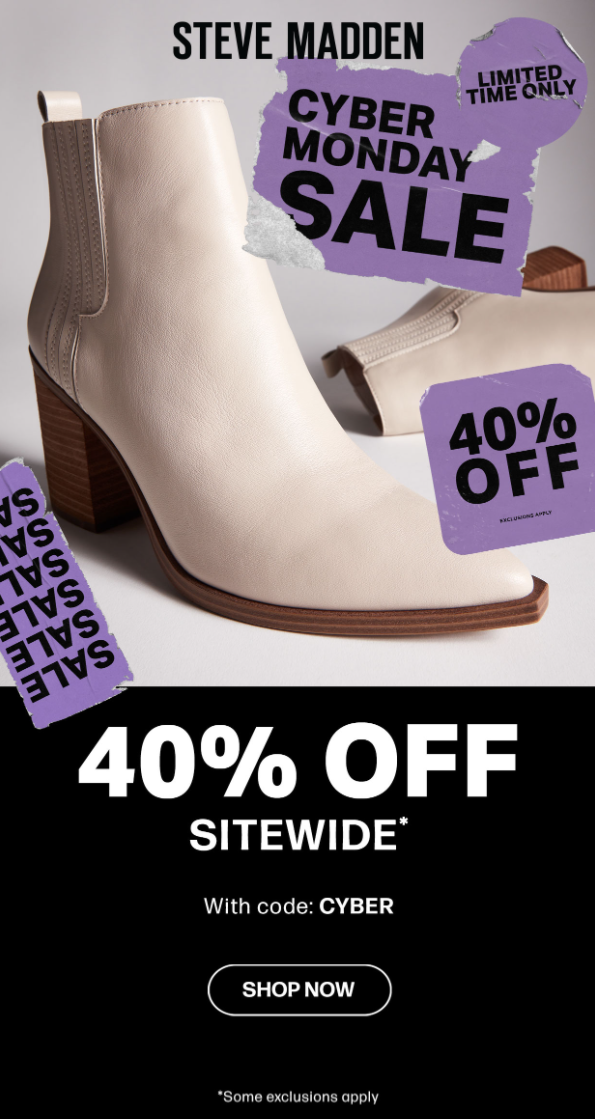 With SendPulse, you can send Cyber Monday email campaigns to your customer base for free. Make use of our ready-to-use free email templates or design your own from scratch by using our drag-and-drop editor and update customers on your Cyber Monday sale on time.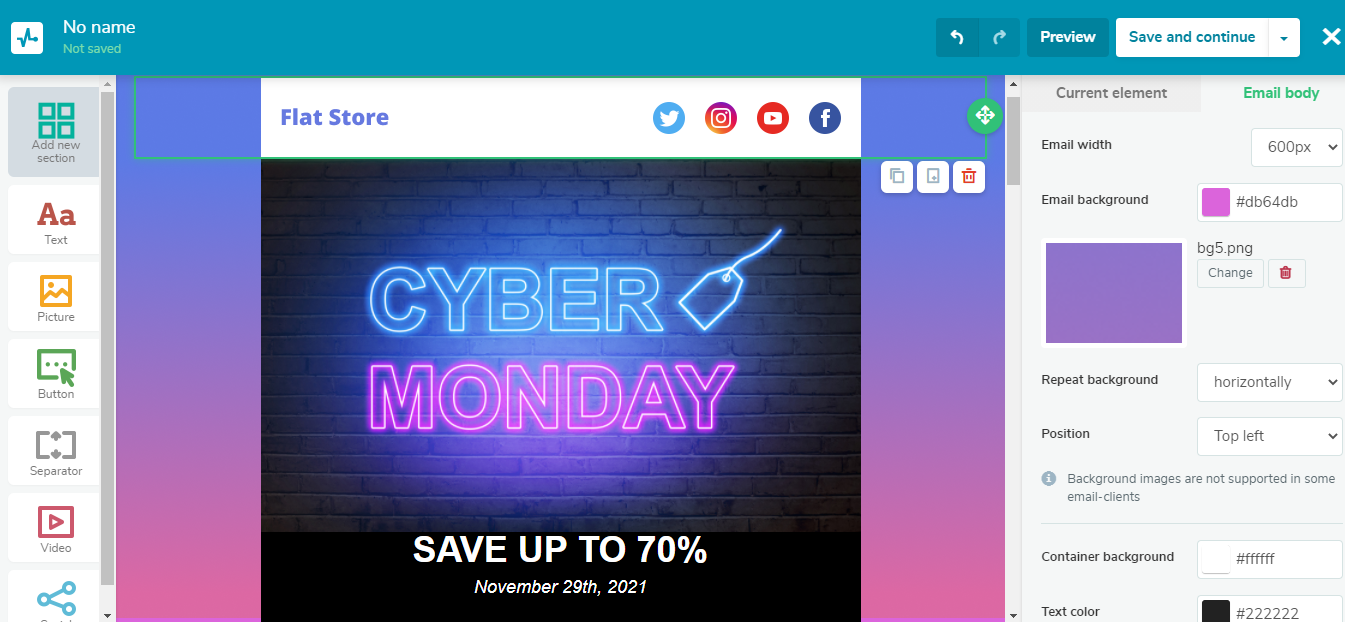 Check out our article to unveil how to create email campaigns with our service.
Improve your website
When people come to your site to shop from different channels, you should be ready with several things:
make sure that your website is responsive to let customers purchase from smartphones and tablets;
test your website speed and optimize it so that visitors can load your website in two seconds;
check if your website is ready to handle high traffic to avoid any errors emerging on users' screens.
Invest in paid advertising
Paid ads bring a lot of benefits to your business. They help create messages and target specific audience segments, broadcast your Cyber Monday sale through the most popular mediums, increase website traffic, and bring measurable results. Many brands successfully implement paid advertising and obtain significant changes in Cyber Monday campaigns' performance.
Send SMS campaigns
Although SMS might sound old school, they are effective. According to TechJury, 98% of people open SMS. Moreover, 60% of clients read these short text messages within 1-5 minutes after receiving them. That's why think of sending SMS campaigns to your customers.
SendPulse allows you to send SMS to the right customers within minutes. Add sender name, write the text, add the list of recipients, and set up SMS send-out
Check out our article to see how to create SMS messages step-by-step.
Ensure you have enough stock to meet the demand
If you want to increase customer satisfaction with your brand and provide a seamless experience during your sale, make sure you have enough inventory to meet the demand of many consumers. Bear in mind that there might be more shoppers than you expect. So get ready to meet the demand and make your clients happy.
Team up with another company
To get extra exposure and reach more followers, consider partnering with another company. If a brand is popular and has a lot of subscribers, it will help you promote your business and your Cyber Monday deals.
For instance, the famous brand Bliss that focuses on the production of skincare products delighted its subscribers with a 30% discount on their products if they buy online in Ulta Beauty.
The ideas are clear, so let's see how they work in real life.
Examples of Successful Cyber Monday Campaigns
Every year we see hundreds of effective campaigns that drive organic traffic, boost sales, and revenue, and reach new consumers and prosper. Now let's take a look at some great campaigns.
Ulta Beauty
The chain of beauty stores that provides its clients with skincare, fragrance, and cosmetics distributed information about its upcoming sale on the most popular marketing channels. Instagram is one of them. Interested customers could find a link in Ulta Beauty's bio to shop items online.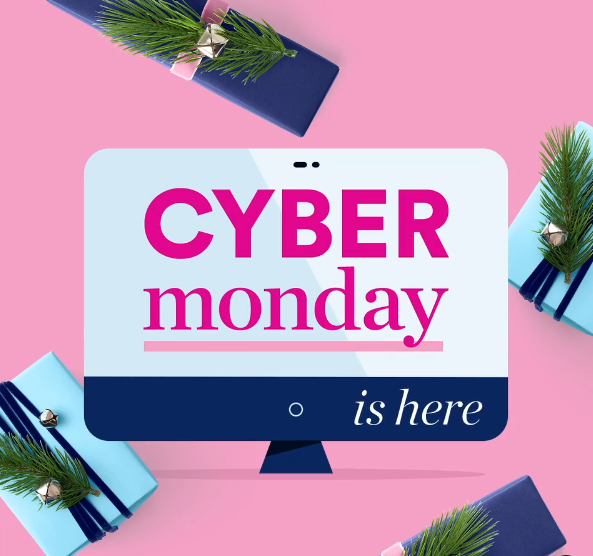 Udemy
The famous American online course company uses an effective way to distribute information about its Cyber Monday — with an email campaign. Since this online shopping day usually lasts only for one day, it needs urgency for customers to hurry up and grab an attractive offer. That's why Udemy used a countdown timer to draw the attention of subscribers and evoke the fear of missing out.
If you are interested in tools that help create a countdown timer for your campaign, check out our article.
To conclude, Cyber Monday is one of the most popular sales days for customers and the most appropriate time to grow your business with big sales volume and revenues. Get ready for the next Cyber Monday with our best ideas!
Resources:
This article defines the term and suggests several great Cyber Monday ideas.
In this article, you'll find the definition and history of one of the busiest online shopping events.
This article defines the term, unveils its origins, and importance for business.
Last Updated: 05.08.2021