Geomarketing is a technique that entails using geolocation to create relevant marketing campaigns and develop strategies. It helps brands provide customers with relevant content, find the right place for a physical store, and improve marketing strategy.
In this article, we'll unveil why brands use geomarketing and its benefits. We'll also teach you how to implement geomarketing and review some examples.
Why do brands use geomarketing?
Since the number of smartphone users amounts to around 6.64 billion worldwide, you can hear the term "geomarketing" more often. There's an increasing tendency of using cell phones to search for specific items, explore product features, and shop online. In this case, location-based technology is crucial. It helps your brand find the right customers and target them with ads.
If you plan to run a business, geomarketing insights will help you find out the areas of your target audience. Once you identify those locations, you can choose the spot for your brick-and-mortar store.
Location-based insights enable you to unveil customer behavior based on shopping habits. Geomarketing allows you to understand how and where consumers purchase, and how they move between different retail stores. With this information, you'll know the general shopping patterns of your target audience. As a result, you'll be able to use this valuable data to craft a relevant offer and target your prospects with appropriate advertising campaigns. Your campaigns based on consumer demographics will resonate with the needs of your leads.
Now that you know why brands use geomarketing, it's time to uncover the essential benefits of this marketing technique.
Benefits of Geomarketing
Geomarketing will come in handy for both startups and established companies. There are many reasons for businesses to implement geomarketing. It allows marketers to
identify customer behavior and shopping patterns;
explore competition;
unveil market condition;
increase sales;
target mobile and social media users;
encourage customer loyalty;
ensure targeted marketing campaigns;
find the right place for a brick and mortar store;
segment customers;
provide targeted relevant content;
measure the success of campaigns.
Now that you know the benefits, let's review how to use geomarketing for your business.
How to use geomarketing?
Since geomarketing empowers you to improve local search positioning, it's essential to incorporate this marketing method. Let's explore our step-by-step guide so that you know how to implement it into your strategy.
1. Understand your target audience
Start with identifying your target audience. Google Analytics will help you figure out customers' locations. It'll also show where the majority of your customers come from. To see this data, navigate to Audience > Geo > Location. By clicking on a country, you can see local areas. Use this information and your buyer persona to get to know your target audience better.
2. Find locations
Focus on locations and find the areas your customers live. After figuring out the country and city, you can craft a personalized offer. At this stage, you should also decide which locations to exclude because they won't help you reach your key goals.
3. Determine your goals
The next step is to specify the objectives you want to achieve with geomarketing. As a marketer, you can have various goals: improve brand awareness in a specific state, boost traffic from a specific location, increase the sales volume in a certain area, or improve lead generation in a particular city or state. To reach your goals, you need to identify them correctly. Ensure that your key objectives are specific, measurable, attainable, relevant, and timely.
4. Create your content
Your next task is to optimize your content and website for local marketing. Use schema markup on specific business pages and create listings on Google and Facebook. Optimizing your website based on local SEO principles is crucially important. These steps will simplify the process of using Facebook and AdWords geotargeting. You can create local landing pages based on available information. SendPulse's landing page builder will help you design your landing page within 15 minutes. With our service, you don't need a developer or code knowledge.
5. Schedule campaigns
Plan your marketing campaigns once you receive the necessary information about customers' locations. Choose the right time to communicate a relevant message. For instance, if you have a cafe and a special promo for lunch, send visitors a message before they have their lunch break. Your geomarketing campaigns will be more relevant if you select the appropriate time.
6. Use personalization and segmentation
Pay attention to customers' history of interactions with your brand when contacting them. People are more likely to buy when they see a brand cares about them by sending personalized messages, offers, and content. Personalization is your best technique to encourage customer action. Consider consumers' location, experience, and preferences when crafting your offer, email campaigns, and ads on social media.
SendPulse allows you to segment your subscribers by their location and send them highly targeted email campaigns and push notifications.
Choose a mailing list for which you want to add a variable and click the "Create variable" button.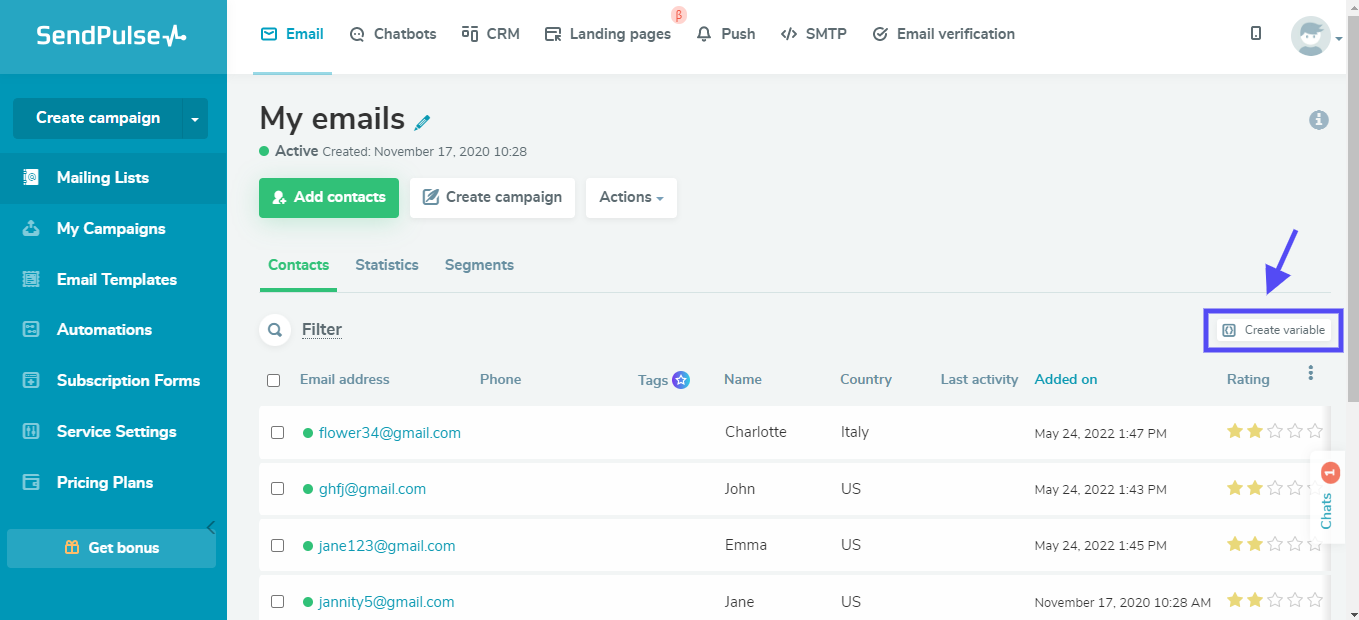 Enter a variable name and type. Select the "Available for editing by the subscriber" checkbox to let subscribers edit their data and click "Apply."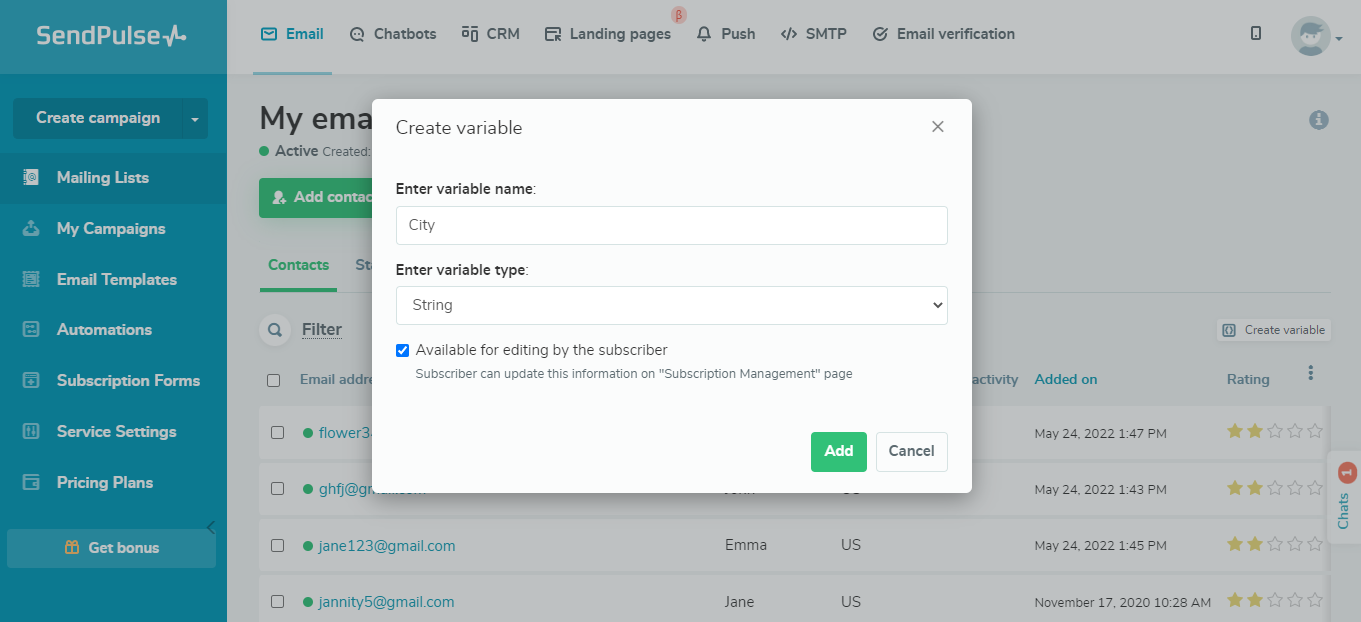 Go to the "Create campaign" tab and select a mailing list where you created a variable. Select the "Use segmentation" checkbox to create a new segment. Choose the city variable and write down the conditions. Continue designing your email campaign for contacts from the necessary country, state, or city.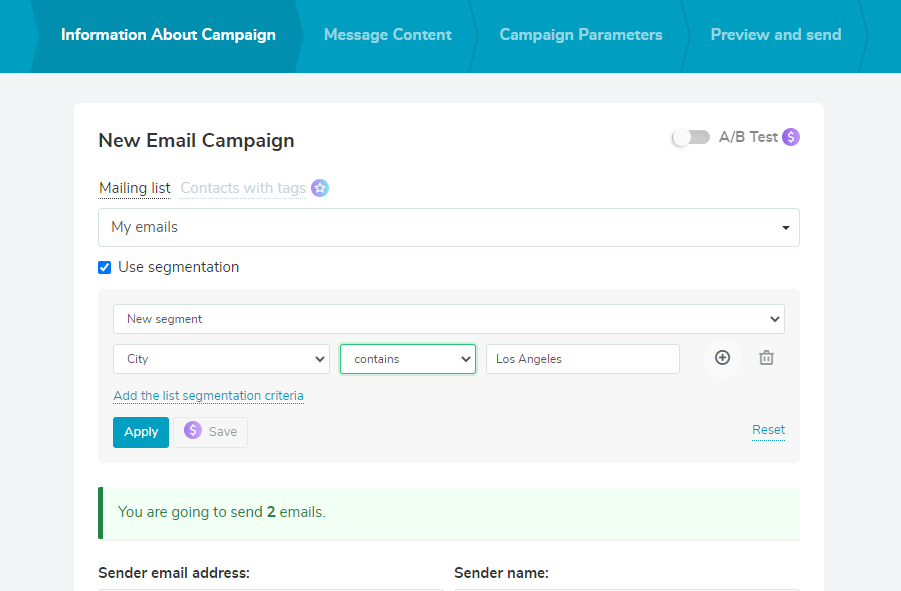 Smart personalization means adding subscriber data according to criteria. To put it simply, the variables in your mailing list influence the information you send to subscribers. They will receive emails with different content based on the variables.
Now that you know how to use geomarketing, let's walk you through some examples. Maybe one of them will inspire you to make the most of this technology.
Examples of Geomarketing
The technique is popular among brands because of the benefits it provides. We'll explore some of the well-known companies that successfully leveraged location-based technology.
Oxfam
Oxfam, a global organization that fights inequality, poverty, and injustice, succeeded in driving donations and awareness of the negative impact of the Nepal earthquake with location targeting. The organization's team held various events and included the faces of victims so that people donate money to support people in need.
Outback Steakhouse
Outback Steakhouse company used data about users' location to provide them with targeted ads. This way, the brand's team wanted to reach potential customers located nearby. As a result, the requests to dine in Outback Steakhouse increased.
Timberland
Timberland targeted adventurers located near the company's stores. With this approach, the brand managed to increase store visits. The company's marketers succeeded in driving the visits to their physical stores.
Now you know the reasons to incorporate geomarketing into your marketing strategy. Hope you managed to grab some inspiration from our examples.
References:
This article defines the term and provides readers with some examples of geomarketing.
In this article, you'll find how geomarkeitng can benefit your retail marketing strategy.
Last Updated: 22.03.2023