An onboarding email is a message which a user receives right after subscription. Very often, brands send an onboarding email series to guide and educate subscribers about how to use a product effectively. Marketers aim to make the buyers' journey smooth.
Watch the video below to get useful insights into the art of greeting new subscribers. Find out how to create a series of welcome emails that help with step-by-step onboarding.
An onboarding email series that starts after a visitor signs up should engage and build trust with the customers, share valuable information about the product or service, and finally, convince a recipient to take action. Still, boring and irrelevant onboarding campaigns that give the reader no value can lead to a high unsubscribe rate and almost zero email open rate, which may influence email sender reputation. So, if you manage to discover the users' pain points while providing information about your product, your onboarding email series will work out.
Why is an onboarding email important?
When a new user signs up, it takes effort and dedication to make them stay and hopefully convert. Onboarding emails are useful for showing prospective customers how a particular product or service can make their lives better and reassuring new subscribers that they made the right choice. That is why a well-thought onboarding email — personalized and well-timed — will enhance user experience with the brand and get more leads to convert quicker. In the end, good onboarding email practices help businesses retain their customers.
How to Write an Onboarding Email Series
Research and understand target customers
Segment the recipients based on their behaviors and activities
Create onboarding emails for each stage in the customer lifecycle
Trigger the user's emotions
Use a single and persuasive CTA
Communicate consistently
Creating a highly personalized onboarding email campaign can boost your conversion rates significantly. Here's a checklist for designing successful customer onboarding emails:
Research and understand target customers. Understanding customers' wants and needs will help you create tailored onboarding messages. Pay particular attention to how visitors are using the website or app and their actions before converting.
Segment the recipients based on their behaviors and activities. Don't send a standardized email to everyone on the subscriber list. Instead, segment the mailing list based on the data available on individual users. Knowing their previous behavior and preferences can help predict their future actions.
Create onboarding emails for each stage in the customer lifecycle. If a user has just subscribed, the first onboarding message they should receive is a welcome email. However, the same email cannot be sent to a passive subscriber. Create onboarding emails according to the stages of the customer lifecycle and answer common questions at each phase.
Trigger the user's emotions. Emotions have a high impact on decision-making. So, tap into the user's emotions and imagination by writing a story-based email that will captivate every subscriber.
Use a single and persuasive CTA. Don't place too many CTAs because they may confuse users. Take them a step at a time with only one call to action per email.
Communicate consistently, but don't be nagging. Send valuable emails to subscribers regularly, but not so often that you will irritate them. Rather than manually sending messages, schedule the date and time to send an onboarding email automatically.
How to Send an Onboarding Email Series with SendPulse
With SendPulse, you no longer need to send each onboarding email to every subscriber manually. Automation 360 allows to create an email flow in advance and send it to users after they perform a particular action.
After the registration, upload your mailing list to SendPulse. Then, go to "Automations" and choose "Automation 360". The event that starts the onboarding email series is joining a mailing list, so select "Add subscriber." After that, your imagination comes into play. Add as many emails as you wish — set conditions to send behavior-based messages.
In our example, we started with a welcome email to greet the newcomers. Say, a user expressed interest in SEO while leaving their email address. So, we offer to study SEO. After that, we share other useful courses in online advertising. From here on, one can target specific groups of subscribers interested in different content.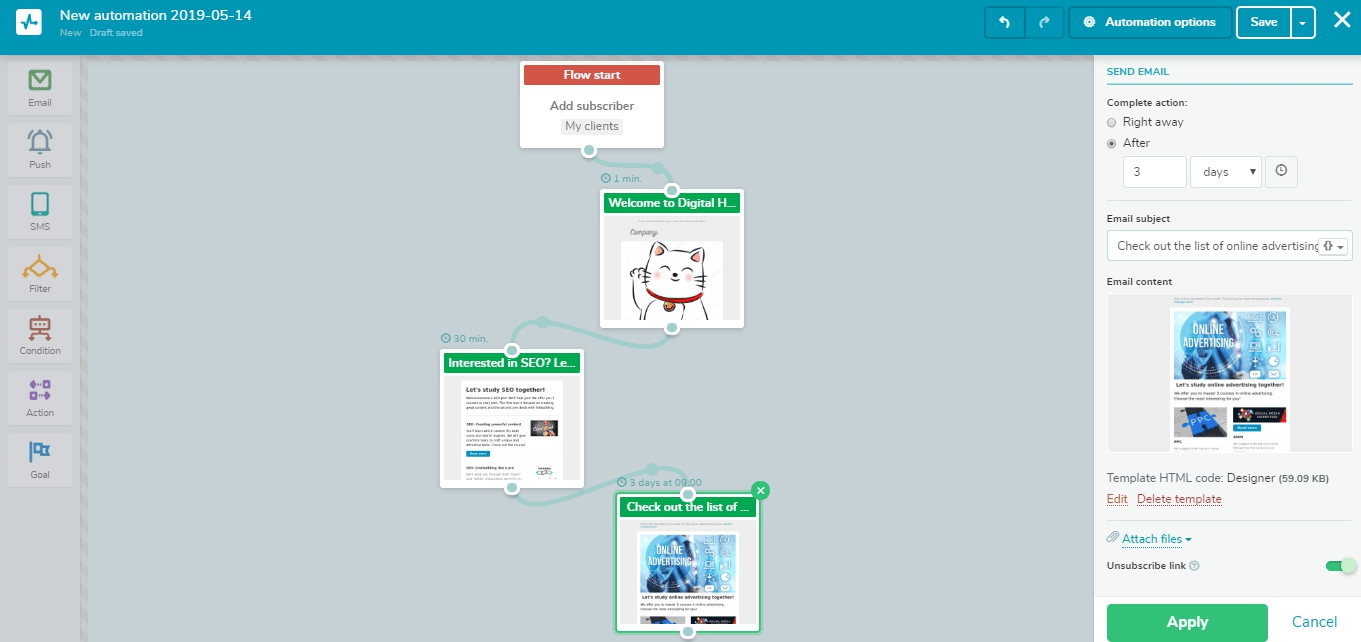 Follow this guide to send automated emails in SendPulse.
Onboarding Email Examples
Users receive this email after subscribing to Fairygodboss. The brand explains how to get the most of the membership.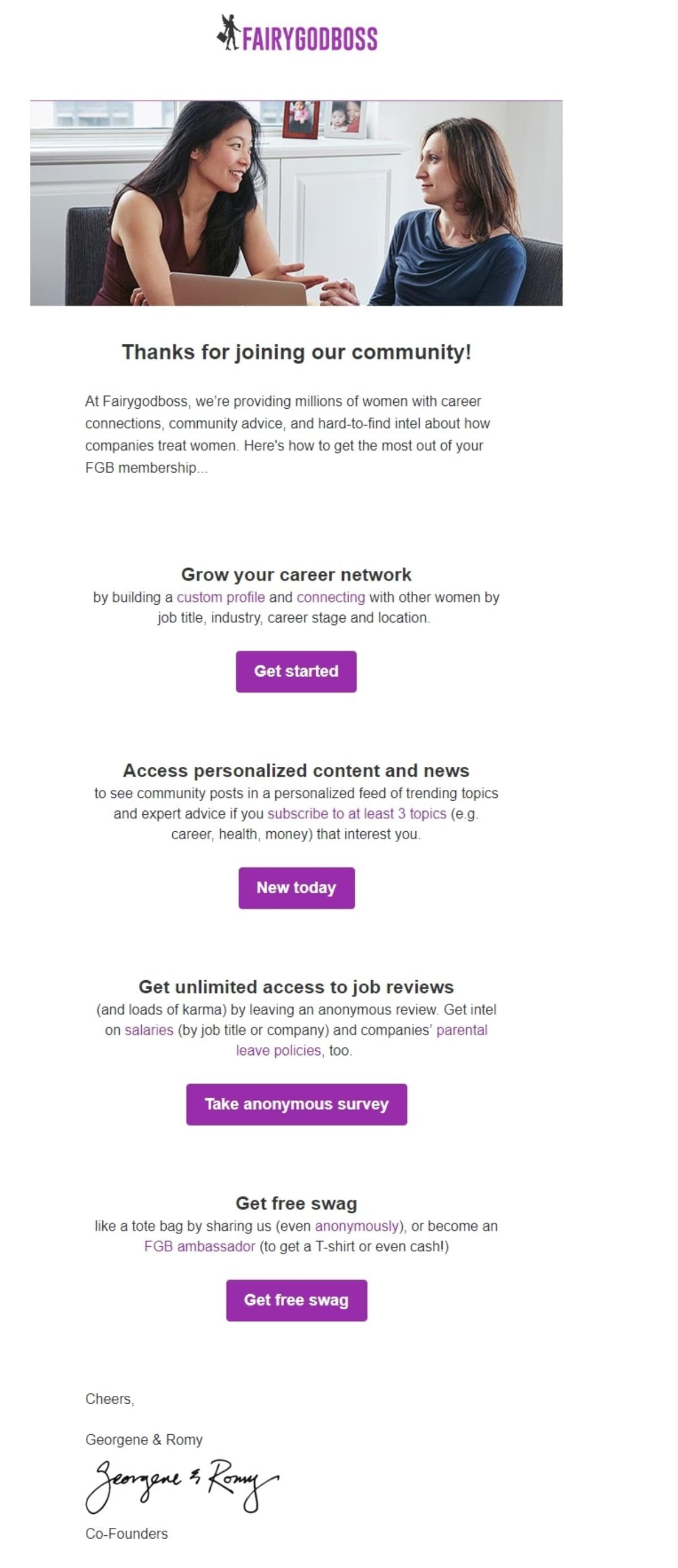 An onboarding email from Payoneer explaining how their "Manage Currencies" feature works.

An onboarding email from Alison invites a subscriber to take a course.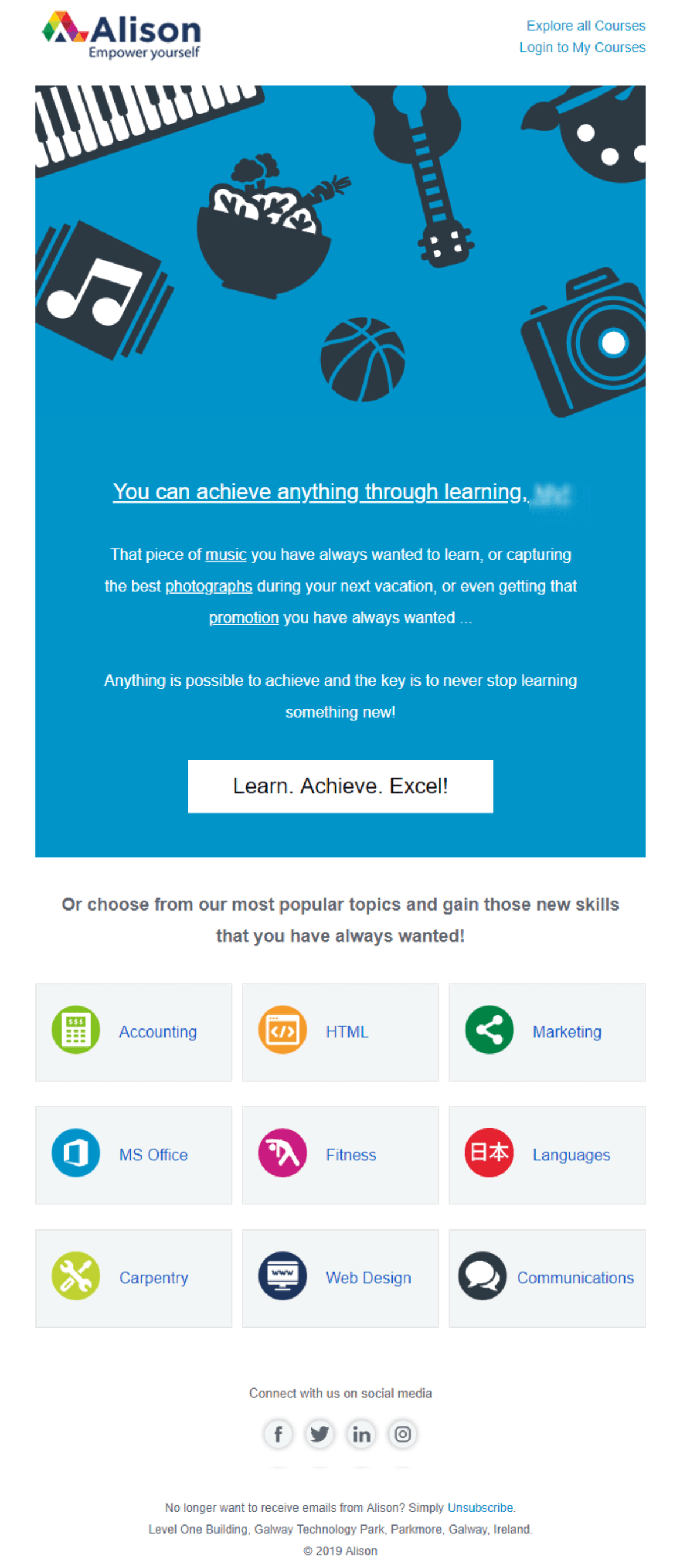 Onboarding Email Best Practices
Here are some best practices for creating successful onboarding email campaigns:
Use a real and comprehensive sender name together with your brand logo to build brand awareness.
Focus not on your product features but on the problems it solves.
Create a compelling subject line that will reflect the main idea of your onboarding email.
Encourage users to share and refer the brand to friends.
Offer customers a free trial or a special discount to test drive the product.
Include customer feedback and reviews into your onboarding email series to persuade the clients.
Send behavioral emails to ensure a personalized approach.
Understand the reasons for your churn rate by merely asking clients why they no longer use your product — they will help you improve.
References
Last Updated: 22.03.2023