If you want to succeed in the eCommerce business, which is proliferating the online world these days, then inbound marketing tips will help you stand out from the competition. In this blog post, you will learn all about inbound marketing and great strategies to make it work for your brand.

What is inbound marketing?
Inbound marketing is a strategy that focuses on attracting consumers, or leads, through web content that's company-made. The goal is to have prospective customers come to the brand directly instead of marketers vying for the lead's attention.
Inbound marketing is a method of enticing customers by creating valuable experiences, content tailored to them, and concentrating on customer experience first. Outbound marketing, in turn, often disrupts the audience by putting out content that they do not necessarily want or need.
Inbound marketing, however, shapes the connections that they are searching for and resolves their problems. The goal is to help your business flourish by building lasting and meaningful relationships with your customers, prospects, and consumers in general. Moreover, it's also about providing value and empowering people to reach their goals at any stage in their customer journey with your brand.
What can inbound marketing do for eCommerce?
Inbound marketing, for a lot of online retailers, is the one approach that empowers engagement scaling with current, past, and prospective customers. eCommerce is an extremely competitive industry, and for your brand to stand out from the competition, you should seriously consider inbound marketing tactics, which are designed to reach your potential consumers.
Furthermore, the overall shopping experience is enhanced with inbound marketing, making online buying easier. If you are looking to attract new customers, as well as convert more leads to sales, then inbound marketing can definitely help.
Launching an inbound marketing strategy for eCommerce
Success in eCommerce begins when a business understands its customers. Unfortunately, this is an area that's often overlooked or rushed in the planning process. We strongly recommend taking the time to really understand your customers and respect the process to get better results.
Build customer profiles
A customer profile is a semi-fictional ideal customer representation, based on real data and some educated speculation on customer behavior patterns, demographics, goals, and motivations. To supplement your buyer persona, try to collect as much customer data as possible to develop clear profiles of your ideal buyers.
Define your business objectives and goals
Although eCommerce and inbound marketing have a similar process of attracting customers, they vary when it comes to goals and major performance indicators, also known as KPIs, as well. A KPI is a quantifiable measure for evaluating the success of a business, employees, and others to meet the objectives and goals in performance.
After understanding your customers, you can go ahead with different inbound marketing strategies.
12 inbound marketing strategies for eCommerce marketers
After choosing the best eCommerce platform, the next step for an eCommerce business is to set up goals. As soon as your goals are defined clearly, the next thing to do is outline the inbound marketing strategies that will help you achieve them.
Search engine optimization
Creating an SEO strategy, at times, can feel like an overwhelming task for marketers. But, there are some easy things that you can do to boost your SEO performance, even if you are a beginner. It boils down to both technical and non-technical techniques to enhance organic visibility.
Each product that you sell has its own webpage. An optimized URL must include a one-of-a-kind target keyword or product name and be no longer than 72 characters. An unoptimized URL, for instance, may consist of a string of numbers and characters.
Here's an example of an optimized URL that directly references the promoted item.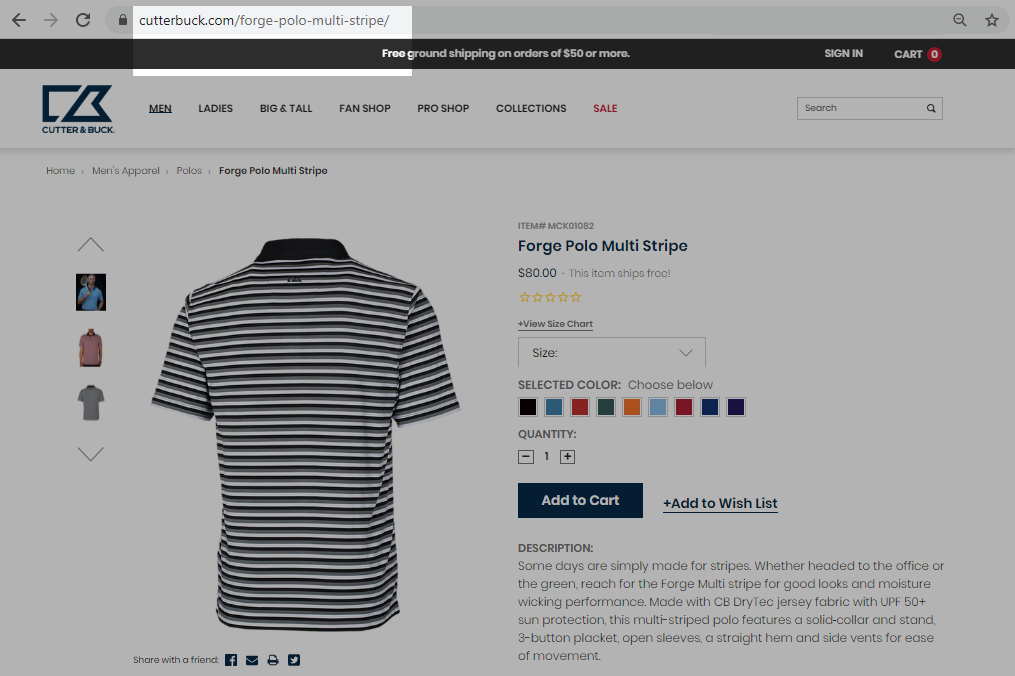 Every URL you create may also have a corresponding title tag. Typically, search engines only read the first 50 to 60 characters of a page title, so you should keep it brief. While you could have some flexibility here, try to include your product name, website name, and category name in the title tag page.

Meta descriptions are the supporting copy you see in the search results below the page's title tag. There should be a unique description for every page that includes the target keyword organically. Remember to keep your descriptions to 120-160 or less, so they won't be cut off in the search results.

There are a few things more important than header tags in terms of on-page SEO. These tell search engines what content they should focus on. There should be a unique primary keyword for every H1 tag.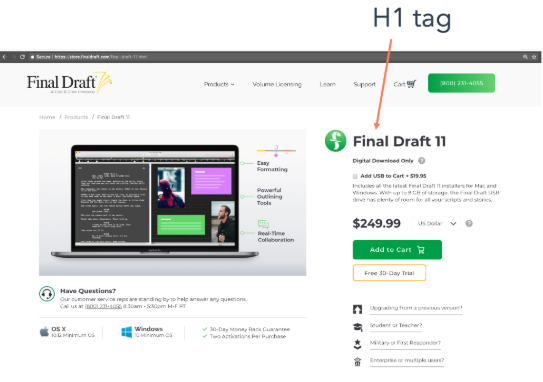 User-generated content
Reviews and ratings are particularly important when it comes to UGC. If you have ever searched for a product on the web, you probably read reviews before making a purchase. Adding reviews to a website offers two major benefits:
boosting your organic search engine ranking;
attracting visitors and increasing confidence in buying decisions.
According to research from GetApp, more than 33% of buyers prefer to read reviews about products and services before making a purchase.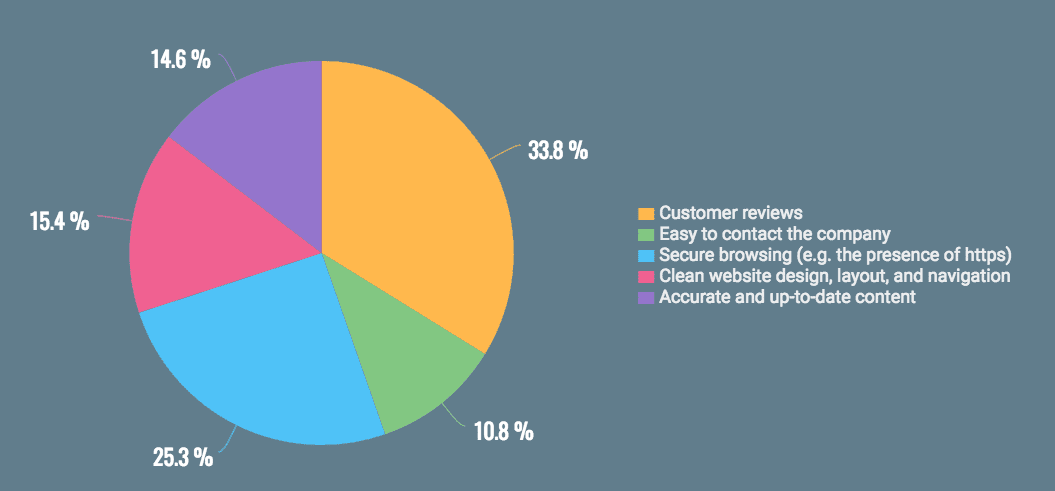 If you are not showing customer reviews on your website yet, it's a good idea to start using this inbound marketing strategy now. It's a small challenge, but can significantly enhance your conversion rate and customer satisfaction as well.
Here's an example of Anthropologie using customer reviews to showcase their products and service.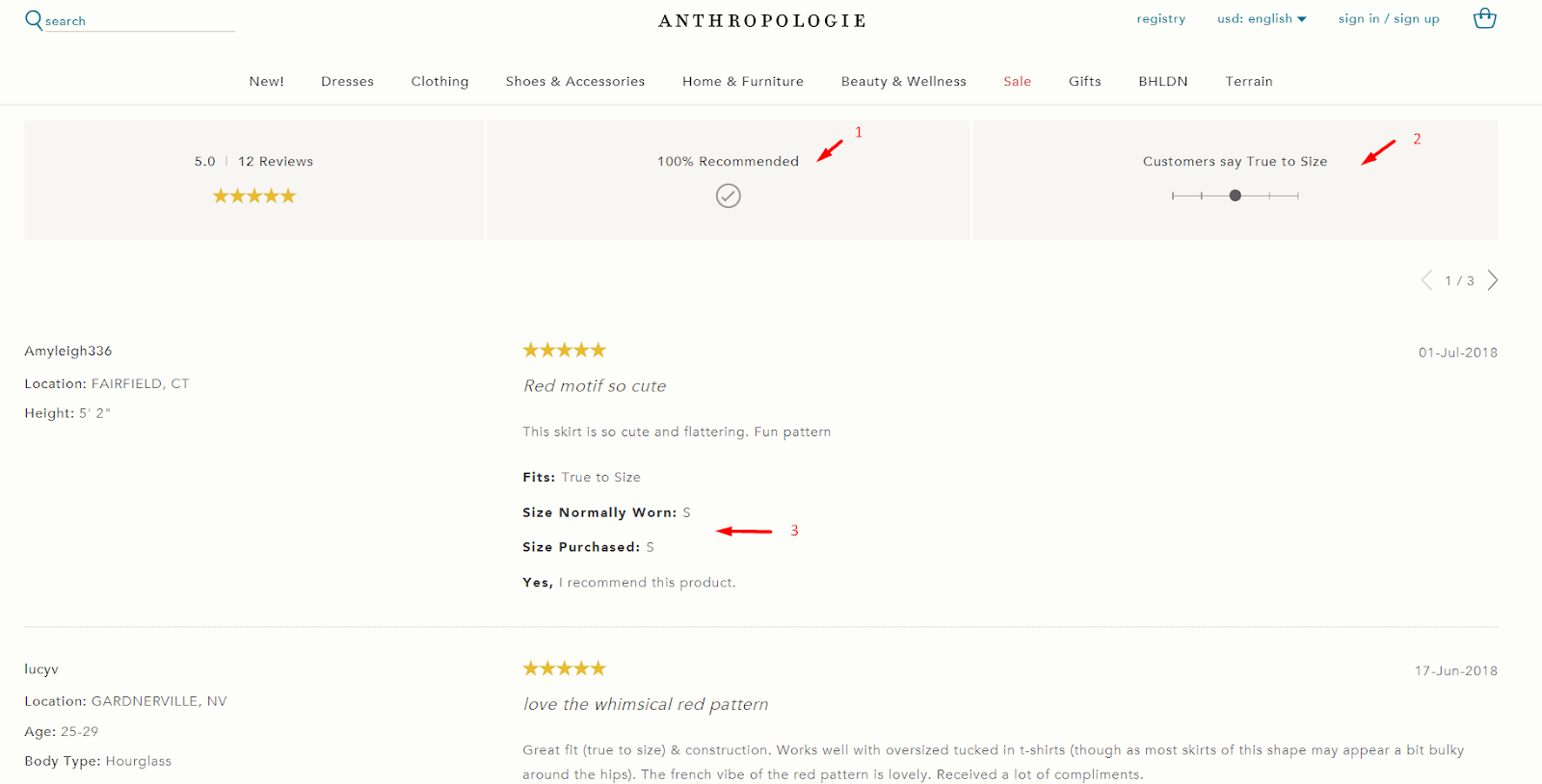 Blogging
A critical facet of a long-term content strategy is blogging. Blogs share expertise and valuable information with prospects. This information boosts trust, improves brand loyalty, and leads to more purchases.
Writing can take a lot of time, but spending a few hours each week can offer a considerable return on investment. When specifically writing for eCommerce, include a clear path to purchase from the blog all the time. You can do this using product links and images that directly go to the relevant product pages.
In the image below, you can see how Final Draft is using blogging to make their customers aware of their product and encourage them to give it a try.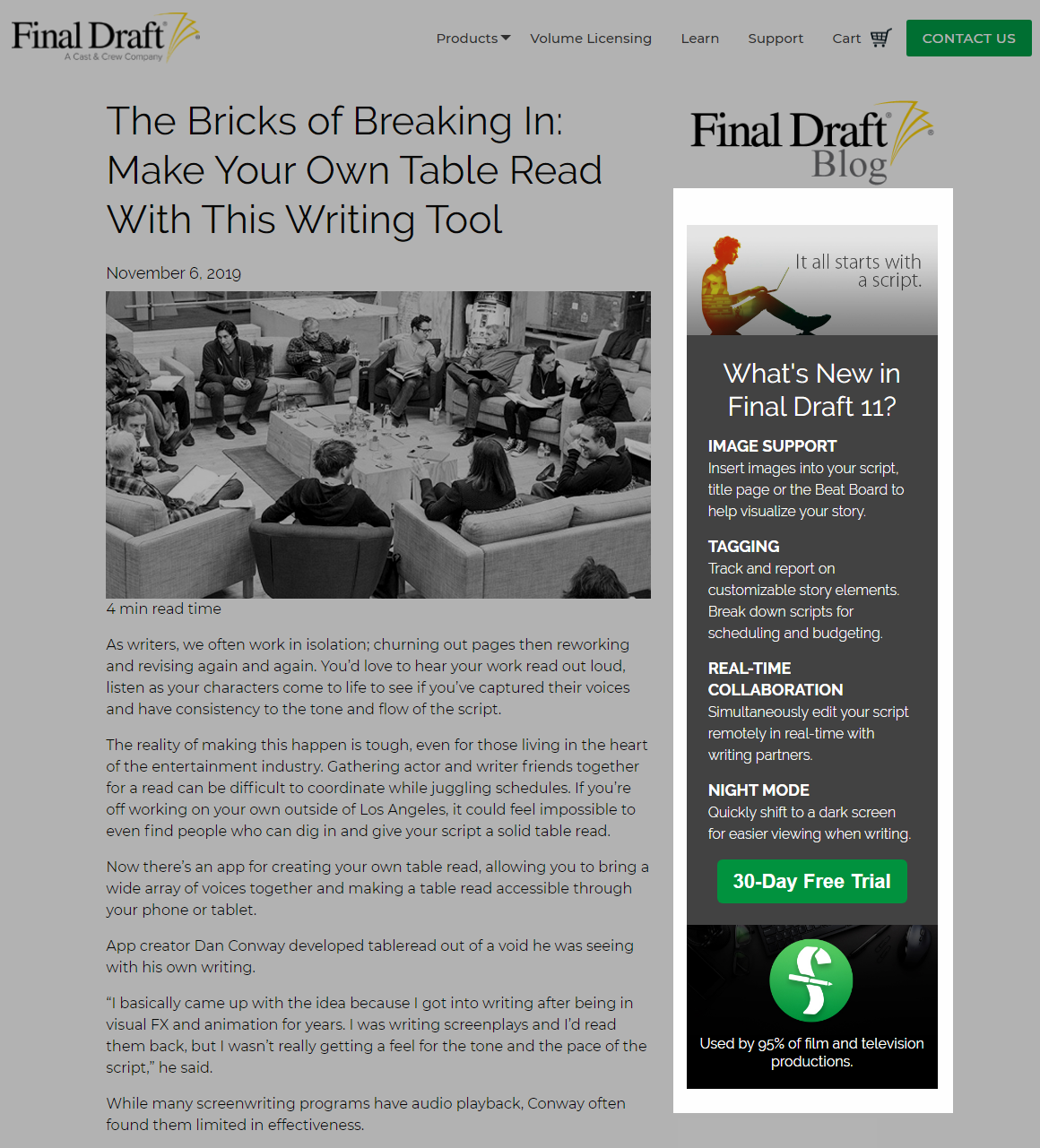 One way to let products sell themselves is to offer a free trial or use lead magnets in general. For seasonal content, consider making shopping guides, such as "what to buy for your child" and similar content. These guides can have a great effect on organic SEO and help consumers through their buyer's journey.
Email marketing
Email as an inbound marketing strategy is a great way to support your eCommerce sales funnel. Aside from automating the marketing process, you should also schedule promotional emails to drive product sales. Email offers the highest conversion rate of any channel and offers a consistent income stream.
When you send email campaigns, always A/B test your email copy and templates to identify what options work best and bring in more revenue.

Paid media
Paid media strategies include paid search advertising and display advertising. These ads are an outstanding way to entice new customers since those who click on a paid advertising usually have a high intent to buy. Paid search and display advertising in general is more geared toward expanding your brand's reach.
If you have not already tried it, the free Ads tool from HubSpot is a great place to start. The feature directly integrates with Google and Facebook to build a list of users that you want to target. You can also create lookalike Facebook audiences to find users similar to your existing customers.
Always make sure to follow the data guidelines of Google and Facebook. You can considerably boost paid media ROI by focusing on your approach.
Social media
This inbound marketing tactic plays a critical role in the inbound strategy of any eCommerce business. In addition to putting global social buttons on a website and social share incentives, consider building flexible content guidelines to ensure that your brand is represented properly, whatever the channel may be. See, an estimated graph of US social share sales pointing out how important SMM is.
Catalog optimization
This is the process of analyzing, optimizing, and simplifying product pages to maximize revenue. When running an eCommerce website, you should analyze products on a regular basis and find out what's selling and what's not, and where you can remove friction to make buying easier for customers. Try to classify products with a matrix that compares conversion rate and web traffic.
Look at the top-selling products first since these products have a high conversion, high traffic, and sell day in and day out. The next thing to do is to find products with lower traffic but a high conversion rate. These products crave promotion, and with a bit more traffic, they would begin growing your store.
There are also other products with high web traffic but low conversion rates. To boost these, experiment with the content and user experience on the item's product page to help close the deal. Finally, check out products that have low traffic as well as conversions. These are only taking up space and thus should be removed.
Below, you can see how proper catalog presentation can lead to a good UX.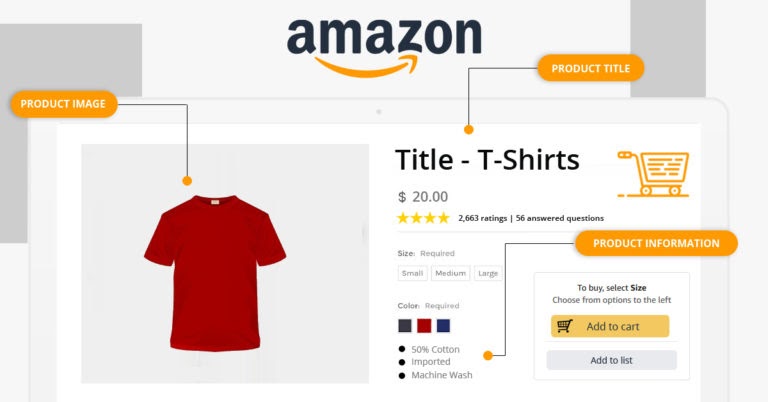 Website search
When shopping on the web, few experiences are more frustrating than not finding the product that you need. To fix this, try to add a website search to your eCommerce store. For customers using site search optimization, evaluate the following:
products users look for compared to products they click;
products added to the cart from the website search;
combinations of products viewed and bought;
products purchased.
Here's how the eCommerce website, ASOS uses product search options.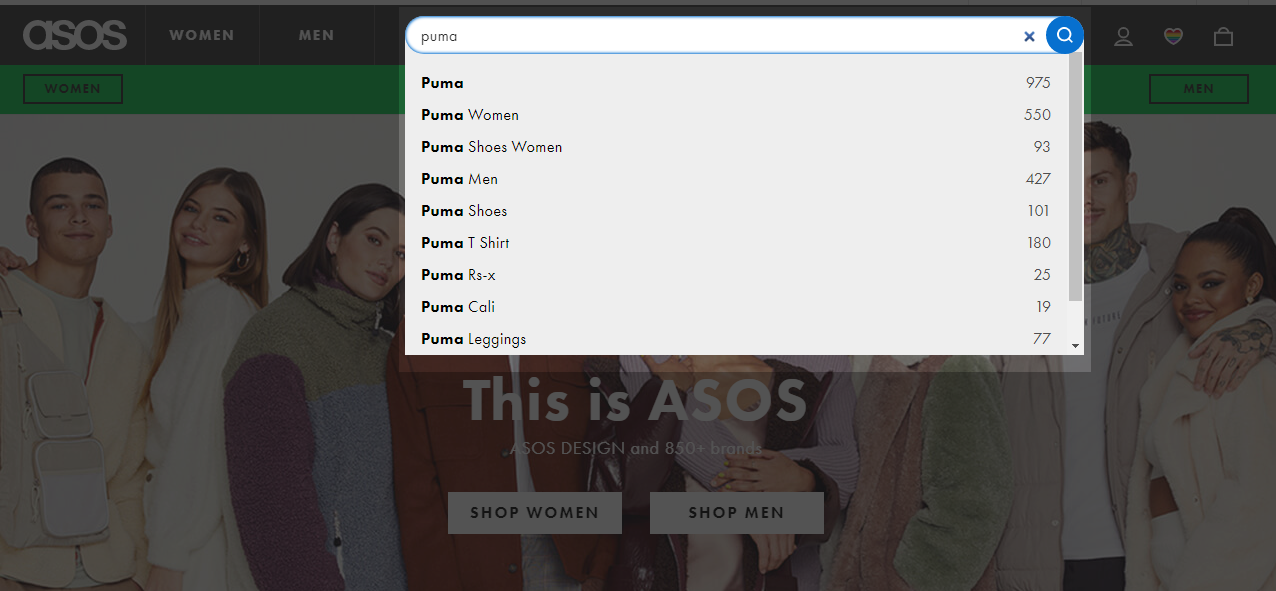 As soon as you understand how the site search performs, you can return more relevant results to meet customer expectations.
Live chat
Users always appreciate responsive customer service, regardless of their purchase stage. In addition to a phone support line, a lot of eCommerce businesses offer a live chat option. Even though the real-time interaction is effective, often it's too costly and difficult to implement for growing enterprises.
Chatbots and automated Q&A systems that mimic human interactions and are being heavily invested in by many organizations. These tools can be used to manage inquiries in frontline customer service, but the bot can transfer a user to a real human as needed.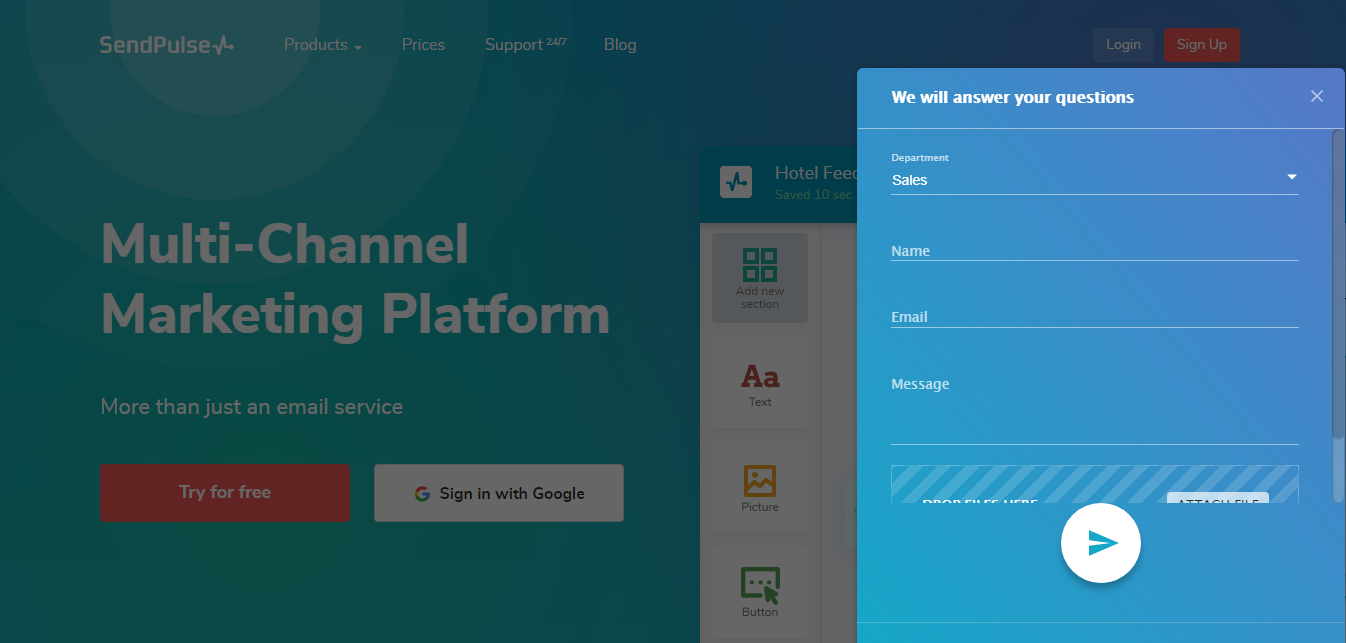 Cart recovery
Abandoned carts occur when a visitor puts an item in their shopping cart but does not proceed to purchase. To resolve this, set up an abandoned cart email flow. Re-engage users and lure them in with special discounts and offers via a workflow that includes a series of emails.
For most products, trigger the first email within one to two hours after the cart is abandoned. The second email one should be sent from twelve to twenty-four hours after the trigger. The third email should be sent within forty-eight to seventy-two hours and the fourth and the last email should be sent three days after sending the third email.
Take a look at how eCommerce websites use this method to bring customers back to their abandoned carts.
Upsell incentives
The rates of conversion on average, as well as the average order value jump when there is free shipping over a certain cart amount threshold. Although this may not be feasible for every retailer, there are many options to explore that make business sense.
You can offer free shipping for orders of more than a specific dollar amount, such as $150. Ultimately, this upsell example helps boost the average order value and your bottom line.
Re-engagement
There may come a time when existing customers seem to disappear. More unfortunate is that generally, it's more expensive to get a new customer than encouraging an old one to make a purchase. The goal is to save your customer before they drop off completely and never make a purchase again.
To get ahead of this, make segmented lists based on their last order. Checking with contacts periodically can re-engage them and compel them to convert again.
The example below will give you an idea about how you can use offers to re-engage inactive users.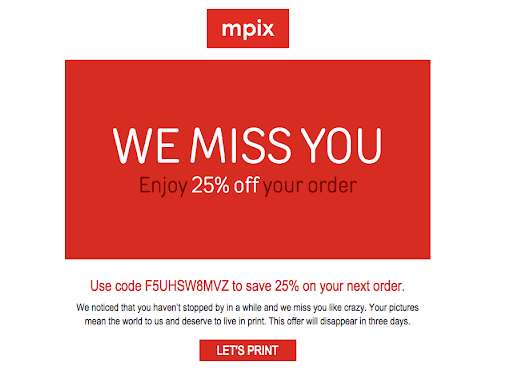 Conclusion
Inbound marketing means having an interactive website. If you're launching a startup, you should implement some of the inbound marketing strategies discussed above, including email marketing, SEO, user-generated content, blogging, paid media, social media, and so on. By now, you already have an idea that inbound marketing is one of the most effective ways of increasing your leads, your visitors, and your buyers. Attracting customers requires an understanding of their deepest needs, struggles, and aspirations. With that data, you can create content that attracts them like a magnet.