eCommerce tools offer an array of functionalities that support online stores. These functionalities encompass a wide range of issues, including recovery of abandoned shopping carts, customer data collection, integration with Enterprise Resource Planning (ERP) systems, and automation of accounting tasks.
That said, what qualifies an eСommerce tool? To be considered one, a product should
be capable of integrating with an eСommerce platform;
improve existing eСommerce functionalities.
What is the situation on the market? According to Statista, eСommerce sales reached $504.6 million in 2018. What is more, the sales are projected to exceed $560 million in 2019 and $735 million in 2023. This growth is guaranteed given the everyday rise in smartphone use and continued embrace of online payment methods. Nevertheless, there are bound to be challenges for online entrepreneurs as they endeavor to steer the eCommerce world.
Why is eCommerce important in our daily lives? It offers us access to a wide variety of goods and services. Moreover, it provides a less costly way of selling and shopping compared to traditional commerce. Finally, an eСommerce business is less time-consuming and has a lower maintenance cost.
Thus, here is a list of the 15+ best eCommerce tools to start using today.
SendPulse
Pricing: The service offers a free plan. If your mailing list contains up to 500 subscribers, you can send 15,000 email each month for free. You can upgrade your plan for $6.40/mo to access more advanced marketing features. Besides, there's a VIP plan with custom pricing.
SendPulse is a powerful multi-channel marketing platform that helps businesses reach their target audience via email, SMS, web push notifications, and Facebook Messenger. The service provides integration with scripts for online stores. It allows to export all your leads and clients to SendPulse mailing list and send them highly relevant email campaigns. You can promote your goods and inform customers about their order statuses. SendPulse also provides its users with several helpful modules and add-on for eСommerce needs.
Among the key SendPulse features are
integration with online stores;
subscription forms;
pre-designed templates;
trigger emails;
marketing automation;
statistics.
Check out the list of integrations SendPulse offers:
Prisync
Pricing: The service has three plans — Professional for $59/mo, Premium for $129/mo, and Platinum for $229/mo — that can be canceled at any time you deem fit. Users may try out Prisync using a free 14-day trial period.
With this eСommerce tool, marketers can keep track of the price charged by their competitors, stock availability, and market prices from one dashboard. It enables online business owners to sync their prices whenever and from anywhere, thus avoiding any wastage of time. It is most suitable for monitoring products or services pricing in your niche.
Below are Prisync's main features:
comprehensive reporting;
ability to monitor an unlimited number of competitors;
detailed filtering;
pricing optimization;
advanced analytics;
regular price updates (4X daily);
SmartPrice rules that allow you to automatically modify your prices against your competitors and improve profit margins.
Below is a screenshot of a user dashboard on Prisync: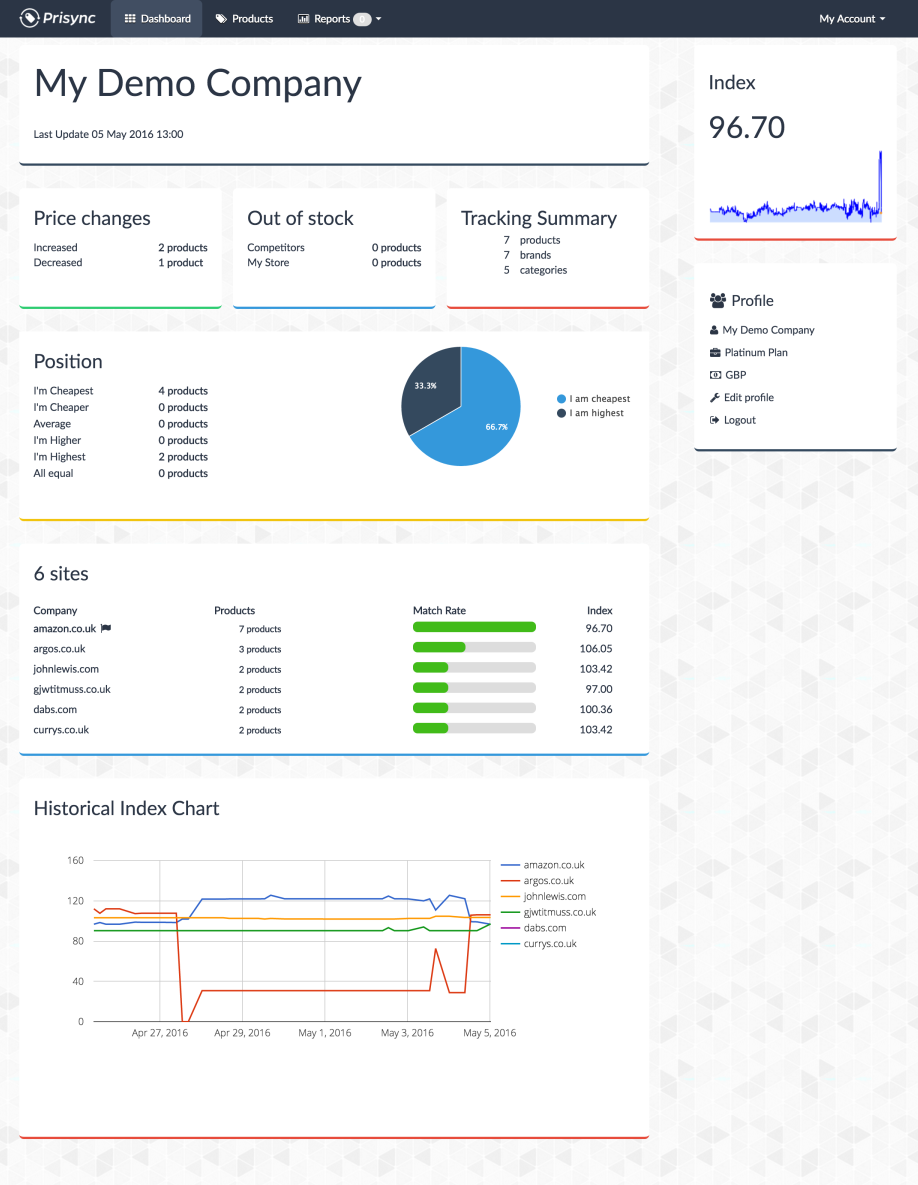 Easyship
Pricing: The service is absolutely free. There are no subscription charges. As an online business owner, you only have to pay for the shipment fees.
Easyship is a cloud-based shipping tech that enables online business owners to ship their products to any location on the planet. Being a user-centric tool, it has helped to simplify cross-border logistics for thousands of customers. It offers exclusive rates from renowned couriers, immediate pick-up requests, and a convenient dashboard for monitoring each shipment.
Its essential features include the following:
over 250 shipping solutions;
over 50 couriers;
over 25 warehouses;
70% pre-negotiated, discounted fees;
automated shipping;
end-to-end shipping management.
Below is a screenshot of a user dashboard on Easyship:
Using Easyship, one can create two types of shipments, manage them, and monitor their status in real time.
Visual Website Optimizer (VWO)
Pricing: VWO Engage from $99/mo, VWO Insights from $169/mo, VWO Testing from $199/mo, VWO Fullstack from $999/mo. The service offers a 30-day free trial.
VWO allows companies to carry out smart website optimization by testing. With this tool, one doesn't have to code or have any technical skills. You may create several versions of your website to find out which one performs better. Besides, users can create relevant offers for different customer segments to ensure personalized approach.
VWO offers the following features:
A/B testing;
multivariate testing;
webpage element analysis;
targeting;
URL testing;
heatmaps;
geo-targeting;
report segmentation;
error and bug tracking;
user frustration tracking;
mobile optimization.
Below is a screenshot of a user dashboard on VWO. Check out the options available:
Swiftype Site Search
Pricing: Standard for $49/mo, Pro for $199/mo, and Premium with custom pricing. There is also a free trial for you to try the benefits of the tool.
Swiftype Site Search is a cloud-based, customizable website search platform. It allows businesses to develop and manage the search experience for their client-facing site with great customization, advanced analytics, and relevance. Some of its renowned clients include Dr. Pepper, TechCrunch, Marketo, HubSpot, and SurveyMonkey.
Swiftype Site Search comes with many great features such as
language modeling intelligence;
powerful content syncing;
faceted search;
domain crawler;
real-time search analytics;
autocomplete;
result rankings;
search UI.
Below is a screenshot taken from a user account on Swiftype Site Search. Here are the options to customize your search and result rankings, as well as analyze the metrics: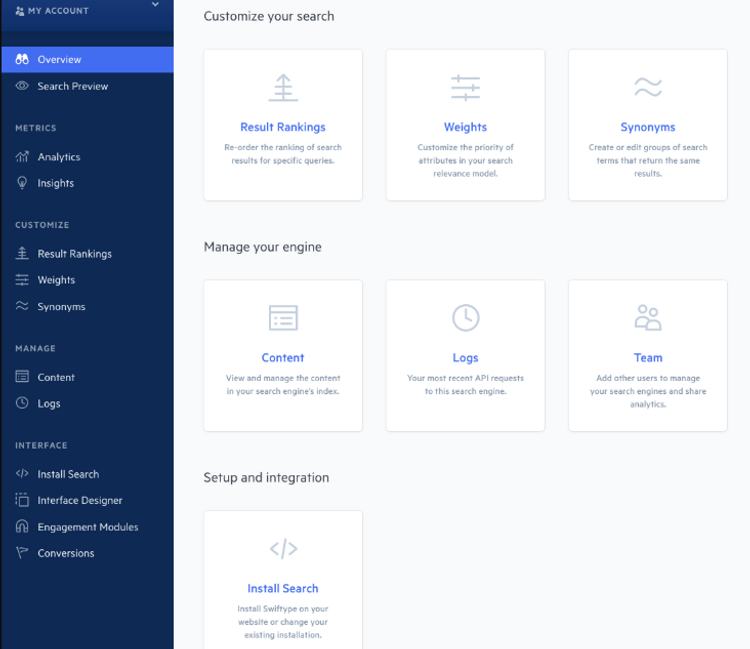 WordPress Download Manager
Pricing: To get information on pricing, contact WordPress Download Manager. Each add-on has its own price.
This is an excellent plugin for file management. It allows business owners to monitor and control all downloads of files on their WordPress websites. Moreover, it enables users to sell digital products by merely putting a fee when they need to sell their items.
With this plugin, you can turn your website into an amazing marketplace with the following features available:
sales reports;
order and invoice management;
coupon management;
product and price variation;
simplest checkout option;
payout options;
custom shop profile;
unlimited membership levels;
custom templates.
Below is a screenshot of a user dashboard on WordPress Download Manager: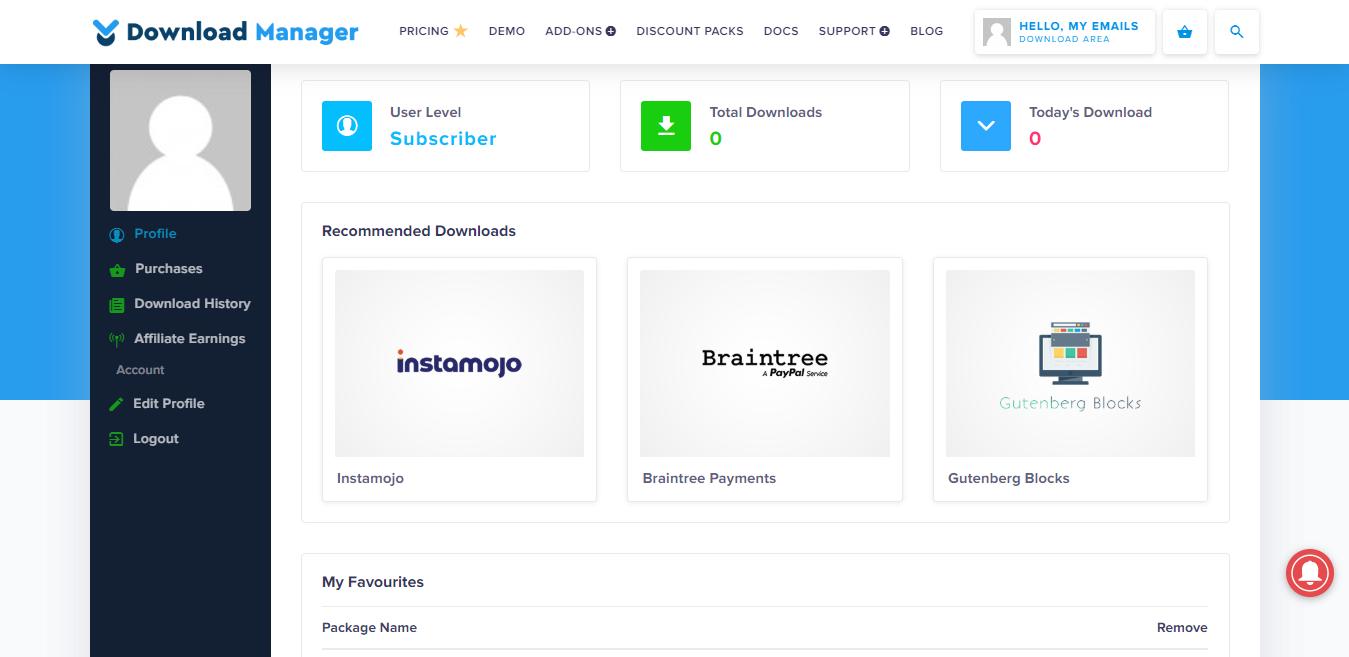 SyncSpider
Pricing: SyncSpider offers a free 14-day trial period, a forever free Starter plan for those who are just beginning their eCommerce business, and three extended pricing plans starting at $7.5/month and going up to $625/month. You can save up to 20% by paying annually.
With SyncSpider, you can sync all your tools, apps, eCommerce platforms, CRM systems, and databases and manage all data from one place. Your orders, shipping information, leads, marketing campaigns, and communication with your customers can be run from SyncSpider, saving time and money and increasing customer satisfaction.
There are more than 350 integrations available, and the list is growing every week. And there is the option available to customize your automation process if your business has some specific requirements. Their customer service is available 24/7, so if you get stuck at some point, you can always reach out to them.
Its essential features include the following:
Windows database connector used for connecting local databases to a growing catalog of online apps.
Multichannel inventory management used for auto-syncing products and orders across your eCommerce channels.
White label solutions used for redesigning and reselling SyncSpider's innovative software to meet your customer base's needs.
SyncSpider DataHub used to store, share, change, export, import, and manage all data effortlessly.
Sellfy shopping cart
Pricing: Starter for $29/mo, Business for $59/mo, and Premium for $129/mo. The service offers a 14-day free trial.
With Sellfy, you can build a complete online storefront within minutes. In addition to an array of built-in functionalities, Sellfy lets you integrate the Buy Now button or shopping cart into your existing website. Anyone who's ever tried adding a shopping cart to a website knows how challenging this task might get, but Sellfy does a great job of making your life a lot easier.
The Sellfy eCommerce platform comes with many great features such as:
Online store hosting
Simple and intuitive interface
Support for digital, physical, and subscription products
Email marketing
PWYW feature
Unlimited number of products
Mobile app
Clean and simple checkout
Here how a shopping cart by Sellfy looks on a website:
Tagalys
Pricing: You have to contact Tagalys representatives to get information on pricing.
Tagalys is an eСommerce tool that assesses the interactions of visitors with the products to determine which of them could be sold. It sorts out search results based on trending products to boost conversions.
The main features you can expect from Tagalys include
store trending results;
popular search queries;
pinned search queries;
detailed reporting.
Below is a screenshot of a user dashboard on Tagalys: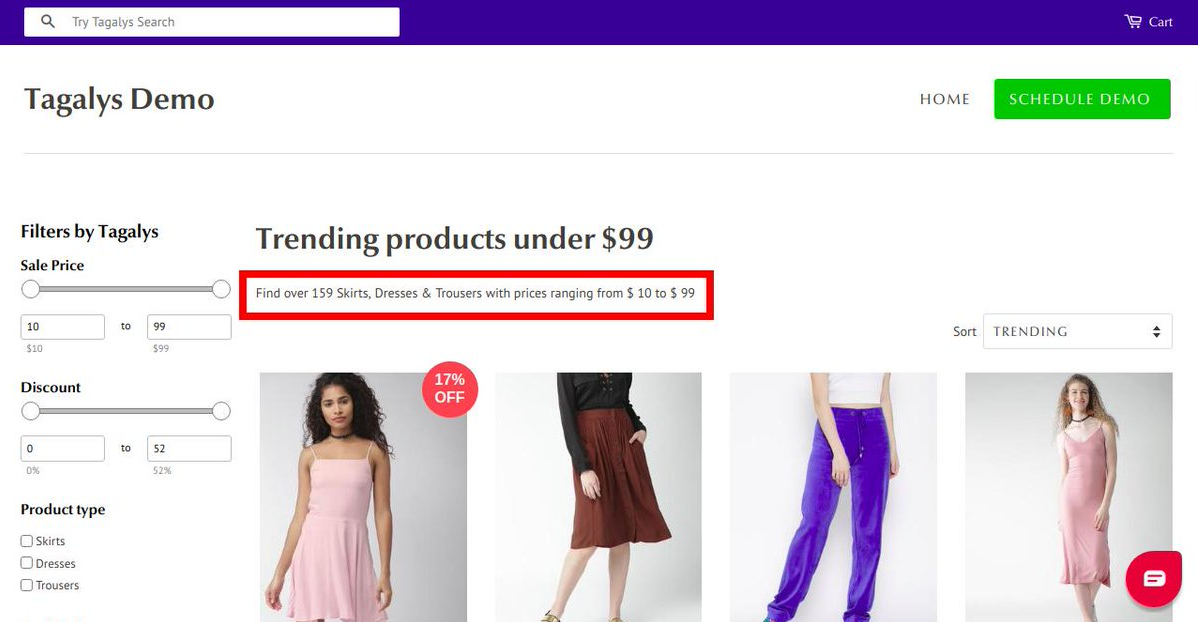 inkFrog
Pricing: InkFrog has five pricing plans starting from $11 with all being billed monthly. You can also try out any of their features for 14 days for free before choosing a paid plan.
InkFrog is a price-friendly software that allows Amazon and eBay sellers to create and manage listings. It also doubles up as a marketing tool and inventory synchronizer. With its help, you can sync your stock with other accounts you may have on Shopify or Amazon. If you are planning to start selling on eBay, this software will help you get your inventory listed on marketplaces.
Some of the main inkFrog features include
powerful listing tool;
250+ ready-made listing templates;
image hosting on eBay;
eBay listing auto-update;
Amazon, Shopify, and BigCommerce sync.
Check out how a user dashboard looks like on inkFrog: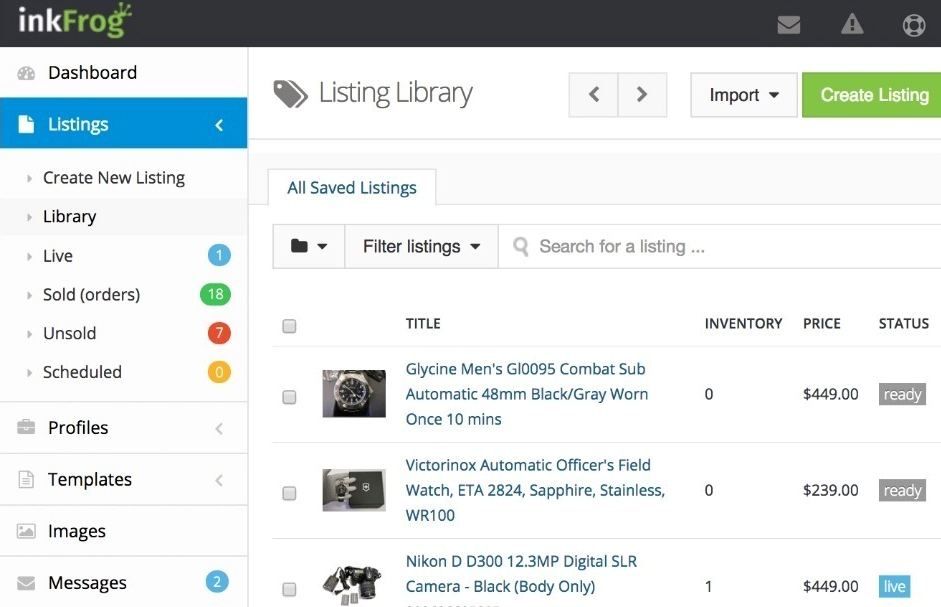 Google Merchant Center (Google Shopping) PrestaShop Add-on
Pricing: You can install this add-on for €199.99.
Google Merchant Center add-on allows you to upload the products you are selling to Google Shopping and drive more traffic to your online store. That way, your products and store are visible to thousands of shoppers who search on any Google service. With this add-on, your products will be reviewed by Google Shopping faster, and you can achieve good rankings on this platform. It is most suitable for online stores that want to list their products on Google Shopping.
Here's a sneak-peak of what PrestaShop add-on does:
supports numerous countries, currencies, and languages;
stays compatible with the multishop function;
allows tax display management;
offers automatic optimization of titles;
supports multiple image support;
provides Google AdWords integration;
enables SEO management.
Below is the process of getting started with Google Merchant Center:
Square Payments
Pricing: You need to contact Square sales team via chat or phone to get a price quote.
Square is a tool that allows an eСommerce business to accept all types of payments fast and secure. With Square, companies can receive payments via invoices, computer, website, phone, or tablet. You can integrate Square on your eСommerce platform and begin selling your products online. There is also a free, user-friendly app that allows you to accept payments and access sales data in real time. Square is best suitable for small eСommerce stores that are looking for solutions to scale their operations.
Some of the main Square payments features include
mobile and online payments support;
point of sale transactions;
receipt printing;
debit and credit card support;
recurring billing;
signature capture;
invoices;
payrolls.
Check out the intuitive interface of a user dashboard on Square Payments: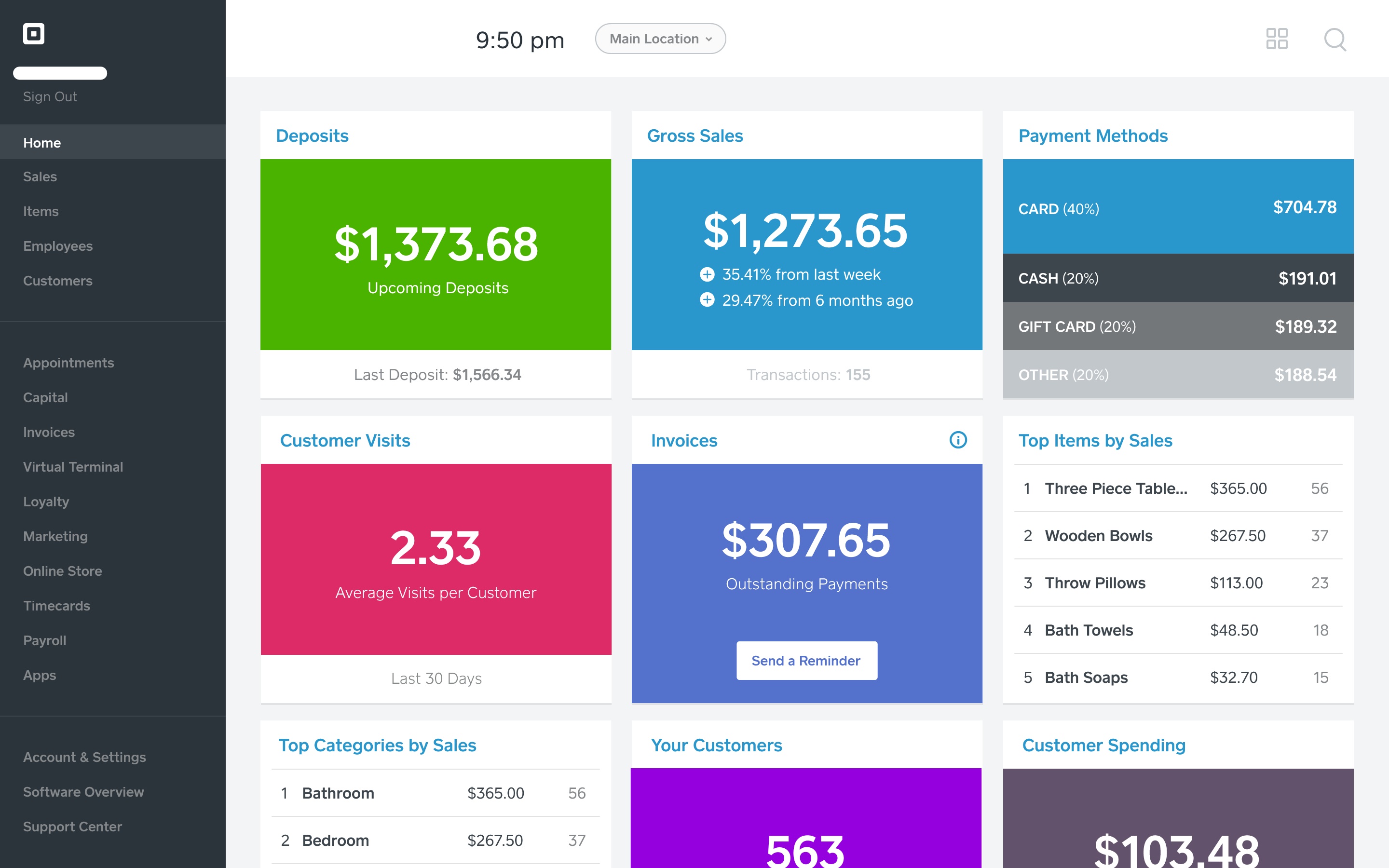 Vue StoreFront
Pricing: Prices for commercial versions are not provided, but you can always contact company's representatives to get an estimate. However, access to the Vue StoreFront community is free.
Vue StoreFront is a progressive web app built for all kinds of eСommerce stores that want to improve their frontend without interfering with the backend. With this tool, you can create a web or mobile app that can be downloaded on both Android and iOS. It includes all standard eСommerce features needed for a user-friendly application. Vue StoreFront helps to build online stores much faster.
Vue StoreFront includes the following features:
credit card processing;
integration with third-party eСommerce CMS;
PayPal payment extension;
voice commerce (connects stores with Alexa, Google Assistant);
shipping management;
SEO management;
abandoned cart saver.
Below is a screenshot of a user dashboard on Vue StoreFront: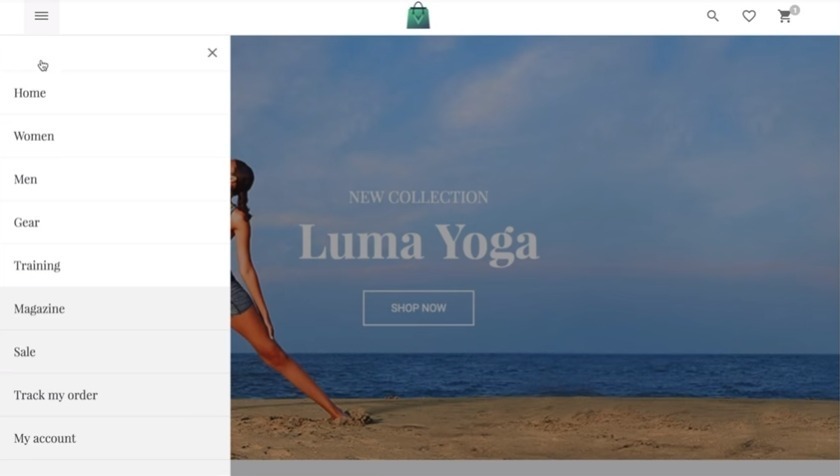 AfterShip
Pricing: AfterShip comes with a free Starter version as well as several paid packages starting from $9/mo. There's also a free 14-day trial period provided.
AfterShip is a web solution that helps eСommerce businesses to track shipments effortlessly and notify customers of the delivery status of their orders. With this tool, you can monitor the latest status of an order automatically and send it to the client as an SMS, email, or push notification. You can also direct customers to your website for tracking and further engagement.
AfterShip's key features include
automated shipment tracking;
eСommerce website integration;
rendering of product catalogs in seconds;
delivery estimation.
Below is a screenshot from user dashboard, where you can monitor shipment statuses: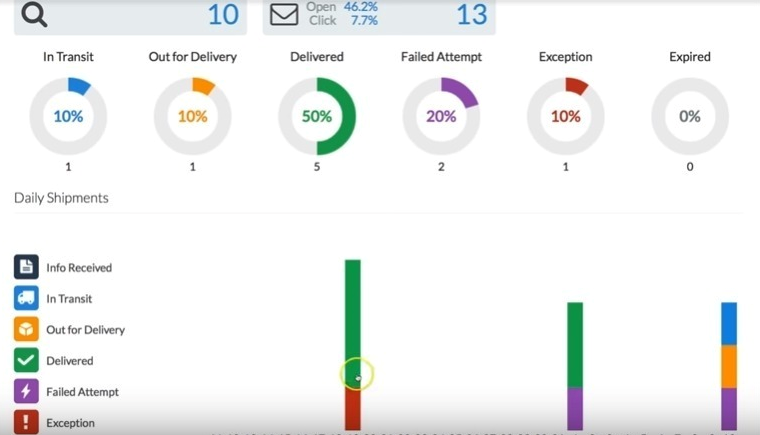 VirtueMart
Pricing: Free.
VirtueMart is an open-source eСommerce tool that is built as a Joomla extension. Therefore, to use it, you will need to install the Joomla content management system first. This software helps you create and manage a website with unlimited products, categories, customers, and orders. It is usually run in either Catalogue mode or as a Shopping Cart.
VirtueMart's major features are as follows:
eСommerce category-specific layouts and templates;
multicurrency support;
product suggestion;
SEO features;
order tracking.
Below is a screenshot of VirtueMart Control Panel: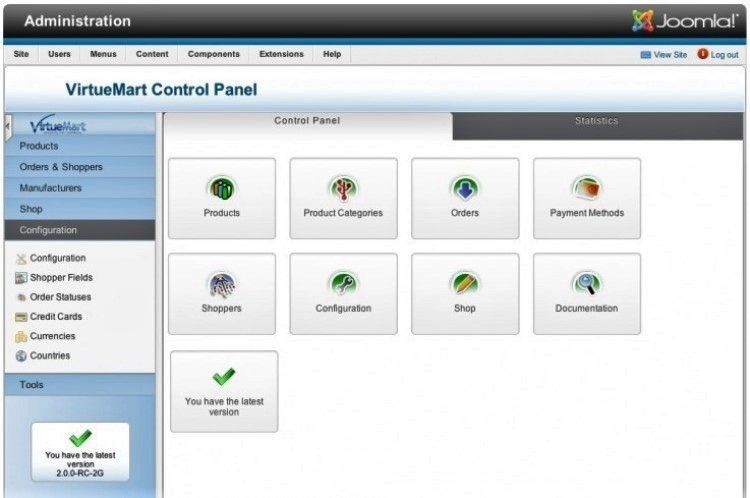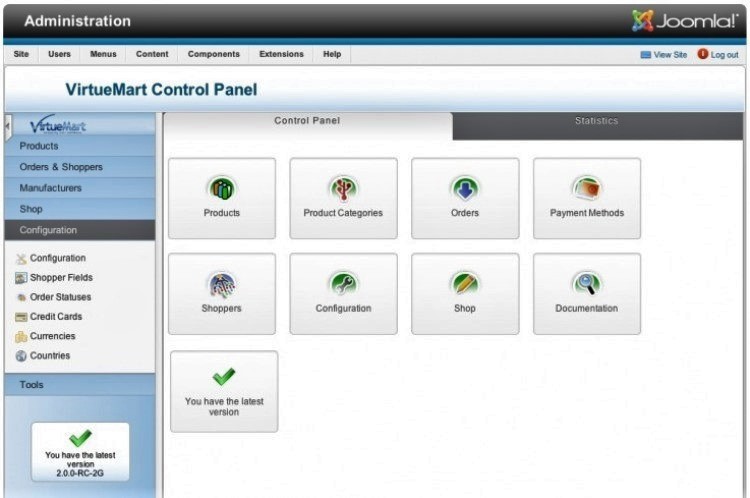 esa Product Manager
Pricing: esa pricing depends on the number of products you have on eBay and whether you want to sync hourly or every 30 minutes. The entry-level subscription goes for $49/mo with a discount offer for new customers.
esa Product Manager is a tool that can be used to import and sync listings and products from eBay to BigCommerce, Etsy, and Shopify. It helps online stores to save time, organize their listings, and monitor up-to-date information on different platforms in one place.
Some of the key esa's features include
product syncing;
duplicate removal;
product categories;
inventory management;
SEO for titles;
supports multiple eBay accounts;
full-size product images, tags, quantity, description, and others.
Check out the user friendly interface esa Product Manager offers: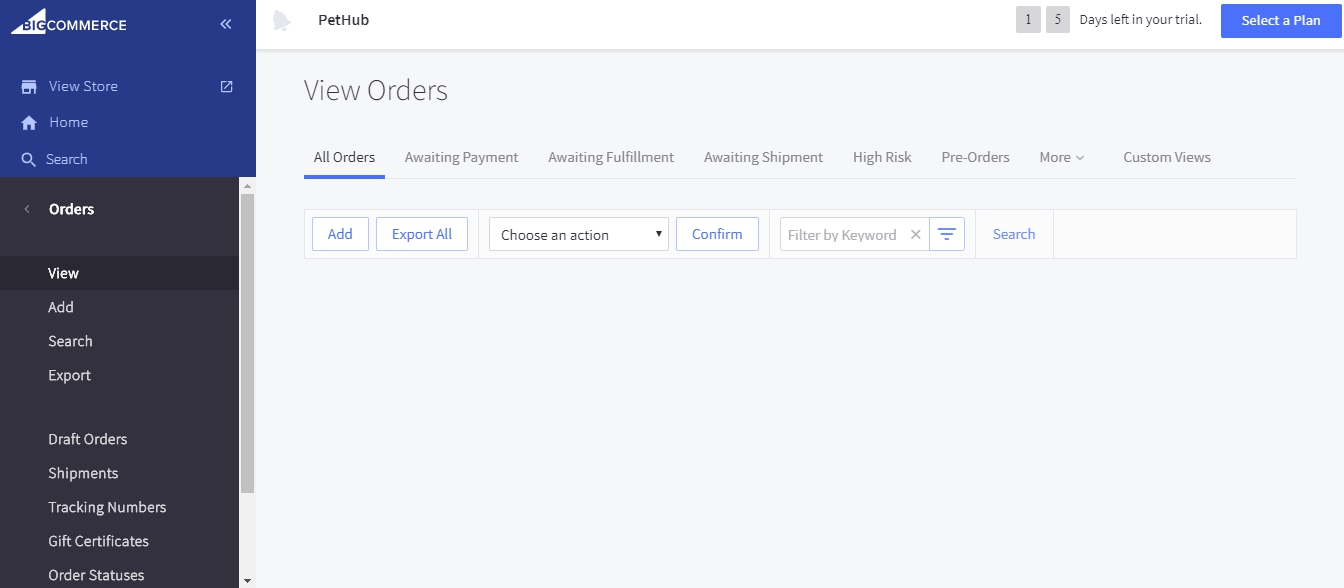 Apptus eSales
Pricing: You should get in touch with the eSales team to get details on prices.
Apptus eSales is an AI-powered multifunctional merchandising and search tool that allows you to manage and optimize your store's sales. This platform can help you increase revenue, conversions, and profits.
The key features of this tool are the following:
abandoned cart saver;
split testing;
category suggestions;
ads management;
sales performance data;
predictive merchandising;
product recommendation engine.
Check out Apptus eSales' user dashboard below: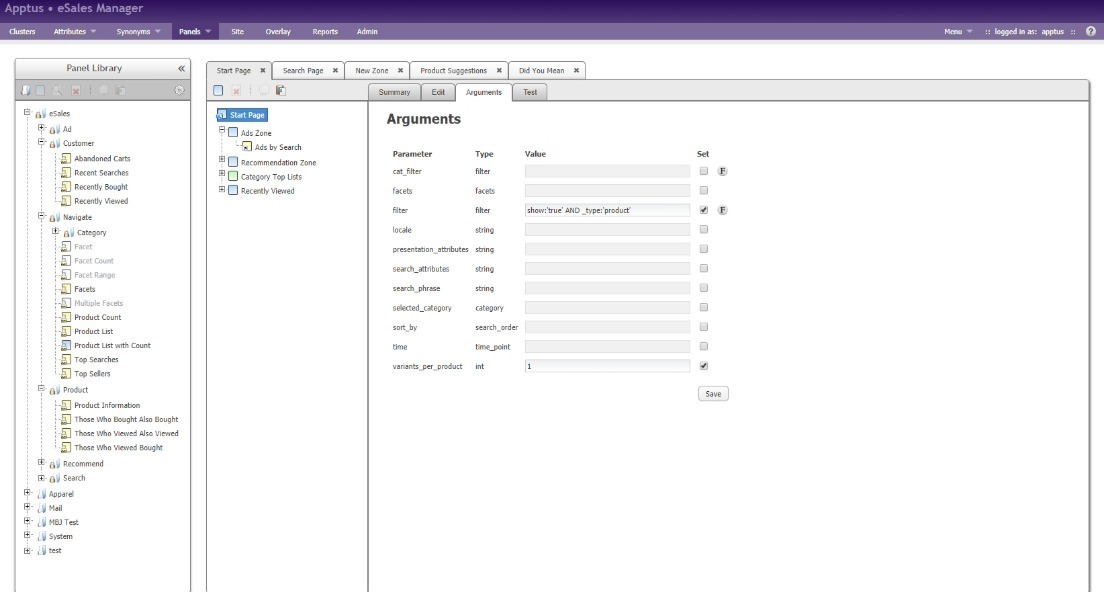 Conclusion
The number of eСommerce tools available on the market today is mind-boggling. That's why it is important to know which ones can save you time, effort, and help to improve your business. Thus, you don't waste time with those that don't bring you any benefit. Choose the best tools for your business by looking at your technical knowledge, business model, and budget. Give your business a boost with these eСommerce tools!