Email analytics is a method of tracking the way subscribers interact with your email campaigns. You can gather and analyze data for each email campaign with the help of bulk email providers and Google Analytics.
Watch this video and find out how to analyze emails in SendPulse.
Why should you analyze your email campaigns?
Without analyzing emails, you can't total up your email marketing efforts, having a blur and inaccurate image of how well things work for you.
Email analytics provides a vast amount of data as a basis for improvements: the level of user engagement and loyalty, common behavior patterns, strong and weak points of your content. With that knowledge at hand, you can utilize sophisticated behavioral segmentation and provide your subscribers with a more personalized experience.
As a result, email analytics will help your business prosper because users will be more engaged with your brand, thus more likely to purchase your products or services.
Email Analytics Metrics
Email deliverability
Open rate
Click-through rate
Bounce rate
Unsubscribe rate
Conversion rate
Let's review all the parameters that you need to analyze for your email marketing: email deliverability, open rate, click-through rate, bounce rate, unsubscribe rate, and conversion rate.
Email deliverability. It is the number of emails delivered to the recipients' inboxes from the total number of messages sent. This data depends on the authority of your email service domain and your sender reputation.
Open rate. It demonstrates the number of opened emails from the number of delivered. Сreate intriguing subject lines relevant to the content of the email to encourage more opens.
Click-through rate. It indicates how many people clicked links in your email. Come up with content relevant to your subscribers' interests. Combine educational and promotional materials to encourage visiting your website.
Bounce rate. This metric indicates the number of emails that weren't delivered. There are two types of bounce: hard and soft. A hard bounce means that the recipient's email address or domain name is invalid. Use double opt-in and remove invalid addresses to deal only with valid ones on your mailing list. A soft bounce means temporary issues like the full inbox or maintenance of the recipient's server.
Unsubscribe rate. It shows how many users clicked the unsubscribe link to opt-out of your email campaigns. An average unsubscribe rate is around 0,05%, so when it rises above that level, check your email sending frequency, quality of content, or get your emails more personalized.
Conversion rate. This means the number of subscribers that converted into customers. Though, any action may count as a conversion, for instance, a registration after clicking the partner's link in your email newsletter.
You can analyze all of these metrics when sending email campaigns in SendPulse, except for the conversion rate, which you have to calculate manually.
Let's move on to the statistics SendPulse provides.
How to Analyze Emails with SendPulse
When you create and send campaigns with SendPulse, you get a report full of useful data — opens, clicks on the link, the clicks map, and opens by the device.
In the screenshot below, you can see the percentage of opened and clicked emails along with the number of unsubscribes and emails marked as spam.
Another crucial aspect you should analyze is errors. Check the reasons why email servers bounced your email. If the recipients' servers identify your emails as spam, you may lack authentication parameters — DKIM and SPF records. You can improve your sender reputation based on these errors.
The screenshot below shows the error statistics, including a full inbox and invalid email addresses.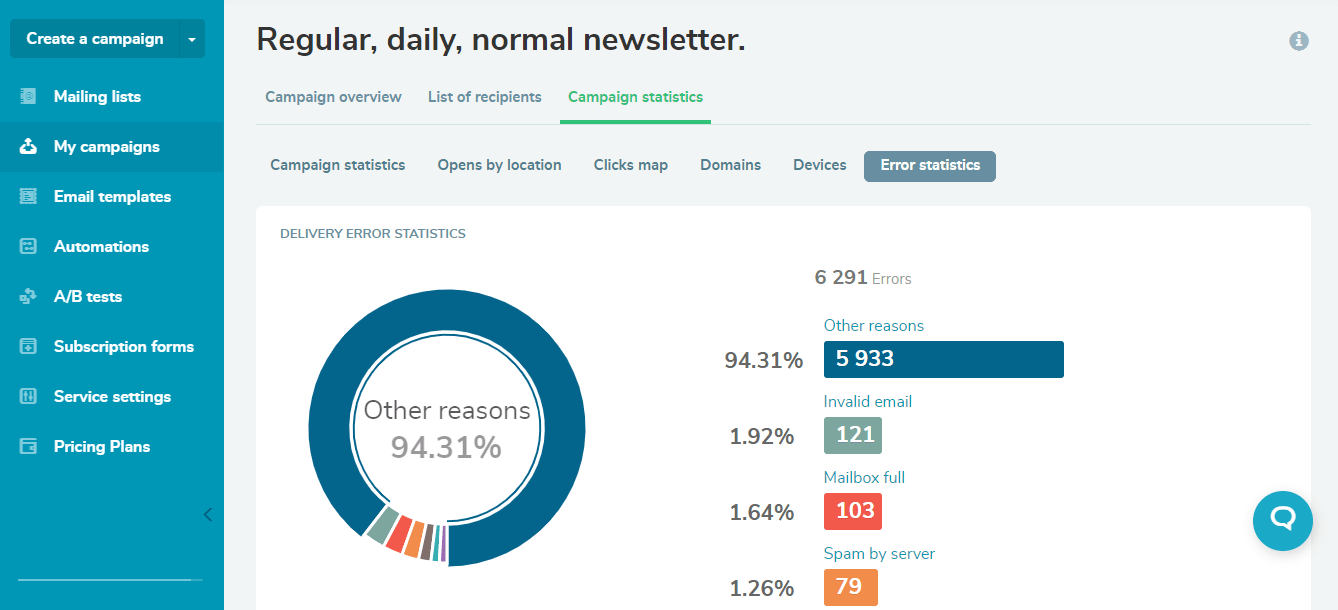 Besides, you can analyze how particular users interact with your campaign. Filter out the list of recipients using different conditions: by status and by domains. On the screenshot below, users who opened and clicked the links are filtered out.
It will show the most engaged users, so you may praise their participation with special offers and build loyal relationships.
How to set up Google Analytics for email tracking
You can integrate Google Analytics with SendPulse to analyze your email marketing even deeper.
Use Google Analytics when you publish a new article and share it via a few media, say, email, and Facebook. UTM tags in the URL will help you find out how much traffic goes from each channel, hence, which one is more convenient for communication. Depending on these insights, create segments and promote your products and services via channels where people are most likely to engage with your content.
Learn more about the benefits of Google Analytics for email here.
References
To get more insights on email analytics such as average email response time and daily emails sent/received, check out EmailAnalytics service.
The article "Email Analytics: 6 Metrics Email Marketers Should be Tracking" by HubSpot explains which metrics are the most important for your email marketing strategy.
Last Updated: 31.08.2023