Telegram marketing — is a type of messenger marketing that implies promoting a brand through Telegram. With this channel, you can grow your outreach, boost sales, and help customers explore your service.
In this video, Caleb Smith, a digital marketer at SendPulse, explains how to create a Telegram chatbot for your business with SendPulse.
Telegram is a cloud-based messaging app that works across any device: smartphones, tablets, and computers. It's fast, secure, and free. It allows users to send text messages, share photos, videos, and files. You can also create groups and channels to better interact with your audience.
Why Should You Use Telegram Marketing for Your Business?
As of April 2020, Telegram's audience has grown to 400 million active monthly users. 1.5 million users download the app and sign up every day. The growing popularity of the platform allows marketers to enjoy many of the following advantages.
Benefits of Telegram:
Allows marketers to keep their audience informed. This is possible with Telegram channels. Create either a public or private channel and invite your current customers to join it. Share more photos and videos of your products, tell subscribers about the history of your brand, and introduce your team. Notify clients of the upcoming sales and hot offers.
Helps marketers better communicate with their customers. Telegram groups will help you interact with your customers directly. A Telegram group is a chat where you can communicate with your audience, and your group members can interact with one another. You can also add administrators to manage your group more efficiently. With a group, you can let your loyal customers help new leads by answering questions about your product or service. Telegram Groups are a great opportunity to build a community.
Allows brands to support customers 24/7. This is where chatbots come into play. A chatbot is an online assistant which you can use to streamline everyday tasks. Delegate answering FAQs, handling orders, and consulting clients to chatbots, that are available 24/7. This way, your customer support team can work on more complicated issues. Create a chatbot without any technical skills with SendPulse, and develop auto-reply flows to send messages after a user enters a keyword specified by you, for example, "delivery," "price," or "refund."
Allows brands to drive traffic to a website. Share links to your landing pages, invite your customers to check out your new collection, or share a link to your client reviews. This way, you'll increase traffic to specific site pages.
Increase user engagement. You can easily do this with the Telegram polls. Create a poll with multiple answers to get to know the opinion of your customers about your product or service; create a quiz where you'll explain why a user chose the wrong variant. The last option is especially great for educational services. Your polls can be anonymous.
Now, that you're aware of the benefits of using Telegram, let's get to know how to include all these tools in your strategy.
Telegram Marketing Strategy
Set your goal
Create a Telegram account
Promote your Telegram account
Step 1. Set your goal
Developing any strategy starts with establishing a goal. Your goal will predetermine the tools you will use, content formats, and KPIs to measure. With Telegram, you can pursue the following goals:
driving traffic to your website;
boosting customer engagement;
building trusting relationships with your audience;
automating routine tasks;
supporting clients;
increasing sales.
For example, if you aim to build trusting relationships with existing customers, and, at the same time, increase sales, you can create a private channel for your most loyal clients. Let them be the first to learn about upcoming sales, create a poll to let them choose the desired items to get a discount for, etc.
Step 2. Create a Telegram account
Now when you've established your goals, it's time to get started. There are 3 options available for you: a group, channel, chatbot.
Group
A group is a chat where you can add many people. It can have up to 200,000 members. After joining it, members can send messages, photos, videos, and audio files. You can create either a public or a private group. If it's public, any user can find it in search, join, and view the history. If it's private, people can join it only if you manually add them or with the help of an invite link.
To create a group, click on the 3 horizontal lines in the top-left corner and choose the option "New Group." Add members, name it, and set a photo or video.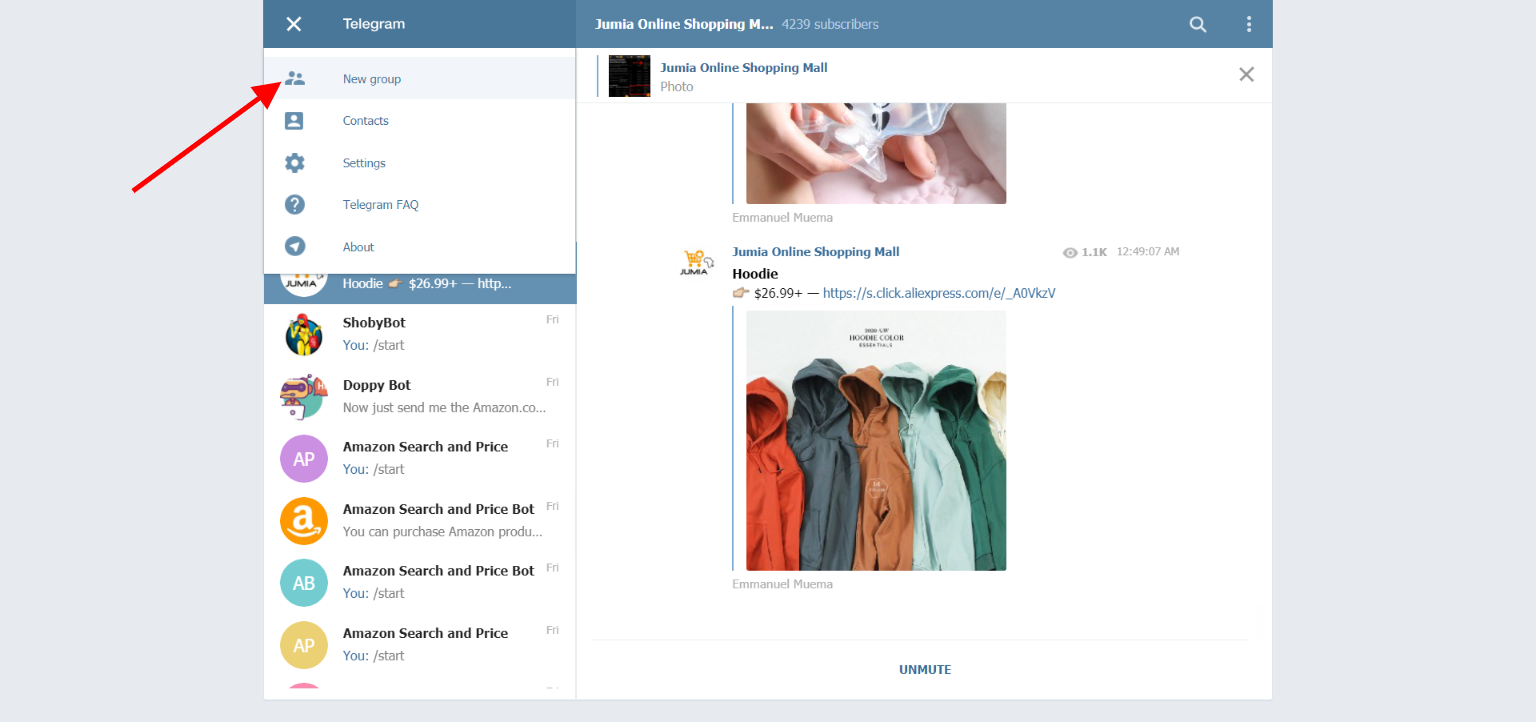 To better maintain your group, you can add admins and choose what they can do: change group info, delete messages, ban users, invite users via a link, pin messages, add new admins, or remain anonymous. You can also set permissions to choose what members of your group can do and create polls to boost engagement.
If you're already popular and have thousands of fans, consider creating a channel.
Channel
Telegram channels are created for broadcasting messages to large audiences. They have no limitations regarding the number of members. The difference between a group and a channel lies in several facts. Firstly, only the admins of a channel can post to it. Secondly, each member is notified of every new post. The members see the name and the photo of a channel instead of an individual sender, like with groups. Members of the channel can't see each other as well as the admins. Only the owner and the admins can see the members.
To create a channel, click the 3 horizontal lines in the top-left corner and choose the option "New Channel." Give it a name, write a description, set a photo, choose if your channel is a public or a private community, enter the text of an invite link, and add members.
You can see the number of views under each of your posts. If you have more than 500 subscribers, you can track detailed statistics on the following information:
languages your subscribers speak;
the number of users who join, leave, and mute your channel;
the way followers found your channel
the way followers interact with your posts.
You can schedule your posts, and they will be sent automatically at the time specified. You can also send silent messages during non-working hours or at night, so your followers will receive a notification with no sound. To improve navigation and provide followers with important information, use hashtags. You can add admins and enable signatures to better manage your channel. This is a helpful feature if you have a large company, and your top managers are the admins. So, your coworkers need to know who posts: Director, HR, Accountant, etc.
If you are interested in the opinion of your followers, you can create a discussion group. All of your posts will be forwarded and pinned there. Members can comment on each post, and their comments will show up in a thread. Creating polls is also available in channels.
If you want to support customers 24/7 with the least possible resources, consider creating a chatbot for this messenger. You don't need to code or have any technical skills. Read on to find out how to create a chatbot.
Chatbot
If your company develops quickly, hundreds of customers connect with your support team daily. You definitely need a chatbot. This is a virtual assistant that imitates real conversion with a client based on a pre-designed scenario. Chatbots can provide users with more information about your brand, show catalogs, share prices, arrange consultations, answer FAQs, close deals, and automate routine tasks. Its flexibility depends on you. The more you "teach" it, the better it works.
SendPulse offers a flexible chatbot builder. Create a widget and place it on your site so that users can subscribe to your bot.
A chatbot works the following way: you create a list of questions/commands users can enter and enter answers to them. The more commands you have, the more advanced your bot will be. Then, after a user enters a keyword, an auto-reply flow starts. The chatbot communicates with the customer according to YOUR scenario. Creating a chatbot with SendPulse is free. You can send up to 10,000 messages per month at no cost.
Firstly, you need to create a bot and connect it to SendPulse. To do this, follow the steps below:
Go to your Telegram account, enter @Botfather in the search tab, and choose the bot. Click "Start" to activate it. 
Type the /newbot command and send it.
Name your bot and copy the token value. 
Then, go to your SendPulse account. Navigate to the "Chatbots" section and paste your token to the corresponding field. After that, subscribe to your bot.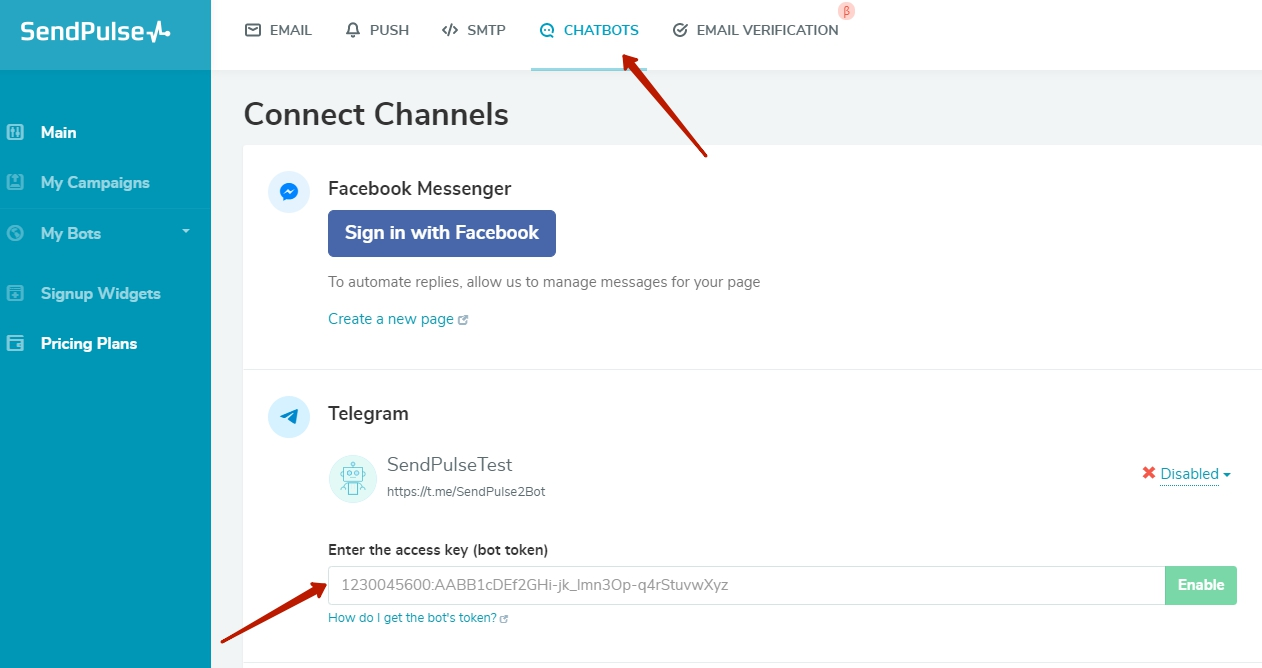 You are ready! You've added your chatbot to SendPulse.
Now you can create your flow. Start by creating a welcome flow. Think of the keywords that can trigger sending messages. Create a flow to welcome subscribers, sell products, assist customers, and other events. Follow this step-by-step guide to building your flow.
With our chatbot builder, you can segment your audience. Tags and variables will help you send the right message to the right people. Save the information your customers enter to create relevant offers for them in the future.
For more valuable information, get inspired by the ideas of chatbots for eCommerce, healthcare, online service providers, and travel agencies on our blog. You'll see how to organize a chatbot structure and build your flow.
Step 3. Promote your Telegram account
After you're ready with the goals, it's time to choose the type of account you want to use — a group, channel, or a chatbot. It doesn't matter which one you prefer. It should be visible in front of your audience. Below we listed some effective ways to promote your Telegram account. So, check them out.
Social media. Social networks today are an awesome source of leads. You may already have thousands of followers on Facebook, Instagram, TikTok, and LinkedIn. Don't miss an opportunity to let them join your brand on Telegram. Put a link in your Instagram bio or create an exclusive offer available for those who join your Telegram channel or group.
Cross-promotion. Look for popular Telegram accounts in your niche and offer them cooperation. For example, if you sell tours, ask a famous traveler or a blogger to promote your agency in exchange for a big discount, or if you sell materials for beauty procedures, cooperate with top specialists in your region.
Facebook Ads. You can promote your Telegram account by launching an ad campaign. Prepare an irresistible offer and pay special attention to targeting the best audience to show your ad to. Keep in mind that this method can be costly, so make sure you'll have a chance to bring your investments back if users join your account.
Groups. These are chats created by like-minded people to discuss a topic of interest. You may look for such chats and promote your account there. Remember that it should match the topic and that promotion is not prohibited, otherwise, you'll be banned.
Your website. This is one of the best places to start. Use your most visited pages or product landing page to tell the visitors about your Telegram account. You should provide an incentive to join you, otherwise, users won't have a reason to do this. If you have a bot, invite visitors to talk to your customer agent agents or make the right choice of product. If it's a channel, motivate them to join it for the most exclusive offers. You can also promote your account via a multichannel subscription form available with SendPulse. You only need to add the link to your account.
So, choose the best method for your business, or create a promotion mix for better efficiency.
Telegram Marketing Examples
In this section, we'll share examples of effective chatbots from different industries for you to get inspired. Check them out.
Eddy Travels bot is a virtual assistant that allows users to discover the best flight deals in seconds. You can search for either hotels or flights. Just enter the country you're going to visit and the date. The chatbot will search for the most relevant offers. You can go directly to Booking.com or Scyscanner right from the messenger.
AsosHelperBot is an eCommerce chatbot. The same products have different prices on other ASOS country-dedicated websites. This bot compares prices and finds the necessary item at the lowest price in the desired currency.
Smokey is a bot which provides information about the air pollution level in your region. You can also get detailed information about smog and ways to tackle it, as well as find out more about masks.
Congratulations! Now you know how to create a Telegram marketing strategy and automate routine tasks with chatbots. Register with SendPulse and develop your chatbot! 
Last Updated: 06.09.2023