How to Add a Custom Domain to Your Course
Available with a
paid
pricing plan, as well as during the 7-day free trial
SendPulse allows you to change the address where your students enroll in your course. To do this, select or edit subdomains from SendPulse, or add your own domain registered on third-party services. Connecting your domain to a company name personalizes your page and helps users find it faster.
To add a second-level subdomain to your course, you need to create a course with the free suggested subdomain, change it in the course site settings and then register an A record on the site of the DNS registrar of your domain provider.
Add a Domain to SendPulse
Please note that you will not be able to change the course address once the course has started.
Go to the "EDU" section, choose your course, and click Site Settings.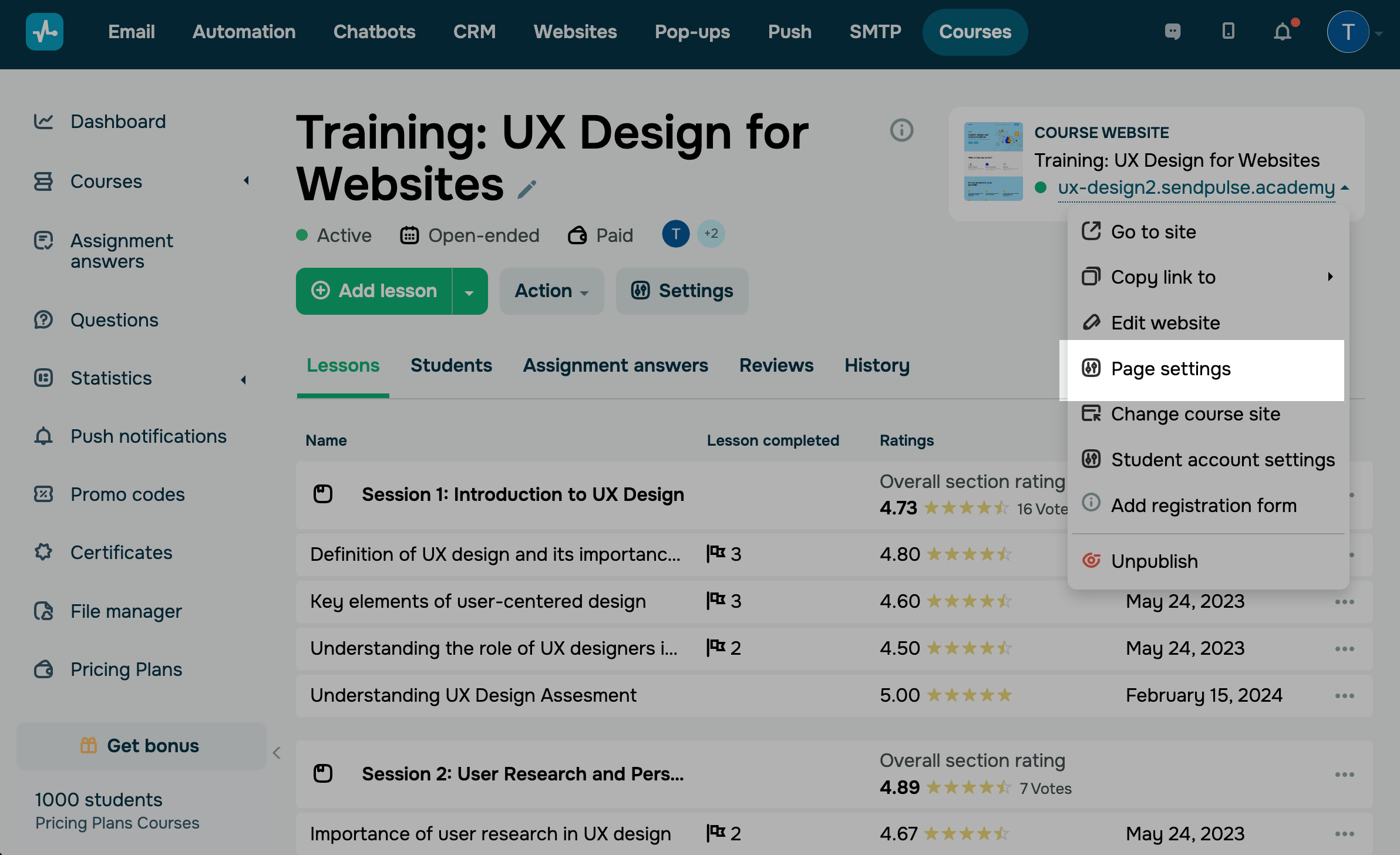 A course registration page is automatically created in the "Sites" section for each course. You will be redirected to your site settings in the "General" tab.
Click Add Domain.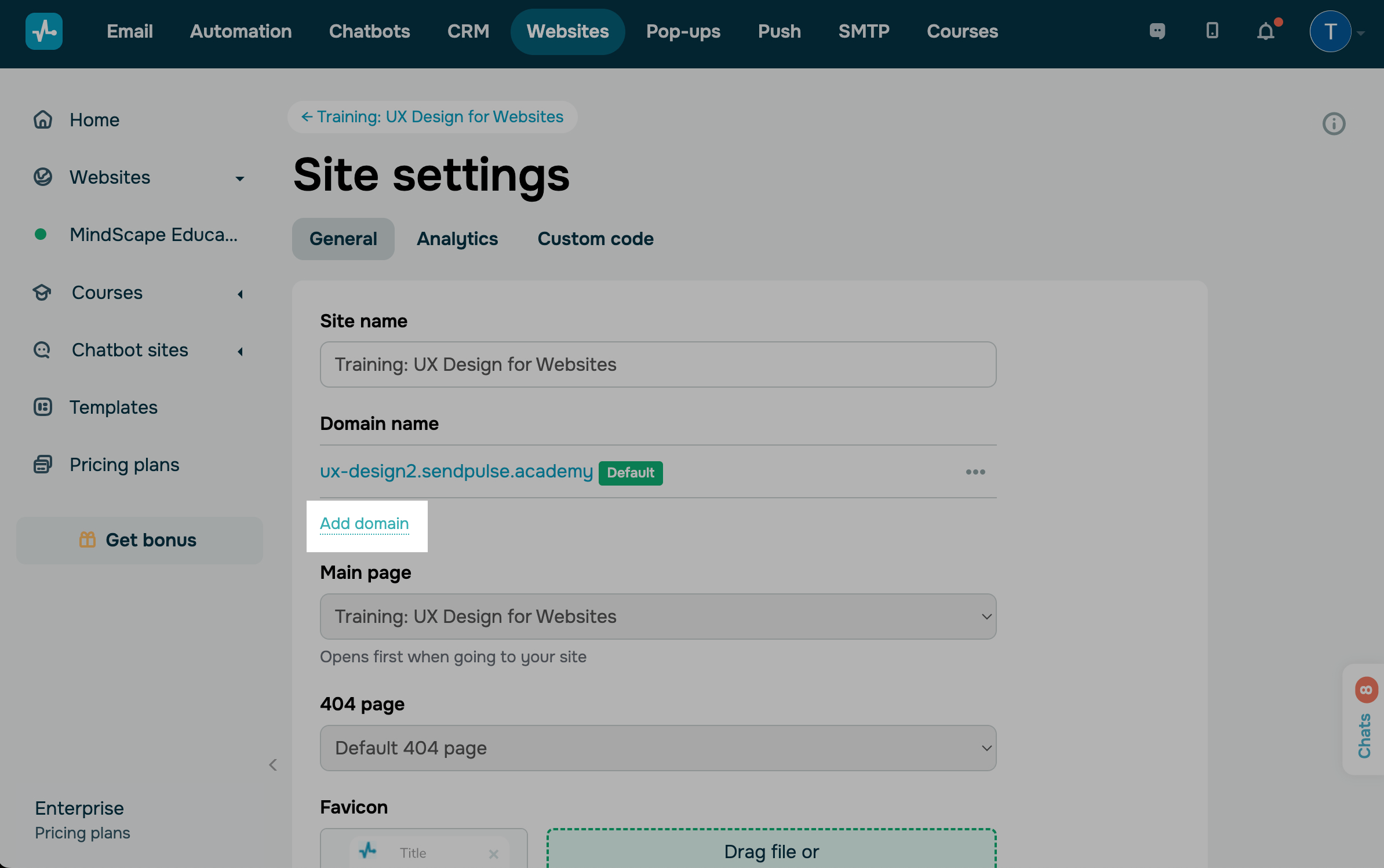 Enter your domain address into the field.
The length of a domain name can be from 2 to 63 Latin characters, including dots and your first-level domain name.
To separate the words, you can use letters, numbers, and the "-" sign (hyphen, minus). A domain name cannot start or end with a hyphen or contain two consecutive hyphens.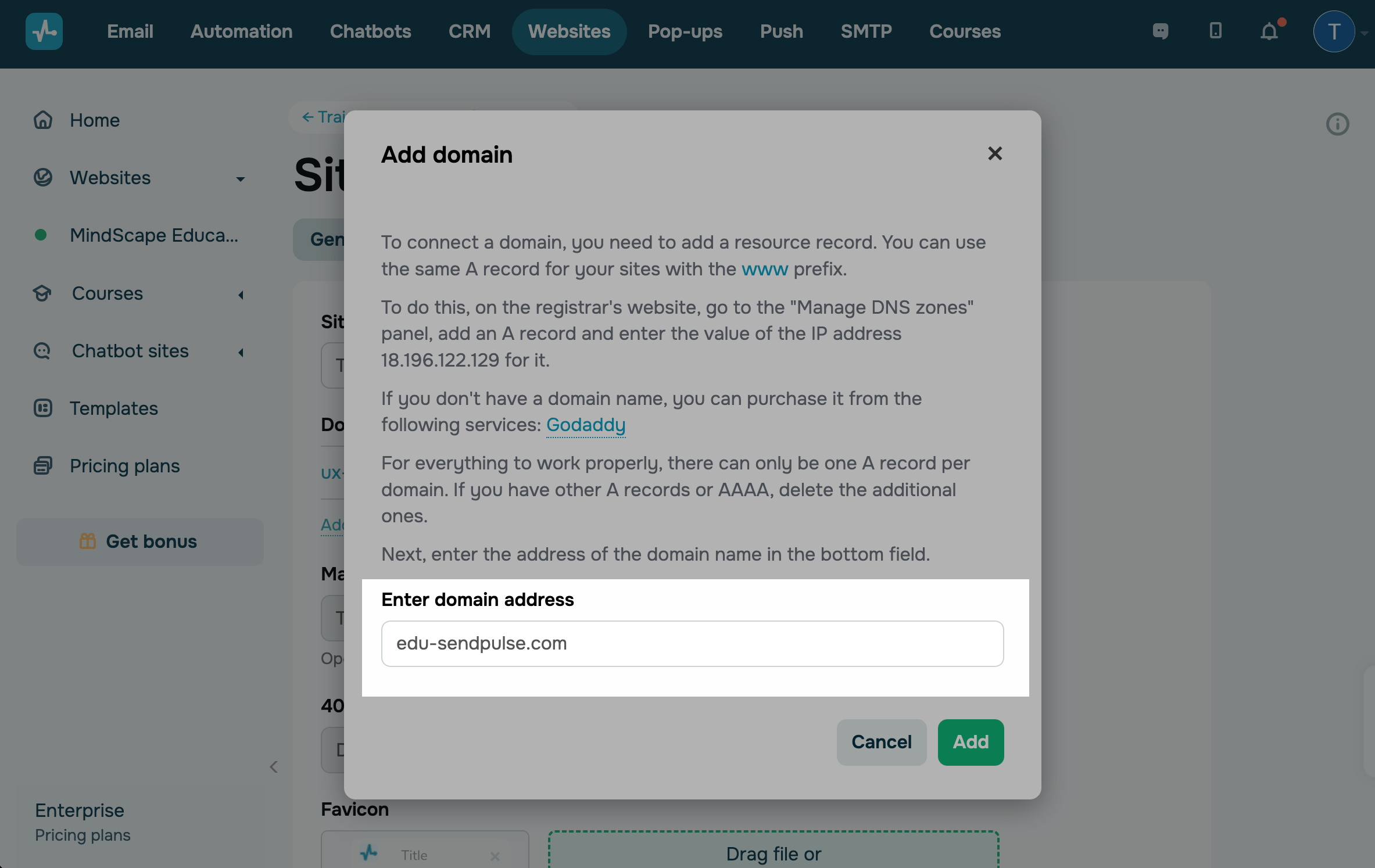 Copy the IP address to set up the A record.
Add a Record on the Registrar's Website
To connect the domain, you need to add an A resource record to the registrar site of your DNS settings.
You can check where your domain's DNS settings are with MxToolbox. Follow the link, and paste your domain. Select "SOA Lookup" from the dropdown list, and click on the button.
If your registrar does not provide DNS servers by default, you can activate this service separately with Cpanel.
You can learn more about setting up the A record in Cpanel in the Cpanel documentation.
In the domain control panel, select "Zone Editor."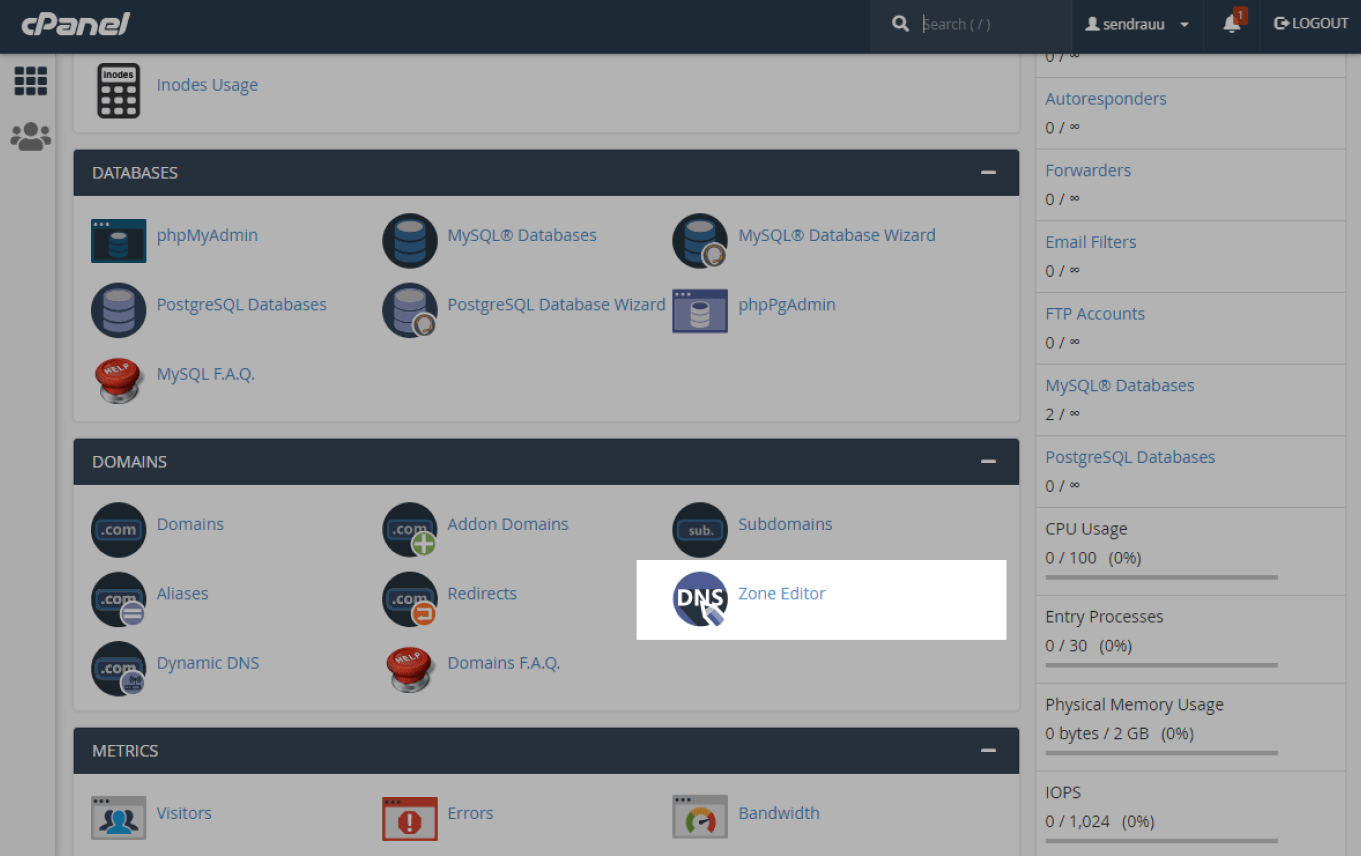 Next to your domain, click + A record.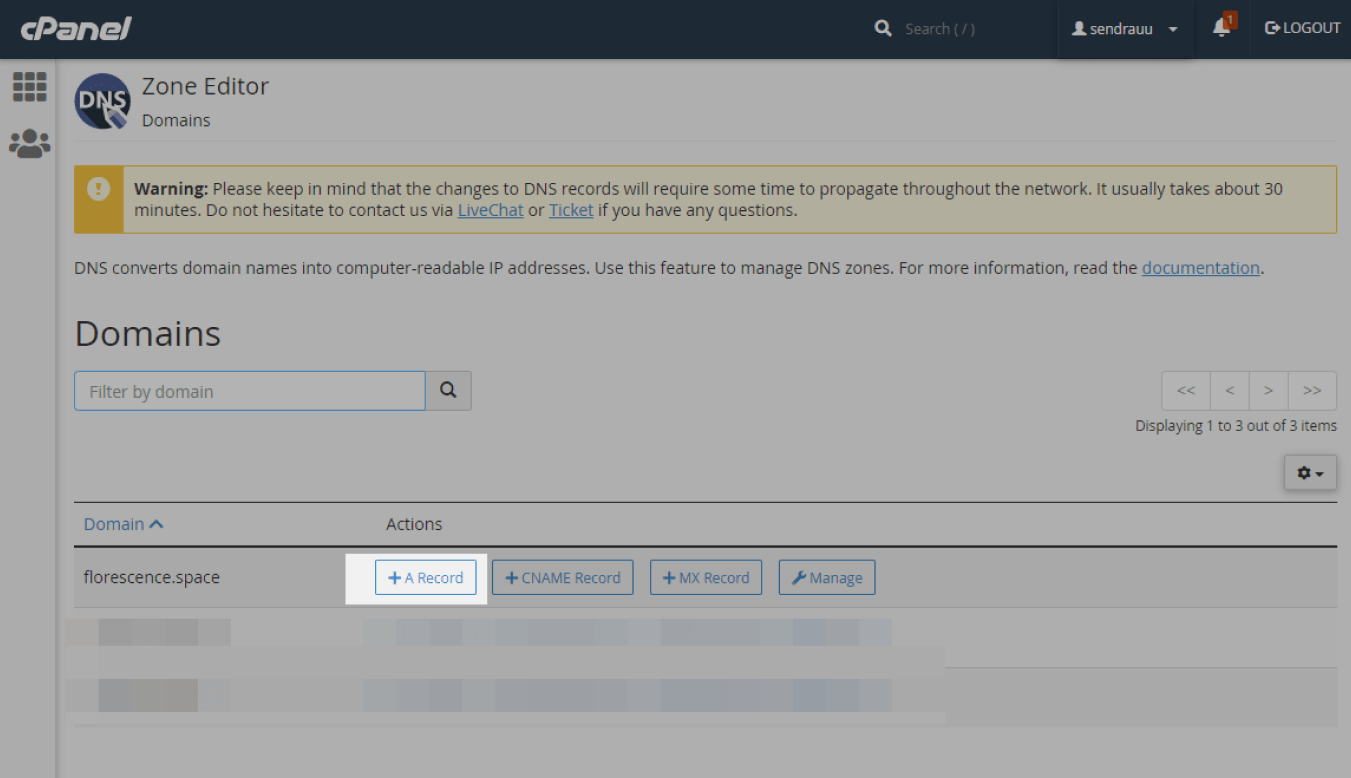 Enter the subdomain name or the "@" sign in the "Name" field, and add the IP address to the "Address" field. Click Add An A Record.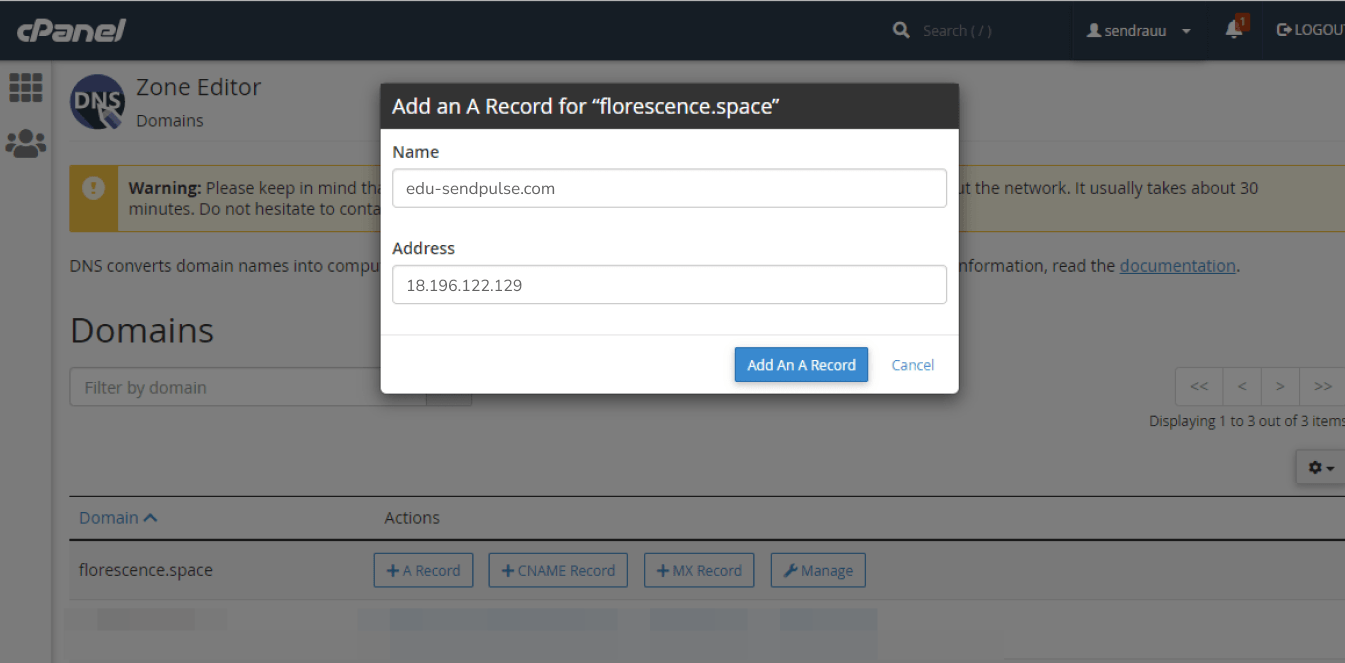 Activation can take up to 24 hours, depending on your hosting provider.
Please note that for everything to work properly, there can only be one A record per domain. If you have more than one A record, delete the additional ones.
Сheck the Record Status
You can check if there is an existing A record using the MxToolbox or Google Admin Toolbox tool. Follow the link and paste your domain. Select "DNS Lookup" in the drop-down list, and click on the button.
If the records are working, the icon will change to green in the site settings, and the published page will be available at the new address.
By default, SendPulse automatically generates an SSL certificate for your added domain. You can also add your own certificate.
Last Updated: 24.10.2023