How Validation Functions are Displayed in Mailing Lists of Email Service
With SendPulse, you can check email addresses using the validation service before sending a campaign.
If you're wondering why you need to verify your mailing list, we described in the article What is an email address validator and why use it. Now let's dive deeper into mailing list and address statuses, and what you can do with them in the Mailing list tab.
Email Address Statuses
Navigate to the "Mailing List" tab and open a verified list. In front of each address, you will see the status assigned after validation: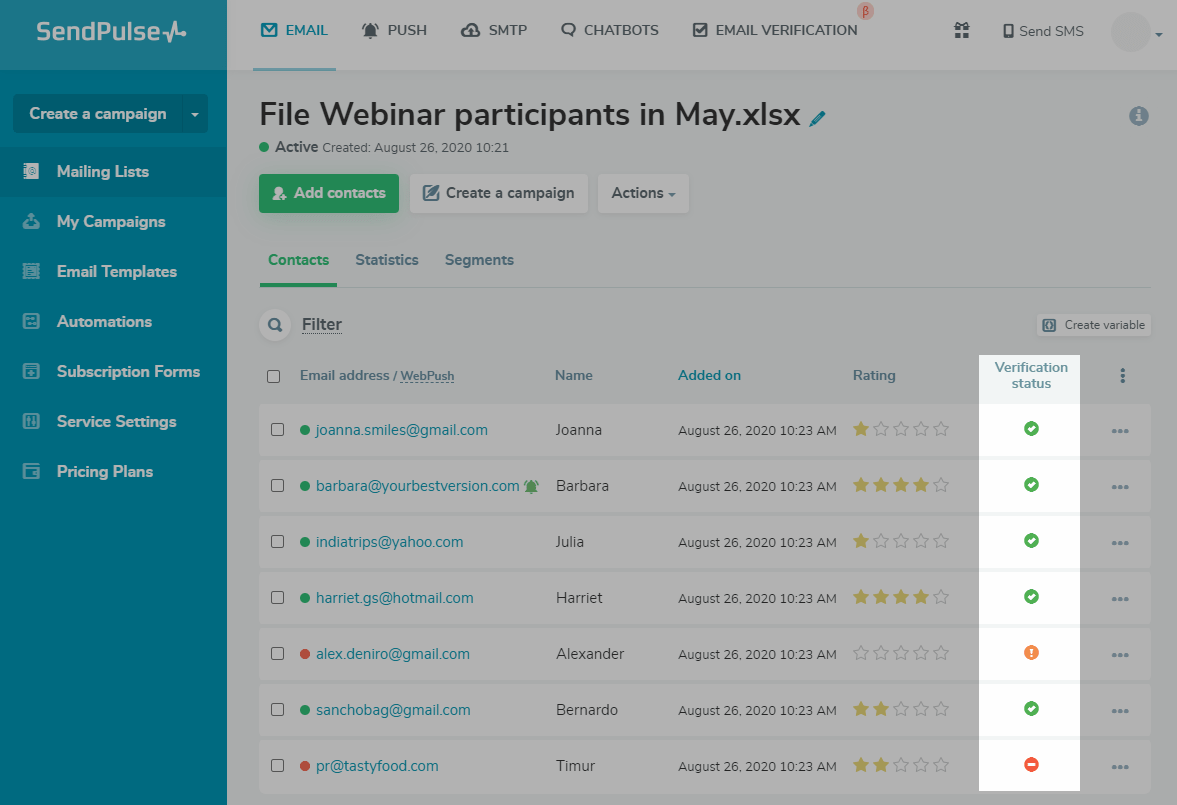 Valid addresses are marked in green;
Unconfirmed addresses are marked in yellow;
Invalid addresses are marked in red.
Mailing List Statuses
Let's check the statuses that are assigned to mailing lists:
Unverified — this mailing list has not been verified.
Updated — this mailing list has unverified addresses that were added after initial validation.
Red — there is a high percentage of invalid addresses. The service will block sending new campaigns to these mailing lists.
Reconsider the way you collect email addresses in order to build a high-quality mailing list in the future. You can export all of the valid email addresses to a new list to continue sending campaigns.
Yellow — there is a small percentage of invalid addresses and a lot of unconfirmed addresses.
Pay attention to the way you collect addresses. We recommend removing unconfirmed addresses from the list to reduce the number of delivery errors.
Green — may contain a small percentage of invalid and unconfirmed addresses, but in general such a list is considered "good," since it will not cause many delivery errors.
You can use this mailing list to launch a campaign. To keep the list up to date, we recommend only adding verified addresses or doing checks regularly.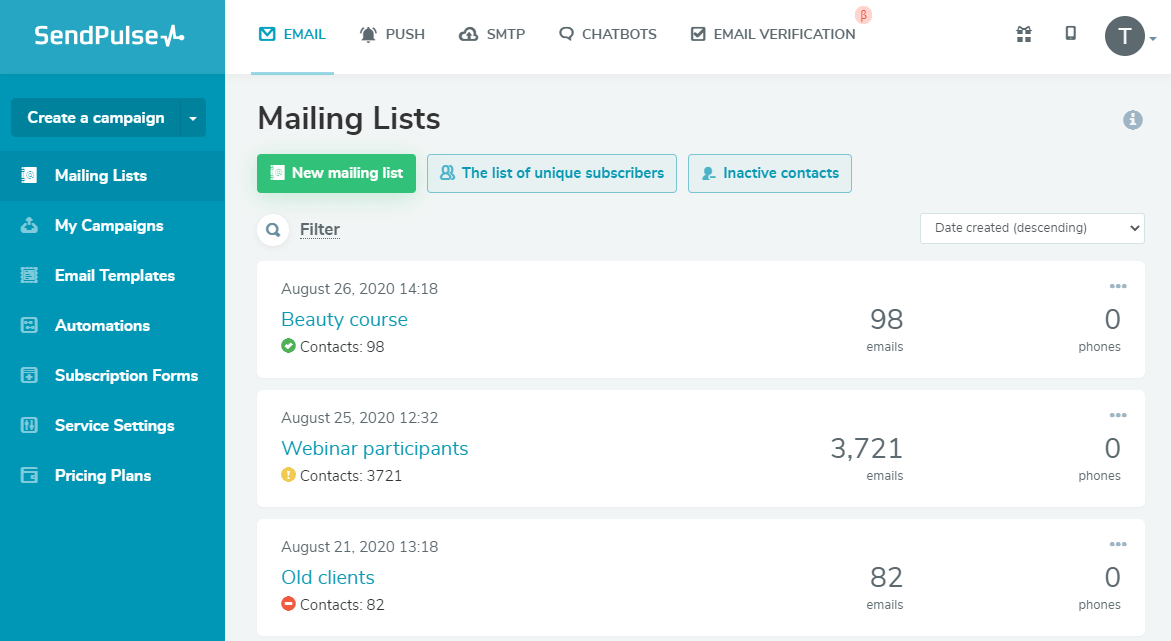 Verify Email Addresses
You can re-check any of your mailing lists directly from the context menu.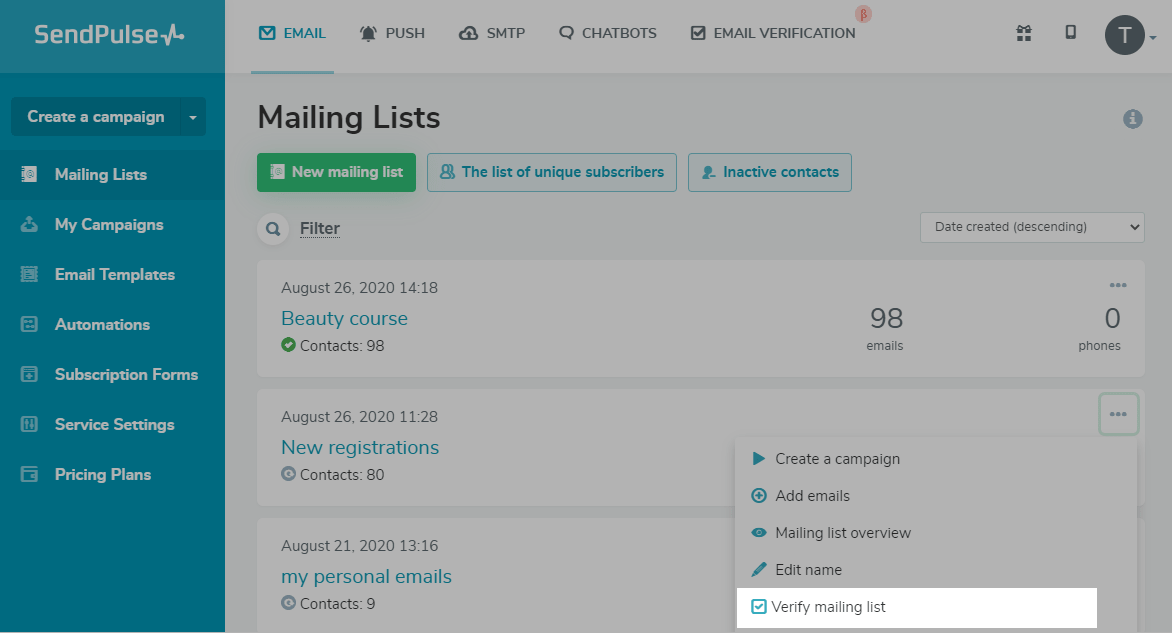 You can also check the addresses you want one at a time to avoid rechecking the mailing list. Open the mailing list and check for unverified addresses — they are marked with a gray question mark. Open the context menu and click Verify Contact.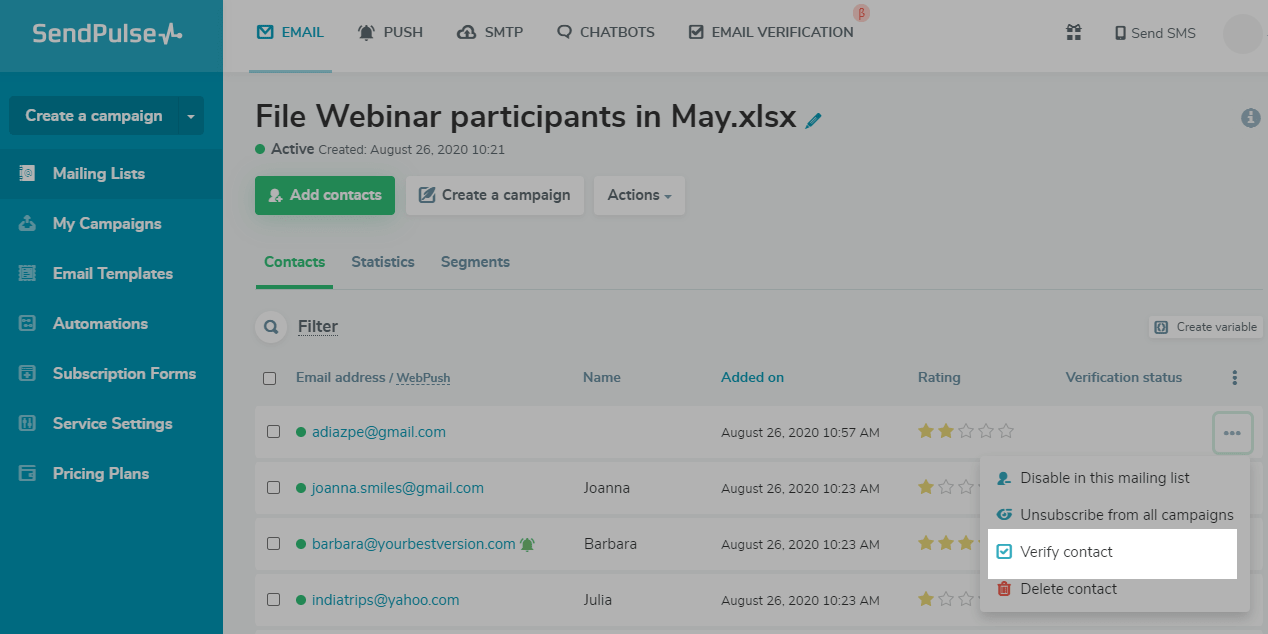 Filter Mailing Lists
In the Email section > Mailing list tab, you can filter mailing lists by verification status and continue working with them.
Filter Email Addresses
Open the mailing list you want to check, and click Filter.
Last Updated: 09.08.2022