How to Import Contacts to Your CRM
You can import contacts with fields into your CRM to add new contacts or update information for existing contacts.
Upload Your Contact File and Configure the Settings
Go to the "Contacts" section and click Import.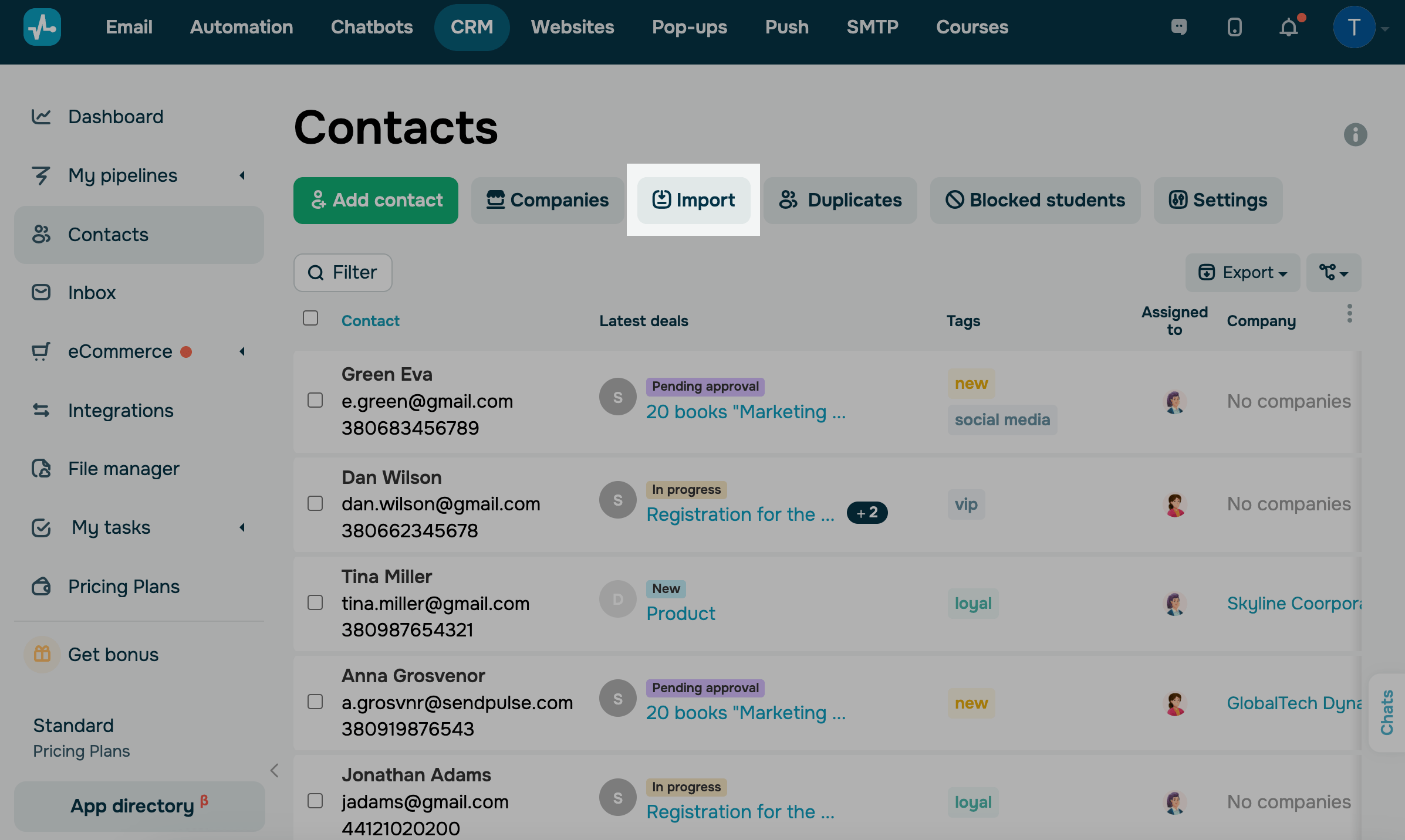 Click on the file upload field and select your contact file or drag and drop the file into the field. You can upload a file of up to 20 MB in CSV or vCard formats. Here's an example of a file for import.
Specify what is used to separate contact information in your file: comma, period, or semicolon.
For the data to be recognized correctly, check how you have separated fields in the file before proceeding to the next step.
You can also select the "Use headers from the first line of the file" option to upload the field names.
You can add a description and select tags to be assigned to each uploaded contact.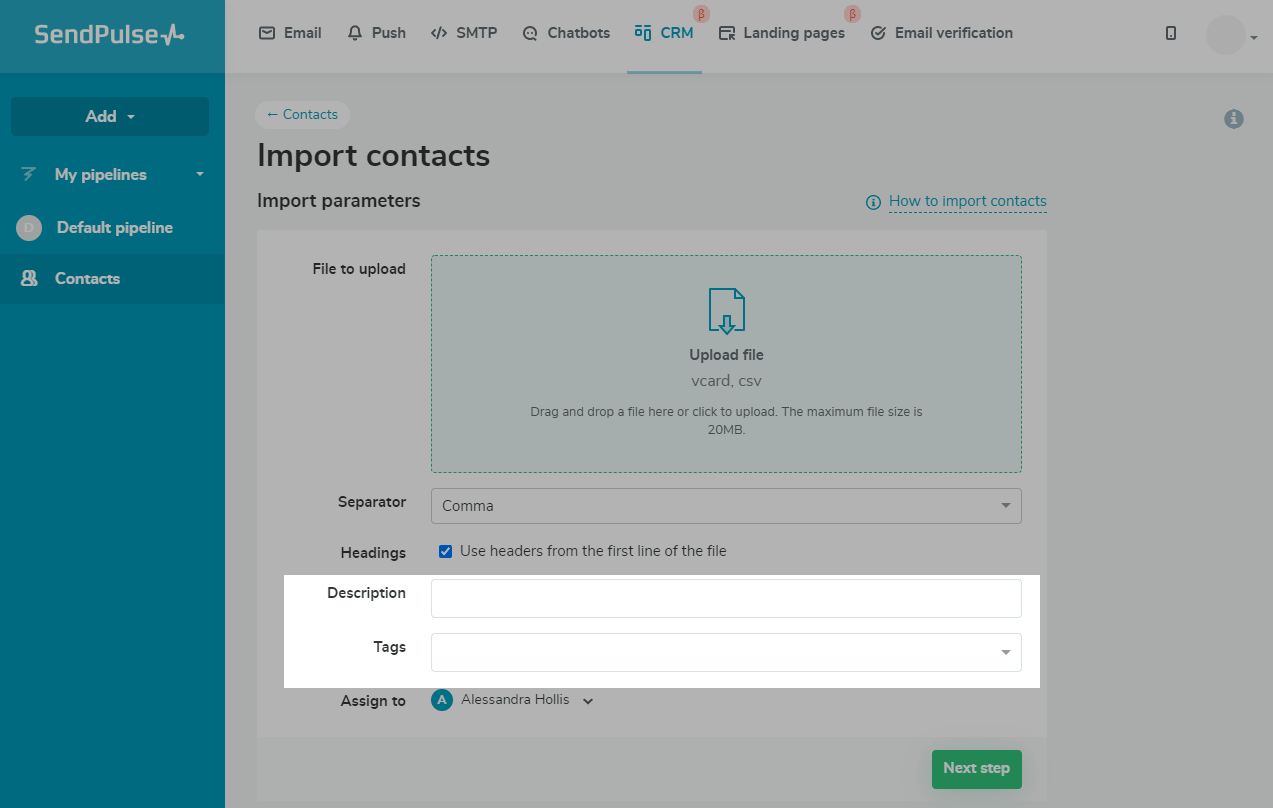 Select a team member responsible for managing all of the added contacts.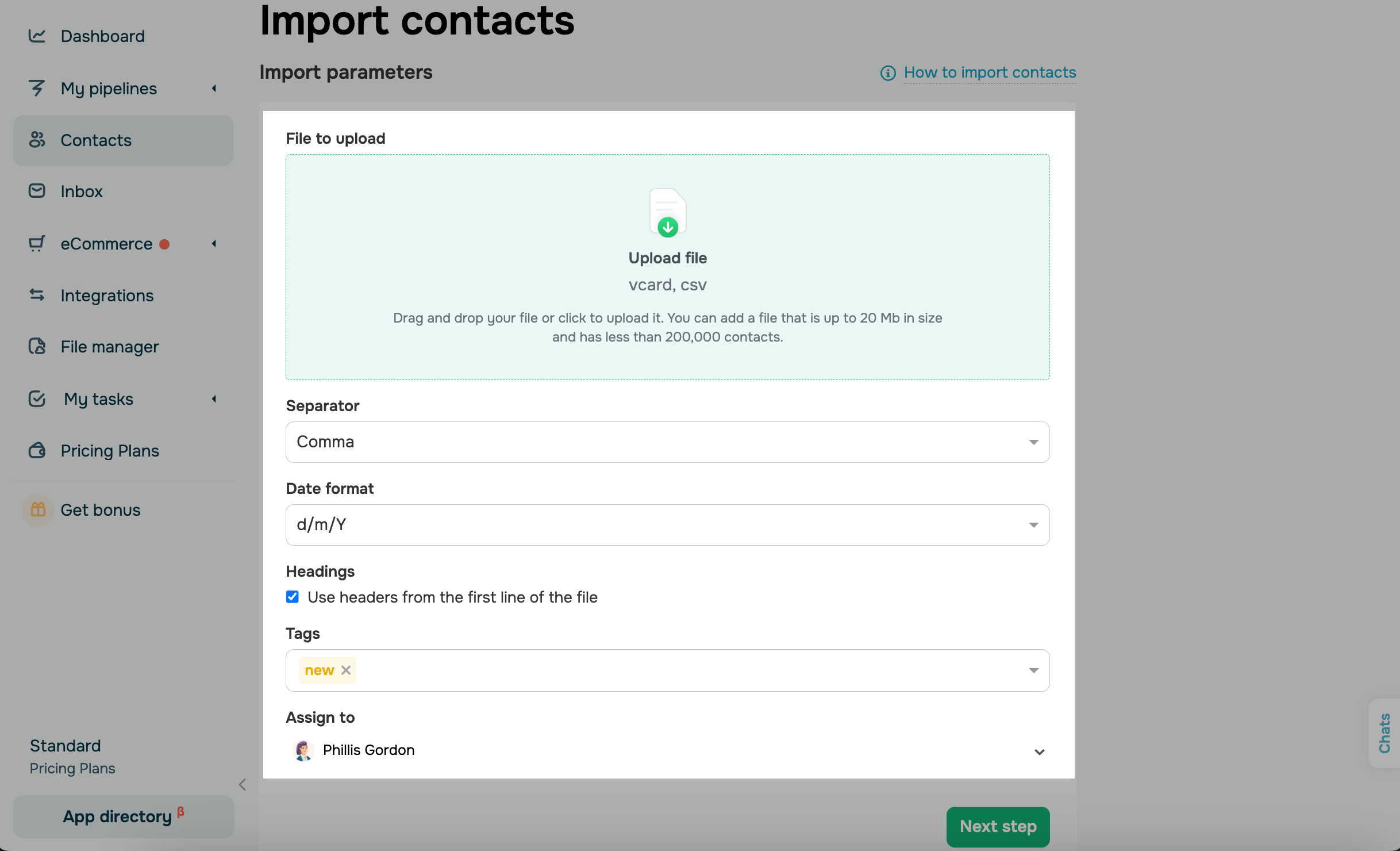 After filling in the import parameters, click Next.
Configure Field Mapping
Select field names from your contact page or from the uploaded file to customize field mapping.
Please note: if you do not select a field name, the fields from this column are not transferred along with contacts. You need to select at least one field, for example, "Name," to proceed with the import.
You can add multiple email addresses and phone numbers to one contact.
Please note: in order to save multiple email addresses or phone numbers for one contact, you need to add them to different cells. If there are several email addresses in one cell, you will receive an error in this field. If there are several phone number in one cell, they will be saved in a field as one long number.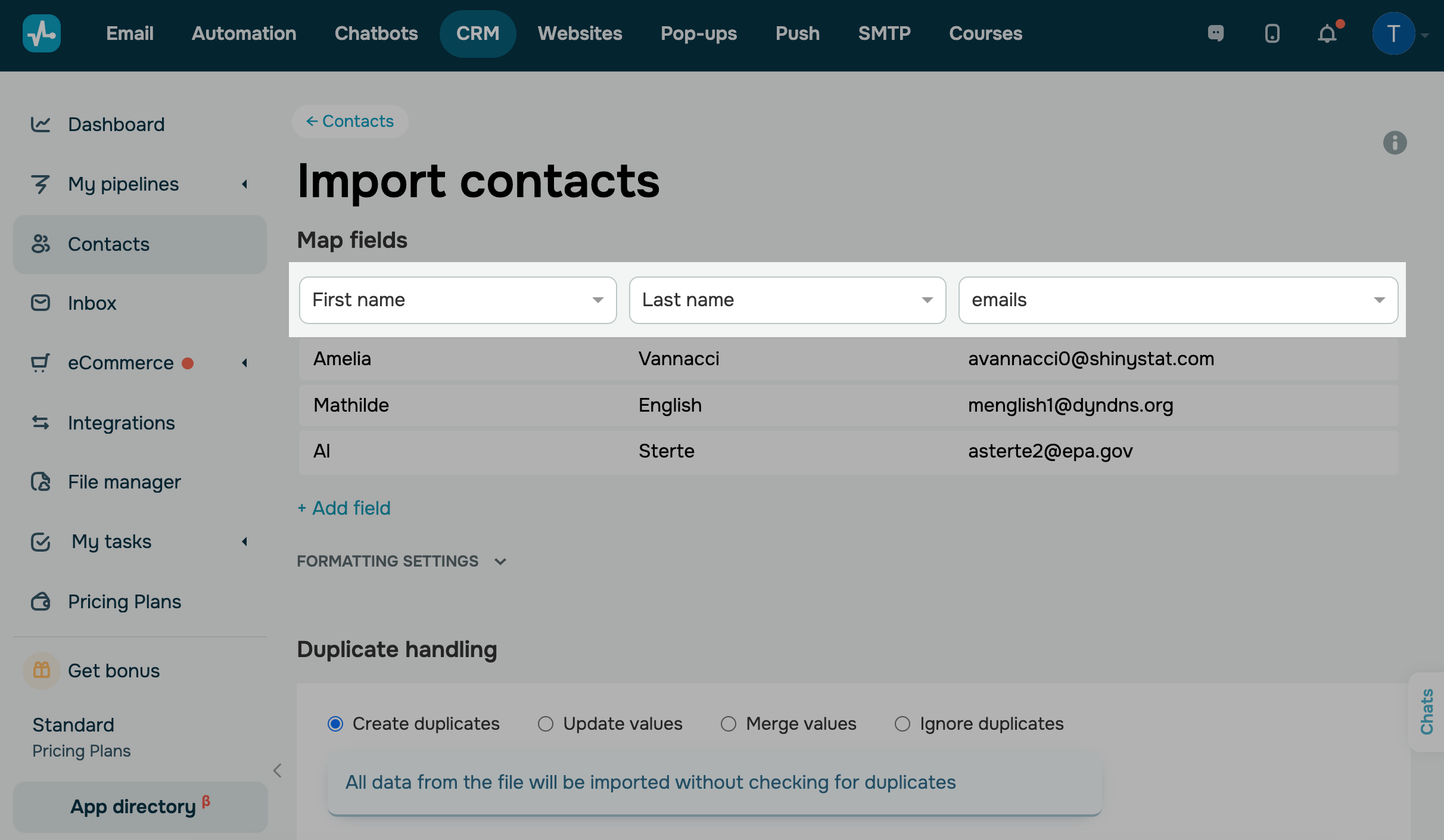 Select a Rule for Handling Contacts
Choose what to do with duplicate contacts.
| | |
| --- | --- |
| Create duplicates | All data from the file will be imported without checking for duplicates. |
| Update values | The corresponding contact fields will be replaced with data from the file if duplicates are found during import. |
| Merge values ​​ | New values ​​will be added to existing values, and empty contact fields will be filled with data from the file if duplicates are found during import. For now, merging only works for email addresses, phone numbers, and messenger fields. |
| Ignore duplicates | Duplicates will be skipped and will not be added to your mailing list. |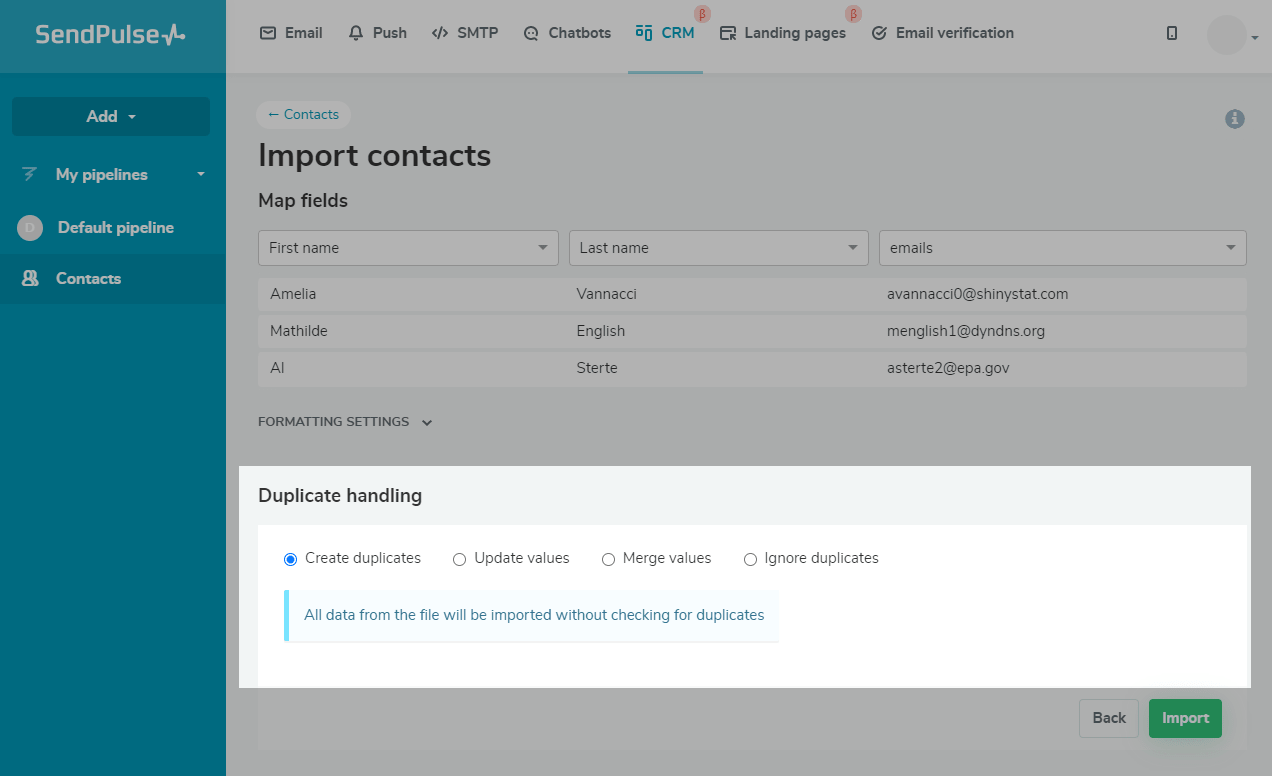 If you chose the option to check for duplicates, choose which field to track them by. You can mark all or the fields or one of them: "name," "emails," or "phones."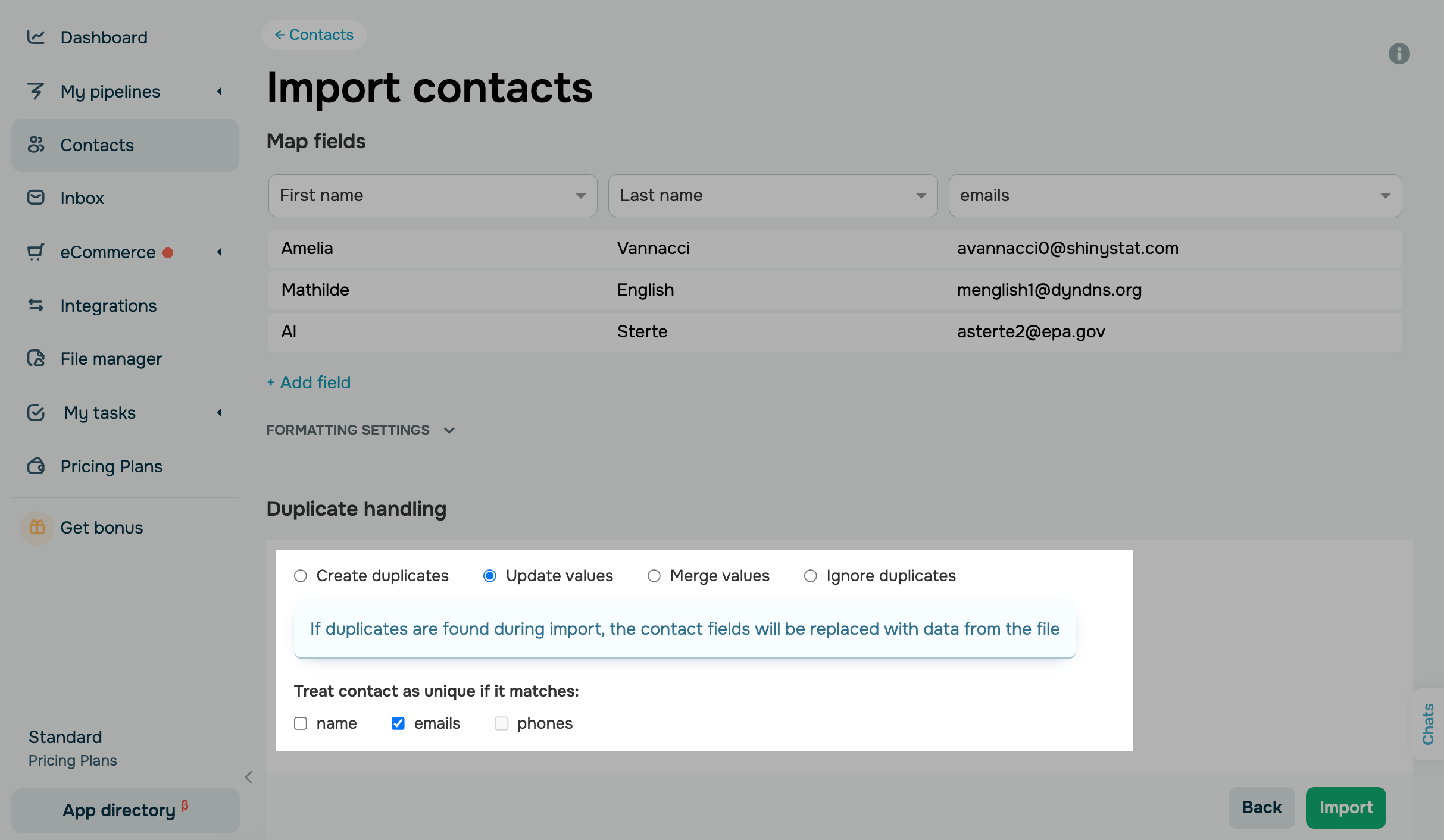 After configuring field matching and selecting a rule for processing duplicates, click Import.
Import Results
In the next window, you will see the number of lines read from the file, contacts added, errors found, and contact duplicates.
Contact uploading will continue in the background — you can go to other sections of the service without interfering with the import process, and return to the window at any time by clicking Importing.
After your contacts have been uploaded, the button name will change from "Importing" to "Import Results." This window will display the history of all imported contacts.
If errors occur during import, you can download the generated file with the lines in which they were found. Then, make changes accordingly.
Last Updated: 21.09.2023