WhatsApp Pricing Policy Changes
Starting on February 1st, 2022, there will be a new pricing policy for WhatsApp Business API that adds a fee for conversations. In this article, you'll learn what you need to pay more for, where WhatsApp has prepared bonuses, and how to plan your budget.
Basic Concepts
Depending on who initiates a conversation, WhatsApp Business API separates conversations into two categories:
User-initiated (Free 24-hour session): A conversation that is initiated in response to a user message. Each time a business replies to a user within the 24 hour customer window, that message will be a user-initiated conversation. Companies can send free-form messages during this 24-hour customer service period.

Business Initiated (Support window): A conversation that is initiated by a business sending a message to a user outside of the 24-hour customer service window. Messages that initiate a conversation will require a message template.
All conversations are measured in fixed 24-hour sessions.
The session begins as soon as the first message is delivered, initiated by the business or sent in response to the user. The first message in the session is paid, and the following messages within this 24-hour session you can send for free.
The new billing introduces the concept of "Session," which is initiated by the business (Support window). Previously, there was only the concept of "Session" (which is now called the "Free 24-hour window," during which it was possible to send a free message), which was initiated by the user from the moment of their first interaction with the bot - sending a message or clicking on a button.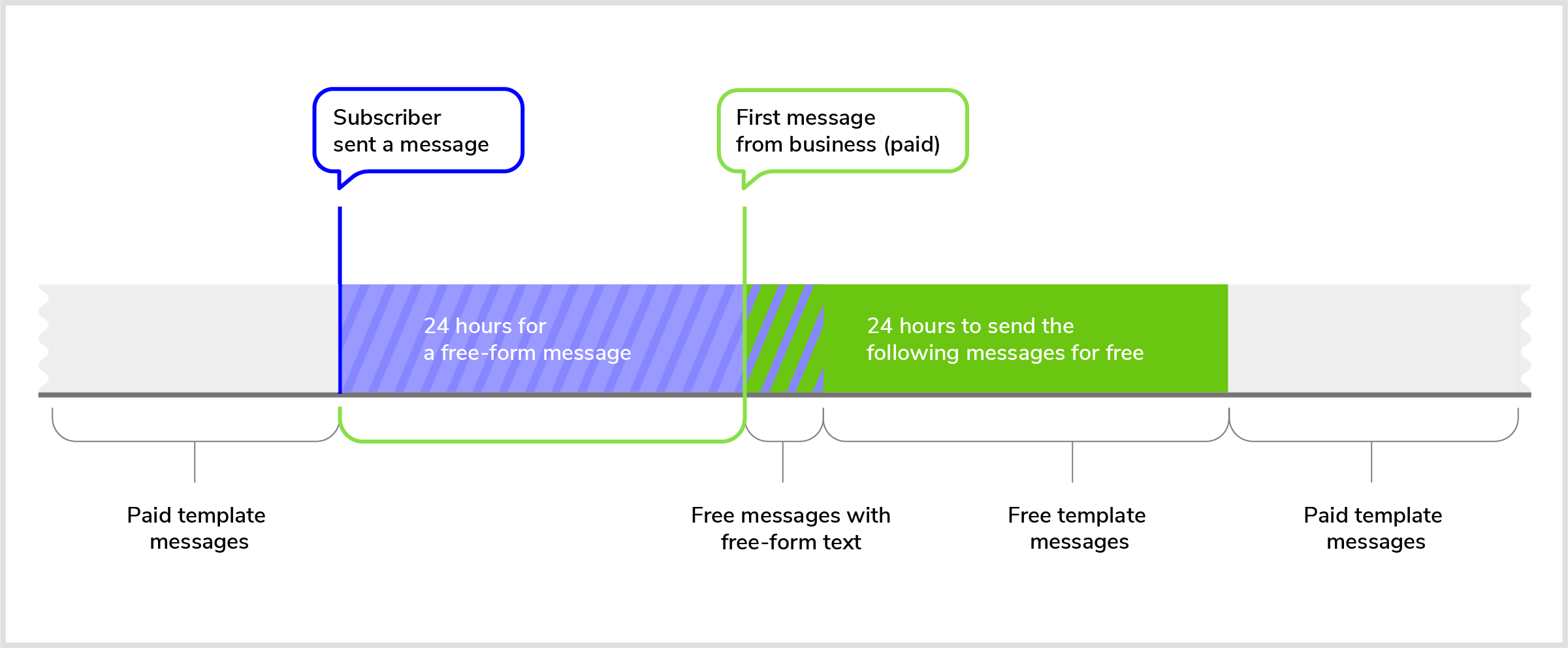 Pricing Plan Policy
You Will Be Charged for the First Message That Starts the Session
A session can be business-initiated or user-initiated. Businesses will be charged for the first message of an open 24-hour session regardless of who starts it. The only difference is that replying to user-initiated messages will cost less for companies. Subsequent messages within a session are free.
You can respond to a user's message and continue your conversation by sending free-form (non-templated) messages. However, you can only send templated messages to start a conversation yourself.
Note: the first templated message will cost you more than it does now, but all of the subsequent messages will not be charged until the end of the conversation.
The price of the first message that starts a 24-hour session depends on your recipient's country. For example, for the USA, a business-initiated message costs $0.0177, while a user-initiated message costs $0.0118.
Check out the prices for sessions in different countries in our pricing list.
Free Tier Sessions
The first 1,000 sessions per month are free for your business. This way, you can start conversations for free, encouraging your audience to communicate with you via WhatsApp. Free tier sessions can be both business-initiated or user-initiated.
Please note that you need to have a separate WhatsApp account where you can set up several chatbots.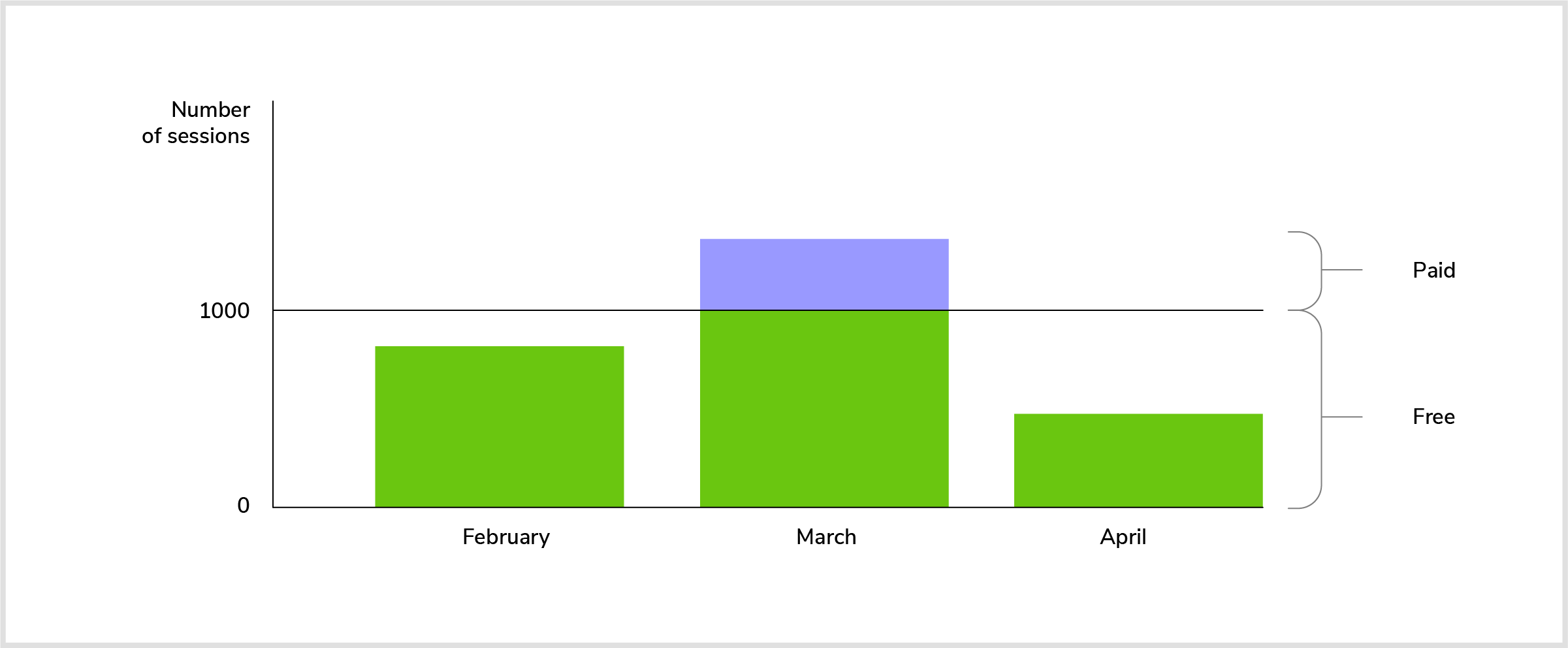 Free Sessions with Users Who Click on WhatsApp Ad Buttons
You will not be charged for a session if a user starts a conversation with you using call-to-action buttons on ads from WhatsApp or Facebook pages. Remember that these sessions can be started exclusively by users, and only the first session is free. You will be charged for subsequent sessions with these users.
Read also How to Сreate an Instagram Ad via Facebook to Run a Сhatbot.
How to Plan your Budget
To predict whether the free limit of 1,000 sessions will be enough for you to communicate with your users, go to the bot statistics section and check the number of sessions for the selected period.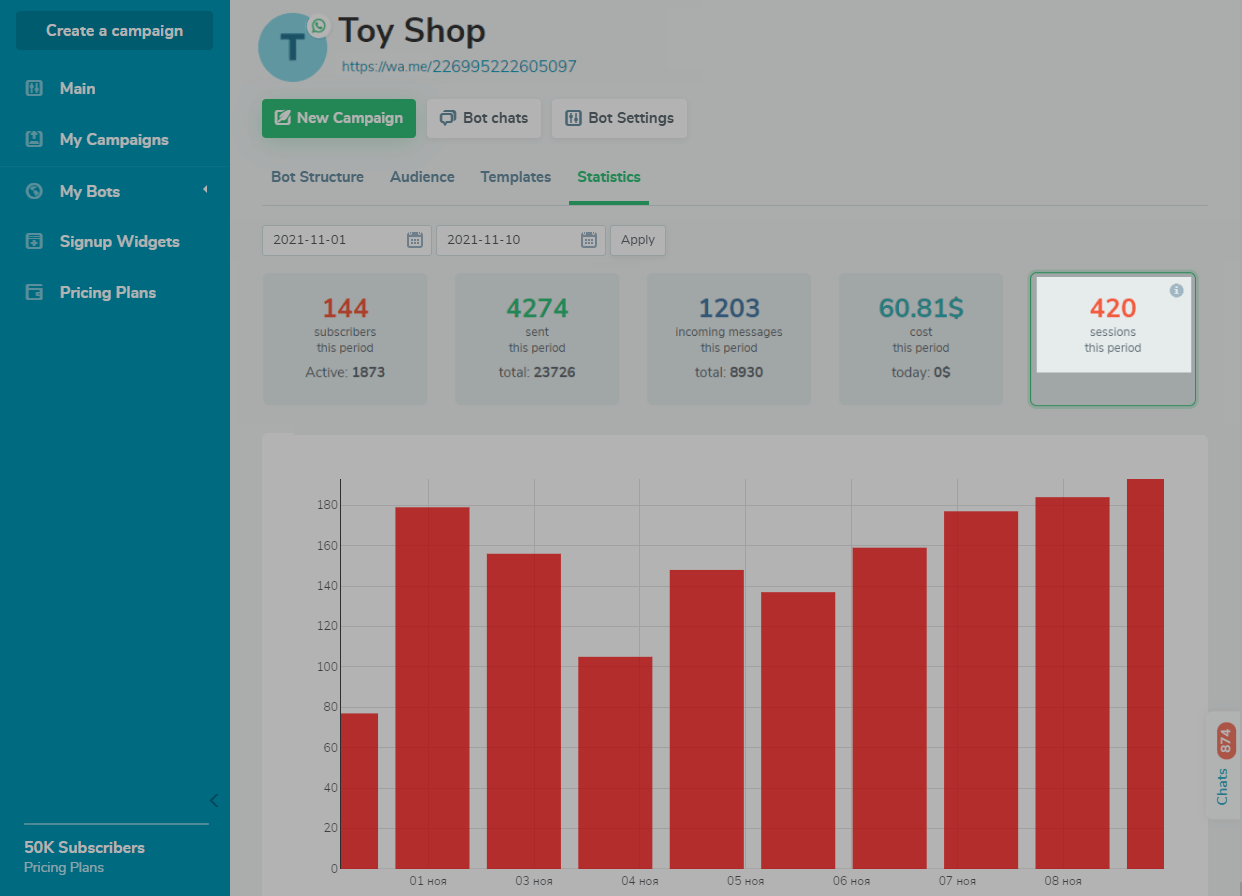 Also from February 1st, a new indicator will be introduced that shows the number of free remaining sessions per month.
Session Examples
Let's look at a few examples of communication with users in order to understand how billing works according to the new rules.
Scenario #1. A user contacts customer support reps, communicating with them within one 24-hour session.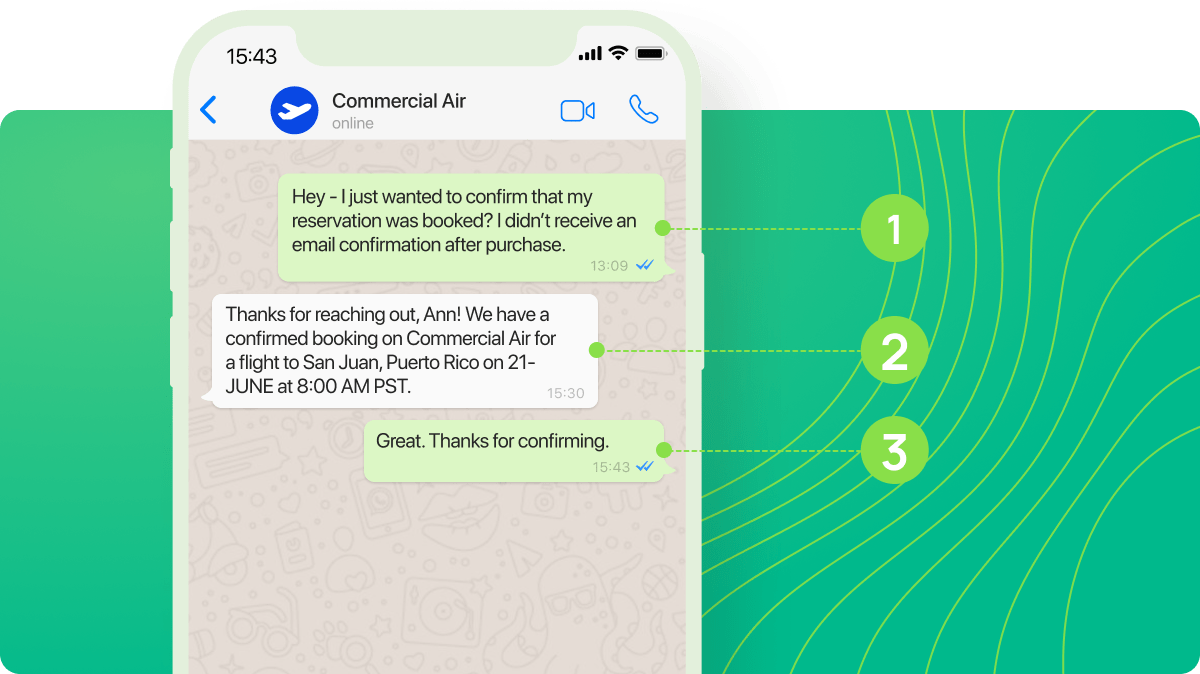 Anne asks Commercial Air a question about her booking (1). A 24-hour session starts after the message from Commercial Air is delivered (2).
All subsequent messages for the next 24 hours are free in this scenario. This is an incentive for Commercial Air to respond to customers' messages faster and resolve all of their issues in one session.
If Commercial Air continues to interact with the user after the 24-hour session ends, the business will have to pay to send a templated message, which will start a new session. In this case, the session will be considered business-initiated.
Anne receives the information she needs in this scenario, and Commercial Air pays for one user-initiated session.
Scenario #2: A Business's response to a user requires two sessions using the same template.
Anne asks when her order from the Barbara shoe store will be delivered. She sends her message at 1:13 PM (1).
Barbara store has a chatbot that answers frequently asked questions from customers, so the customer gets an immediate response at 1:13 PM (2).
The next day, the chatbot sends a notification at 3:45 PM, informing Anne that the order has been delivered (3).
Barbara store sends a second message after the 24-hour period since its first reply. This means that a new session has started, and the business needs to send a templated message.
In this scenario, the shoe store pays for two sessions: user-initiated and business-initiated.
Scenario #3. A business sends a templated message.
When the passenger's flight status changes or the flight gets canceled altogether, Commercial Air will notify its customers by sending templated messages.
The first message (1) informs Anne that the flight has been delayed by half an hour.
The second message (2) reminds her that her flight is departing in 15 minutes.
In this scenario, two templated messages are sent within 24 hours, so the business only needs to pay for one business-initiated session.
Scenario #4. A Business-initiated session that consists of one dialogue.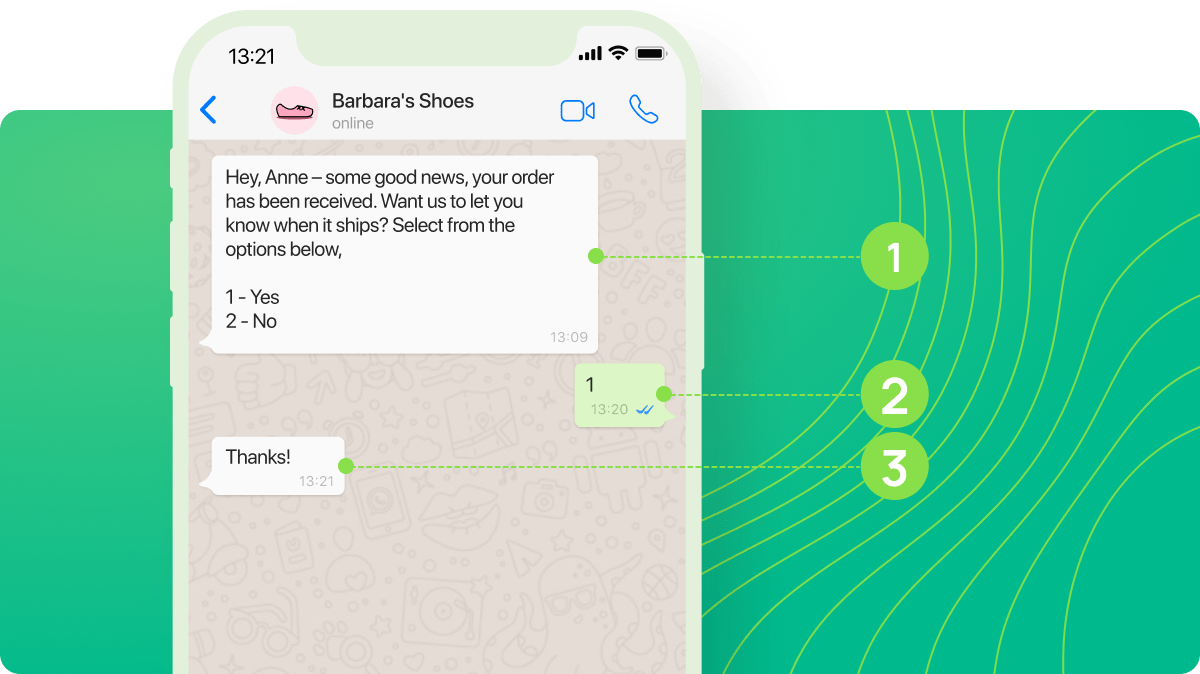 When a customer orders something from Barbara store, the company sends a confirmation message (1) letting the customer know that the order has been received and asks if the customer wants to get a delivery notification.
The customer agrees to receive a delivery notification (2), after which the company messages some additional information (3).
In this scenario, Barbara store pays for a single business-initiated session. If the user responded after the 24-hour period, the company would have to pay extra for a new session.
Last Updated: 24.03.2023